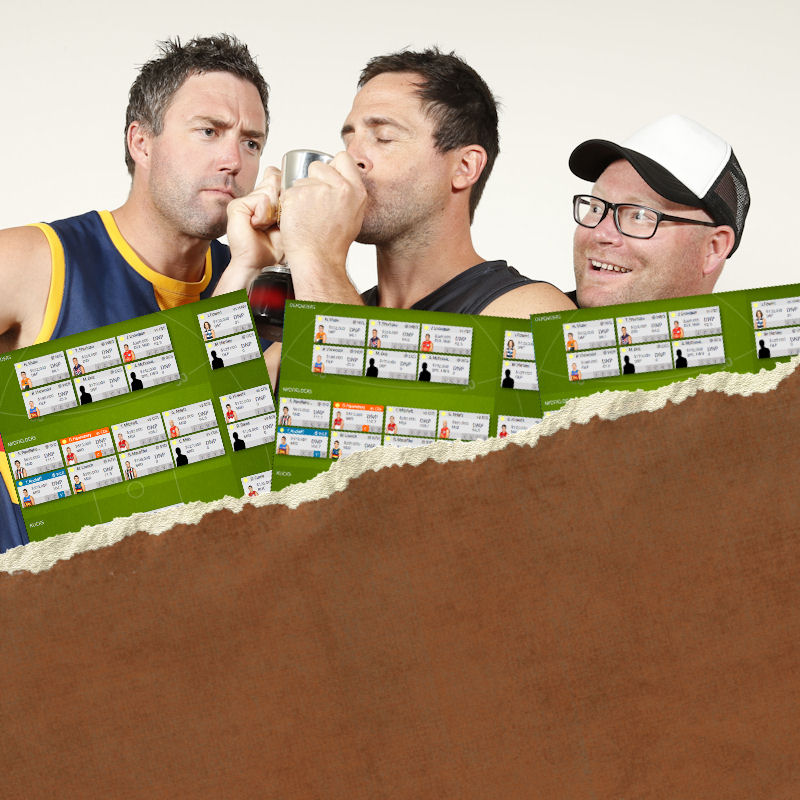 It is a very busy afternoon for Fantasy coaches around the world as we count down to the partial lockout tonight (7:20pm AEDT). Remember Tigers and Blues are locked. Full lockout is at 1:40pm AEDT on Saturday. Stay tuned to DT Talk for more content leading up until the lockout and then throughout the season! Make sure you join us for a live chat on AFL.com.au from 6pm this evening.
Don't miss the following articles:
Join our official DT Talk AFL Fantasy leagues.
Classic: JYJPS2C9
Match Day: YERAMECL
Tipping: AMUVYN9E
CALVINATOR
The biggest change to my team from the team I revealed during the week an afl.com.au is the fact that I have dumped Dusty Martin for Mitch Robinson.
I can see so much upside in Robbo over the first 5 rounds where he plays quite easy teams without Dayne Beams. He should dominate and potentially average 100 for the year. Dusty on the other hand, has had a terrible NAB Challenge and carries a shocking record into the Carlton game tonight. I'm sure I'll be proven wrong and can't actually believe I'm backing in the 'loose' Robbo but I do have a an extra $70k in my pocket that I've used elsewhere.
After dumping Dusty, my forwards and very much 50/50. What am I thinking? Forwards that I want in my team that haven't currently made the cut (yet) include, Jordan De Goey, Jack Steele and the on fire Aaron Hall (I love Sam Gray). I'm not sure how I can squeeze these guys in, but after selection tonight I'll be reassessing and attempting to squeeze 10 players into 6 spots (good luck with that).
MY TIP: When selecting your team and the combinations you are looking at, my tip is simple… write them down with predicted averages and then add them up.
Dusty (105), De Goey (80), M. Adams (55) = 240
Robbo (100), Kerridge (80), Lonergan (75) = 255
This obvious and simple method will help you plan out your team, with the best combo that suits your desired structure.

WARNE DAWGS
I have left $89K in the bank due to some shuffling that may occur tonight when teams are finalised. I can't see myself bringing in Weitering, however, there is always a chance if some other players aren't named that I am expecting.
Overall, I'm happy with the structure of my squad however… which has changed a little. 5 'big' premium midfielders with Brad Crouch as M6 my only true midpricer. I've gone with a light on backline and a half-decent forwardline where I am banking on a few guys to improve. The chat with Maxy this week really has me sold on Steele. Let's hope it comes off. Sauce as my R2 seems unique. I just feel he is safer than Gawn. Geez… I hope I don't panic with a Good Friday thought of bringing in Leuenberger!
I'm happy with the rookies I've gone with, but these could obviously change based on selection tonight.
Oh – I am slightly concerned with starting with Gaz, but should be fine… everyone else is doing it, right?!
destROY
My team is probably 80% complete at the moment and I have left 100K in the bank to make adjustments when teams are named tonight. Apart from projected breakout defenders Jesse Lonergan (DEF/MID, $346,000) and Tom Sheridan (DEF, $359,000) my backline looks very weak. I was comfortable with that setup last night until I was reminded about the vulnerability of cheap defenders when Nathan Broad (DEF, 125,000) couldn't even get a run as emergency. I am eyeing off upgrading Daniel Howe (DEF, $265,000) when he is no doubt named on an extended bench for Monday.
I am happy with my five set and forget mids, and Lachie Hunter (MID, $433,000) is my favourite mid-priced on-baller who will be getting the nod at this stage.
Max Gawn (RUC, $509,000) gets his chance as my second ruck, but there are safer names constantly ringing in my ears.
I really like my forward line, and in many ways it makes up for the poor showing down back. Despite a great pre-season, I am still a bit worried that (Sam Kerridge FWD/MID, $299,000) is getting a free ride, but I would prefer to take a mid-priced risk in the forward line than the mids.