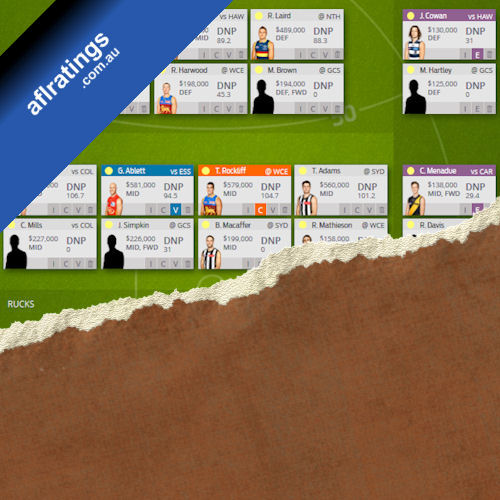 Pete from aflratings.com.au reveals his team and a bit about the work he does crunching numbers on a podcast.
Defenders
Whilst attempting to fill an initial team the realisation early looking at Defenders provided no comfort or security for what was being spent, after contemplating no players over $400K one player sits alone in that bracket Rory Laird at 489K.
The goal was to find value in all remaining players and take advantage of the first upgrade of DPP's this year in an attempt to complete what hopefully is a quality scoring group of defenders, saving trades in the Ruck will hopefully provide an opportunity to be aggressive in the defensive part of the ground.
As the Team stands now, the total spend is just under $2.1 Million
Midfielders
Going cheap in the backline has allowed for a good spend on quality Mids that should keep the scores ticking over early in the season, all of the 5 tops starting Mids have a huge ceiling for points.
Brendon Ah Chee is a speculative pick, he averaged 95.0pts in his last 4 games of 2015 and should see increased midfield time at the age of 22. Clayton Oliver & Callum Mills round out the starting midfield which should provide a very good return on investment.
Once again not having to upgrade in the Rucks will allow for an aggressive trade strategy to assist with DPP's for the Midfield & Defender group.
Rucks
Stef & Goldy locked in, hopefully there will be no injury issues to deal with allowing trades to be used in other areas. Gawn looks to be a quality pick this year, but happy to take the points with Martin & Goldstein.
Forwards
Dustin Martin is a must have, Mitch Robinson comes in to the team this week as Dayne Beams is set to miss several weeks with injury. Robinson averaged 117.4pts without Beams late last year in his final 5 games which included a 166pt return in Round 20.
Jordan DeGoey has been in the Team since day 1, he will see plenty of midfield time at Collingwood despite his age, the other selections are deemed as value including Lincoln McCarthy who should play at Round 1 for Geelong.
Win a Bar Fridge in ur teams colours ✅

Enter our Footy Tips '16 comp @ https://t.co/mtdUQ2grmF#AFL @1300FROTHY pic.twitter.com/Ua21f9IsCE

— aflratings.com.au (@aflratings) March 20, 2016
Happy to answer any questions on Twitter @aflratings