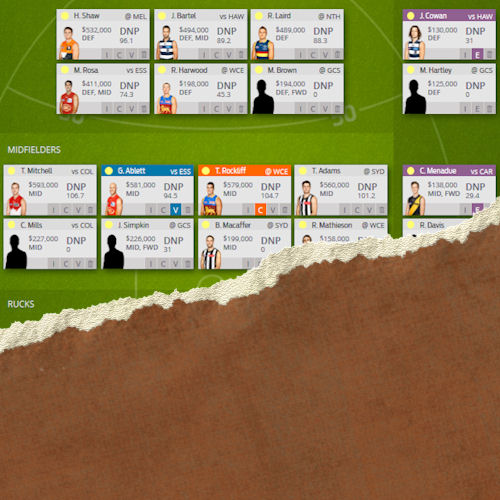 After years of being a prude, Warnie has finally convinced to me bare all! My AFL Fantasy team, that is. No Kardashian-like antics going on here; trust me, you don't want to cop a look at a rig that even off-season Motlop would be ashamed off… but back to business. Tbetta Than You has been through many iterations and will likely go through a few more, and this is what I'm rockin' with as we speak.
You'll notice that it's very different to what the hugely knowledgeable Pearcey has revealed to us recently and that's the great thing about fantasy – there's more than one way to skin a cat. Like it? Hate it? Give the mini-podcast above (featuring the velvet dulcet tones of the great Dawgfather) a whirl for some justifications and dribble then go rip my team to shreds in the comments!
Anyway, I've got a little extra spare time… Why not fire off some pre-season mini-Bullets?
Close But No Cigar
One of the tools that helped greatly with my NAB Challenge study was to make a second fantasy side, aptly named Tbetta Than You Reserves. Being the incredibly creative title-giver that I am, I'll obviously need to explain – basically, I just made a second side without any of my current squad.
As the pre-season dragged on, many players were dropped from the Ressies and many earned promotion to its superior sibling side. I felt all powerful. Rookies cowered when I hovered my mouse across their blacked-out silhouettes; Premiums shook in their boots after lacklustre NAB Challenge scores.
No one was safe, and that was the point – full accountability across the entire organisation. No player won a guernsey without biding his time in the Twos (to prevent un-vetted hype players sliding past the keeper), and no player was sacked without being offered an opportunity to regain favour (to prevent knee-jerk reactions).
So, who's still diligently putting their names in front of the match committee at Tbetta Than You? I'm glad you asked! All I demand in return is that while you read the following, you pump some phat Thomas Dolby beats:
1. Jason Johannisen ($427k DEF)
I'm still looking at possible ways to save coin and Laird's D2 slot is far from slammed shut. Johannisen has seemingly carved out a nifty little role at the Bulldogs this year, and retrospectively investigating, he did average 84 over the last nine weeks of 2015. JayJo's cheap, he's in form (a team-high 1.06 PPM over the NAB Challenge) and he's a big point of difference at just 4.4% ownership. If I can overlook the bleached mop on his noggin then I think I'm sold on Johannisen's scoring.
2. Steele Sidebottom ($565k MID)
The only thing keeping Sidebottom out of my side is a lack of space with my current structure. 108 is the key number here – he averaged that figure in 2014, he went at the same clip in the last 10 games of 2015 and his NAB Challenge (119, 103) suggests that Sidey can reach or even exceed that mark this season.
3. Zac Smith ($389k RUC)
The bargain hunter in me loves the resume that Zmith's developed in the hoops so far, but it would force a big restructure if I was to pull the trigger. I'm quietly pleased with my make up at the moment, but if I ever needed an extra $120k for a kidney or something, I could see Gawn –> Zmith making sense. He's clearly the #1 ruck at Geelong, he's underpriced and he's been travelling at 1.00 PPM over the NAB. Tick, tick, tick.
4. Jordan De Geoy ($342k FWD/MID)
As above, De Geoy misses out due to a personnel problem, because I've certainly had no issue with his scores of 102 and 81 (1.01 PPM) this pre-season. In season's past I wouldn't have the Grays, Halls and Wells' of the competition forcing my hand; but they are, and eventually Collingwood's midfield logjam was the deciding factor in displacing JDG from my side.
5. Daniel Howe ($265,000 DEF)
I've still got $96k in the bank and that's enough of a payrise to go from Mitch Brown up to Daniel Howe. It's a huge talking point – is Howe worth the premium over some of these rookie defenders? Does he have the job security to match his sexy NAB scoring? I'll get back to you on this one – once I figure it out for myself.
You're Dumped
I made so many trades, swaps, switches and substitutions over the pre-season that I feel like Gordon Gecko would be proud of me. It's the nature of the beast; you gotta move things around to get the best squad that you can. Upgrades here, downsize there, throw a value pick in the mix. It's a constantly evolving process and you really can't take it personally in this game.
However, when you dump a player that has sat in your side for months, it leaves a bitter aftertaste. It hurts. These players were there for you when you were hungover on a Sunday morning watching NAB Challenge; they were there for you when you were procrastinating through a particularly rough day at work. And to dump them, just like that? Out of the blue? There are never any winners when you break two hearts at once.

If I'm Alison Brie, here are the players that I've Adam Brody-ed this pre-season. Poor guys.
1. Elliot Yeo ($436k DEF/MID)
Has a sportsman ever personified his surname so perfectly since Tim Duncan first loped onto an NBA court? The Yeo-Yeo is way too up and down for my liking, as scores of 37, 45 and 78 validate. My biggest concern is that he seems to score big when the Eagles are up, but struggles when they're not. I'm after more consistency with my defenders, and preferably a full mouth of teeth.
2. Tom Liberatore ($443k MID)
We're all been smothering Liberatore with kisses and cuddles and warm fuzzies this pre-season, and it's only just this week that I stopped to actually evaluate his form. 0.68 PPM from two games was enough to throw me right off his scent and rethink – is Libba really going to stroll back into a very strong (albeit young) midfield featuring Picken, Macrae, Dahlhaus, Hunter, Bontempelli and Wallis and just massage out tons?
3. Matthew Lobbe ($431k RUC)
Yuck. Good riddance.
4. Toby Greene ($473k FWD/MID)
I've already left my deepest sympathies with Dustin Martin in the podcast, but Toby Greene was another FWD victim that was crushed by the Value Train (toot toot). Tobes hasn't set a foot wrong this pre-season, ticking over at 1.08 PPM from two efforts and even has some in-built upside after copping two vests last year. But has Jack Steele stolen the midfield time vacated by Treloar that we all thought was heading Greene's way?
5. Matt Rosa ($411k DEF/MID)
If you can't get past the 53-point barrier in two NAB Challenge outings, then I'm going to find it hard to pick you. In a vacuum, Rosa would be awesome at the Suns and I'd fully expect an 80+ return. Unfortunately, he seems to be one of those frustrating players that score wayyyy better as a 7th follower, rather than 3rd or 4th on the depth chart. Ablett, Prestia and Swallow injury woes have signed his death certificate here.
And yes, I've definitely cheated on these guys at least 16 times.
Investigating Investments

The sub vest was the worst fashion trend since upper-class teenage girls started wearing gladiator-style sandals and I'm just as glad that it's over. That stupid green vest ruined more weekends than I've had hot dinners, but there is a silver lining here; hidden amongst the debris are a few fantasy gems, boasting value that we're yet to truly unearth.
Here are a few ballers that you might want to boost up the list a little, now that they've shed that horrible sub skin.
Matt Suckling FWD/DEF: 83 unvested vs 80 priced
A three point sway isn't an earth-shattering revelation that'll have you re-jigging your side immediately. No-one's pulling a Kevin McAllister face; medics aren't combing the streets attending to readers who've passed out in shock. But an 83-point average puts Suckling in premium territory for a backman, he has that DPP flavour and early signs are that he's going to bottle happiness for fantasy owners in Bulldogs colours.
Rory Sloane MID: 102 vs 95
If you trust last year's numbers, then we have a Sloane-shaped bargain on our hands. However, if you suspect that Dangerfield's departure might have contributed to a lacklustre NAB Challenge that delivered scores of just 72 and 78, then it might be best to slide back out of Sloane's DM's.
Brodie Smith DEF: 77 vs 71
I was burnt, like so many, by the flames of high expectations for Brodie Smith last year and I'm finding it hard to move past that. This helps though, knowing that he's already 6 points undervalued based on last season's uninhibited work. A NAB scoring rate of 0.91 PPM ain't too shabby either – should I be rethinking Smith's banishment to the naughty corner?
Josh Kelly MID: 81 vs 73
I normally wouldn't waste your precious eye-time with a $406k MID like this, but just hear me out and then try and tell me afterwards that Kelly's not oozing upside with a straight face.
a) 8-points under-priced after copping four straight vests last year,
b) averaged 21 touches and 86 AF points post-bye,
c) 113 points in NAB 4 to bring him up to 1.00 PPM for the round robin, and
d) A former early draft pick coming into his THIRD SEASON.
Do we have a breakout pending with Joshua?
Tom Nicholls: 81 vs 74
Logging 0.83 PPM while in bubble wrap was huge for those considering Nicholls this year, and I'll find it hard to shoot anyone down after reviewing the influence that the sub vest had on his 2015 average. Tickles went 78+ in 10 of 13 non-subbed outings last year – I can only see him improving that with another year under the belt and the hopes & dreams of the Gold Coast faithful fueling him.
That's all from me folks. Keep that (AFL) fantasy alive, and I'll see you in the Moneyballin' articles throughout the year!