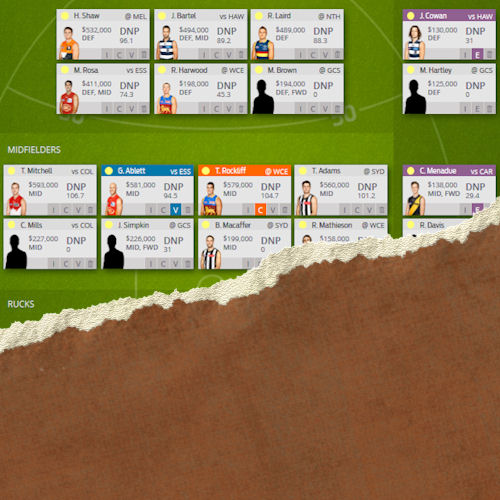 2016 is being highly touted as the year of the mid-pricer but I can't go past the tried and true strategy of good old Guns 'n' Rookies. Here is a sneak peak of 'The Biggest Losers' for 2016:
DEFENDERS:
It's hard to go past two of the long-time Fantasy guns in Jimmy Bartel and Heath Shaw. They should both be top 6 defenders at seasons-end and should both score around their average, if not above. Rory Laird should continue his form of 2015 and with a new surrounding should come a more consistent Fantasy game from Matt Rosa. The rookie-priced players to fill out the line pending Round 1 selection are Ryan Harwood, Mitch Brown, Michael Hartley and Josh Cowan.
MIDFIELDERS:
After an indifferent 2015 and a less-than-ideal pre-season two of Fantasy's greatest are automatic inclusions – Gary Ablett and Tom Rockliff. Both are arguably under-priced (especially Rockliff) and should again be around the top averaging players in 2016. The other two 'premium' players are part of the 'new-breed' coming through in Tom Mitchell and Taylor Adams. Both are primed to take the next step in 2016. The MID line is rounded out with prized Sydney draft pick Callum Mills, Bombers top-up player Jonathan Simpkin, Brent Macaffer who is returning from injury, Tigers forward Connor Menadue and rookies Rhys Mathieson and Ryan Davis.
RUCKS:
It's hard to go past the leading Fantasy player of 2015 in Stefan Martin. He is as consistent as they come and should be good for another 110+ average. At R2 is a player who is showing signs of great improvement in Max Gawn. All that can be said about him is #FEARTHEBEARD
Daniel Currie and Mason Cox will bide their time on the bench.
FORWARDS:
This is the line where the value can be found. Even with the value you still need the big point scorers so that's where Dustin Martin finds his place. With a (hopeful) return to the midfield Michael Barlow and Toby Greene should both increase their average on 2015 and push to become top 6 forwards for the season. The real value lies in the lower-priced players in Daniel Wells, Daniel Menzel and Ben Kennedy. All of these players should well exceed the average they are priced at and should also make some significant cash along the way. The forward line is rounded out with two of the rookie-priced Bombers in Nick Kommer and Anthony McDonald-Tipungwuti.
So there we go. With the NAB Challenge completed the season proper is just around the corner. Hopefully you are all putting together a team that you are confident with for the season.
Any questions or comments please hit me up on Twitter – @Pearcey47 and good luck for 2016!