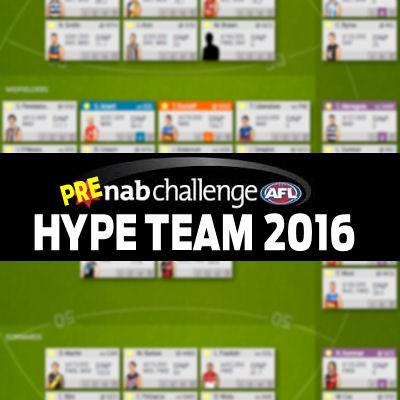 Every year I usually drop my pre-NAB Challenge team, you know, just before the pre-season games kick off. I sort of did that a couple of weeks ago on AFL.com.au.
So this year, I thought I'd post a team of the most selected players so far this pre-season and call it the first Hype Team.
It is basically made up of the most popular players across each line, fitting it within the salary cap. The forwards have the most selections by the looks of it, and as a result, I've chucked in Jed Anderson, Jonathan Simpkin and Liam Sumnar as FWD/MIDs to make it work. Having that many DPPs isn't common practice, but that's how the numbers came out!
It looks very vanilla -much like most teams I have seen posted around the place- but for this early stage of the season, it's not a bad thing! We can tweak things as the NAB unfolds.
Check out the side below, talk about it in the comments, vote in the poll below and get keen for the NAB Challenge starting where we will make hundreds of changes as the pre-season rolls on!
Loading ...