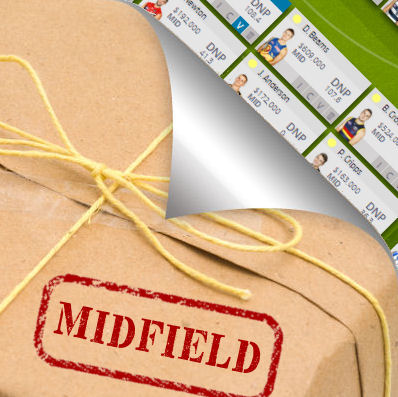 Welcome to the 2015 Dream Team Talk Writers Team Reveals. This year, the teams of each writer will be released one line at a time, over four consecutive nights. This give you a chance to look at each strategy used in the teams, in various lines and compare them to your own.
It's worth remembering; these are the writers current teams. As with all coaches, there will likely be plenty of changes until lockout. In fact, I'd be surprised if they were still the same from the time they were recorded for these articles, to the time you are reading this right now.
So let's get into in it. Presenting to you, the writers 2015 AFL Fantasy selections in the Midfield.
The Teams
ROCKSTARS – Anthony
CALVINATOR – Calvin
CHADWICK – Chad
DOVE LOVE – Crutton
DUNNY'S DESTROYERS – Dunny
GRIFFS FURY – Griff
JEPPA'S JUNIORS – Jeppa
LEFTY FANTASY – Lefty
BALLERS XVIII – Matt
THE WRATH OF MCRATH – McRath
DESTROY – Roy
WARNE DAWGS – Warnie
What can we learn?
Of the 2014 top ten averaging midfielders, three have not been selected; Dyson Heppell ($606,000), Matt Priddis ($611,000) & Steve Johnson ($613,000).
The two most expensive players, Tom Rockliff ($763,000) and Gary Ablett ($675,000) have not been instantly locked into the writers teams. Five coaches have forked out the big bucks for Rocky, but Ablett's price and injury interrupted pre-season has obviously kept many away, with only Jeppa & Roy backing him in from round one.
When it comes to rookie priced options, every coach has backed in Patrick Cripps ($163,000) & Aaron Vandenberg ($120,000). Keep in mind that these teams were provided more than a week ago, and before this tweet went out from Fox Sports' Adam Baldwin.
Developing Crow Cam Ellis-Yolmen ($120,000) has been backed in by ten coaches, as has the new Demon Ben Newton ($192,000).
As for under-valued premium break-out contenders, Ryan Griffen ($485,000), Lachie Neale ($466,000) and Andrew Swallow ($508,000) have all made appearances and Tbetta's boy Scott Selwood ($459,000) has also snuck into Anthony's team.
The most expensive M5 spot goes to both Roy & Warnie who have picked Luke Parker ($585,000) and only two writers have a $485,000+ priced player at M6. The majority of coaches are running with three rookies on the field.
The most expensive midfield belongs to Lefty, who despite not having either Rocky or Ablett, has spent a massive $4,053,000 (40.5% of his salary cap) at an average of $405,300 per player.
The cheapest midfield belongs to Anthony, who limps in to round one with Luke Parker as his most expensive player, spending just $3,264,000 (32.6% of his salary cap) at an average of $326,400 per player.
Of note, only three players, each selected once, are priced between $192,000 -$466,000. Daniel Rich ($268,000) in Crutton's team, Daniel Wells ($356,000) in Dunny's team and Marcus Bontempelli ($392,000) in my (Griff's) team are those players.
So what do you think? Comment below and let us know who you think has has the best midfield set up and why.