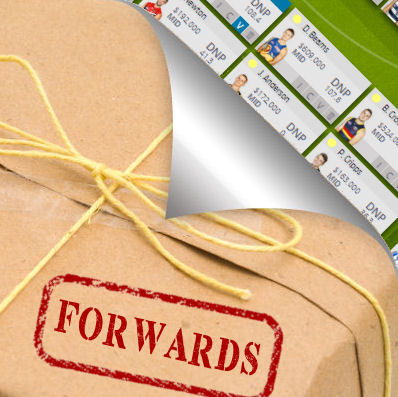 Welcome to the 2015 Dream Team Talk Writers Team Reveals. This year, the teams of each writer will be released one line at a time, over four consecutive nights. This give you a chance to look at each strategy used in the teams, in various lines and compare them to your own.
It's worth remembering; these were the writers teams as of last week. As with all coaches, there will likely be plenty of changes until lockout. In fact, I'd be surprised if they were still the same from the time they were recorded for these articles, to the time you are reading this right now.
So let's get into in it. Presenting to you, the writers 2015 AFL Fantasy selections in the Forward-line.
The Teams
ROCKSTARS – Anthony
CALVINATOR – Calvin
CHADWICK – Chad
DOVE LOVE – Crutton
DUNNY'S DESTROYERS – Dunny
GRIFFS FURY – Griff
JEPPA'S JUNIORS – Jeppa
LEFTY FANTASY – Lefty
BALLERS XVIII – Matt
THE WRATH OF MCRATH – McRath
DESTROY – Roy
WARNE DAWGS – Warnie
What can we learn?
If the twelve writers walked into an ice cream shop, most of them would order two scoops of vanilla. When it comes to the forward-lines, it seems their isn't much room for variety.
Of 78 possible forwards selected, there are only 18 selected across the twelve teams. If you take out unique rookie priced selections in Jesse Hogan ($194,000), Nathan Krakouer ($142,000), Tom Lamb ($201,000), Ben Reid ($146,000) & Robbie Tarrant ($142,000), all who were only picked once, you are left with only 13 forwards.
Bulldog Luke Dahlhaus ($494,000) and Crow Tom Lynch ($327,000) are unique picks and Pie Taylor Adams ($404,000) has been selected twice. Take them out and we are down to ten main forwards.
So who can the writers not say no to? Dustin Martin ($553,000), Robbie Gray ($546,000) & Mitch Clark ($156,000) – who are in every forward-line. Richmond's Kane Lambert ($120,000) is in 11 teams, and with dual position status, he may still line up in Jeppa's midfield.
Most interestingly, Jimmy Bartel ($562,000) who smashed the NAB Challenge is not in four teams. Unlike dual position player Dane Swan ($531,000) who is in 7 teams, as a forward only, there is no chance he is on another line. Warnie, Crutton, Dunny and McRath have all passed on the former Brownlow winner. Presumable Swan is in the midfield lines of the five other coaches – or Anthony, Chad, Lefty, Matt & McRath need to re-evaluate their life team choices.
Of the 2014 top ten averaging forwards, more than half haven't been backed in for a big 2015. Brent Harvey ($565,000), Brendon Goddard ($550,000), Brett Deledio ($548,000), Lance Franklin ($536,000), Devon Smith ($533,000) & Paul Chapman ($520,000) all have been ignored.
As for who is spending big; Jeppa has quickly made up for being the skimpiest writer in the backline. With a total spend of $3,022,000 near the main sticks, Jeppa is forking out an average of $377,750 per player and 30.2% of his total salary cap.
And who is trying to save some cash? Warnie. A massive $608,000 less than Jeppa, his forward-line comes in at $2,414,000, or $301,750 per player. Does the rookie expert Jeppa know something Warnie doesn't? Or has Warnie found some gems that may have been over-looked?
So what do you think? Comment below and let us know who you think has has the best forward set up and why.
TOMORROW: The final writers reveal as we look at the all important engine room – the Midfield.