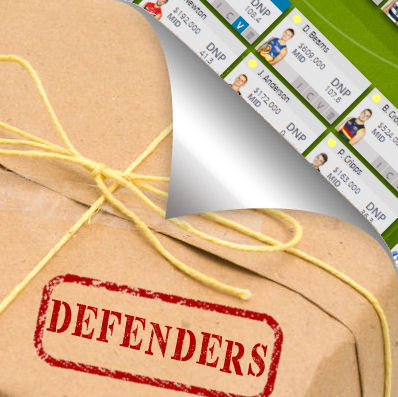 Welcome to the 2015 Dream Team Talk Writers Team Reveals. This year, the teams of each writer will be released one line at a time, over four consecutive nights. This give you a chance to look at each strategy used in the teams, in various lines and compare them to your own.
It's worth remembering; these are the writers current teams. As with all coaches, there will likely be plenty of changes until lockout. In fact, I'd be surprised if they were still the same from the time they were recorded for these articles, to the time you are reading this right now.
So let's get into in it. Presenting to you, the writers 2015 AFL Fantasy selections in the Backline.
The Teams
ROCKSTARS – Anthony
CALVINATOR – Calvin
CHADWICK – Chad
DOVE LOVE – Crutton
DUNNY'S DESTROYERS – Dunny
GRIFFS FURY – Griff
JEPPA'S JUNIORS – Jeppa
LEFTY FANTASY – Lefty
BALLERS XVIII – Matt
THE WRATH OF MCRATH – McRath
DESTROY – Roy
WARNE DAWGS – Warnie
What can we learn?
Much like in yesterdays Ruckmen reveal, value for money is what our writers are seeking. Of the Top Ten averaging defenders of 2014, only four were selected. James Kelly ($494,000), Kade Simpson ($521,000) and Brodie Smith ($465,000) were each selected twice and Luke Hodge ($550,000) was selected once.
That means that Nick Malceski ($521,000), Michael Hibberd ($506,000), Shaun Burgoyne ($491,000), Matthew Jaensch ($477,000), Andrew Mackie ($475,000) & Andrew Walker ($471,000) have all been ignored.
So who are our writers locking in to take the next step this year? Jack Newnes ($464,000). The 13th best averaging defender from 2014 has been locked into every single writers defensive line. Midpricers Kade Kolodjashnij ($387,000) and Garrick Ibbotson ($336,000) have also been shown some faith, featuring in eight and six teams respectively.
There are risks too. Heritier Lumumba ($402,000) is being backed from five writers to take his scoring to a new level at Melbourne, and Never-Again stalwarts Shaun Higgins ($430,000) & Heath Shaw ($456,000) are both in four teams.
For the rookies, it's recently elevated DPP option Adam Saad ($120,000) and yet to be elevated today Brett Goodes ($192,000) who are most selected, in ten teams each. Being a dual position player, it is possible Saad is also on the midfield line for the two coaches without him in their backline.
No writer has more than four defenders priced above $400,000 and the most expensive backline belongs to me (Griff). My backline has set me back $2,795,000 (27.9% of the total salary cap) at an average of just under $350,000 per player.
On the other hand, the cheapest backline belongs to rookie lover Jeppa. He has spent $537,000 less on his backline at $2,258,000 in total (22.6% of the total salary cap) at an average of just over $282,000 per player.
So what does it all mean? It means that apart from Jack Newnes, Adam Saad & Brett Goodes, our writers are all split on who is worthwhile selecting in the backline. It means in head-to-head match ups, it's could be our backlines that may split the difference late on Sunday afternoons. Choose wisely.
So what do you think? Comment below and let us know who you think has has the best defender set up and why.
TOMORROW: The writers reveal their forwards.