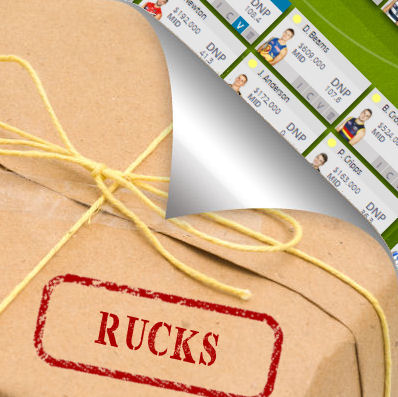 Welcome to the 2015 Dream Team Talk Writers Team Reveals. This year, the teams of each writer will be released one line at a time, over four consecutive nights. This give you a chance to look at each strategy used in the teams, in various lines and compare them to your own.
It's worth remembering; these are the writers current teams. As with all coaches, there will likely be plenty of changes until lockout. In fact, I'd be surprised if they were still the same from the time they were recorded for these articles, to the time you are reading this right now.
So let's get into in it. Presenting to you, the writers 2015 AFL Fantasy selections in the Ruck Department.
The Teams
ROCKSTARS – Anthony
CALVINATOR – Calvin
CHADWICK – Chad
DOVE LOVE – Crutton
DUNNY'S DESTROYERS – Dunny
Follow @pkd73
GRIFFS FURY – Griff
Follow @RLGriffinGWS
JEPPA'S JUNIORS – Jeppa
LEFTY FANTASY – Lefty
Follow @Lefty113
BALLERS XVIII – Matt
Follow @MattCraigDT
THE WRATH OF MCRATH – McRath
Follow @McRathDT
DESTROY – Roy
Follow @RoyDT
WARNE DAWGS – Warnie
Follow @WarnieDT
What can we learn?
It's clear that going cheap in the ruck department is the order of business for most of our writers this year. Matthew Leuenberger ($277,000) is the most selected ruck amongst our writers with eight selections, closely followed by Jason Holmes ($120,000) with seven selections. Tom Bellchambers ($281,000) is next with six selections. Sydney ruck in waiting Sam Naismith ($165,000) has four selections. Amazingly, only one writer has starting ruckmen who are both priced more than $300,000.
Of the premium selections, only Shane Mumford ($524,000) (selected twice) and Stefan Martin ($635,000), Sam Jacobs ($550,000) and Will Minson ($474,000) (each selected once) featured in the top ten ruckmen of 2014. Crutton is the writer to have spent the most on the ruck line, with $1,149,000 dispersed in the ruck department – 11.5% of his total salary cap. Jeppa & Roy on the other hand have spent just $798,000 for their entire line, an average of just $199,500 per ruckman, or 7.98% of their salary cap.
What can we learn from this? Well, most of the writers are cutting corners and steering away from the traditional Set & Forget ruck strategy to spend money in other areas. But what if, Matthew Leuenberger (for example), gets injured early in the season? Is there enough money in the bank to trade out of trouble?
It also shows there is no unanimous stand out rookie ruckman who will deliver. Jason Holmes is leading the way with one and a half games in the NAB Challenge for scores of 31 (v. Essendon) and 12 (v. Brisbane), but he needs to average 21 just to avoid going backwards in price – he's averaged 21.5.
So what do you think? Comment below and let us know who you think has has the best ruck set up and why.
TOMORROW: The writers reveal their defenders.