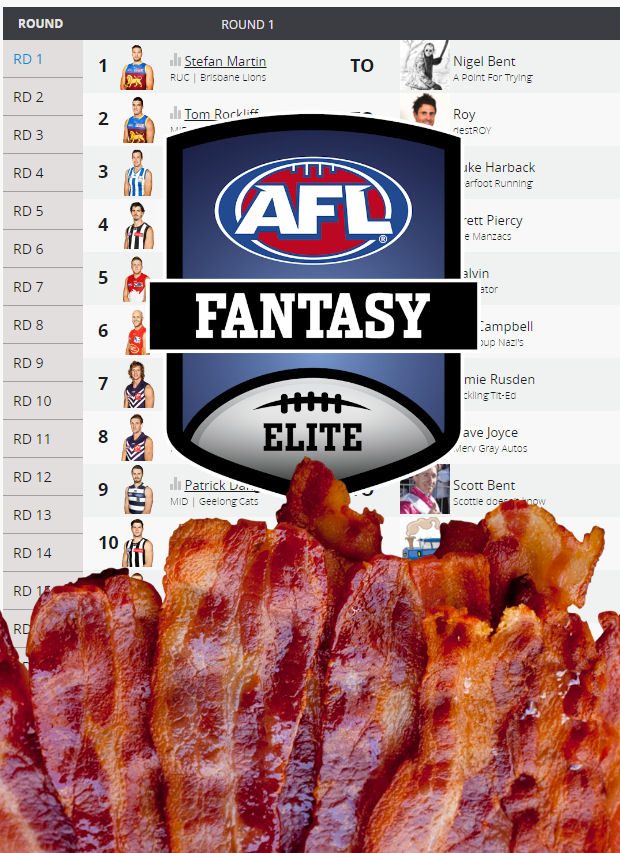 On Saturday 19 March, the 12 members of the Bacon Cup jumped on their devices to draft their 2016 teams in AFL Fantasy Elite. Eight blokes headed to Sporties Hotel in Launceston, a great pub with plenty of screens to watch sport and the home of the infamous $15 Parma and Pint deal on Monday nights (yes, a PINT of Boag's Draught. Best value ever!). Brett and Luke were drafting from Noosa (lucky men), Scottie was on his lonesome (well, with the races on) in Melbourne and Wombat was driving to a wedding up on the coast.
It was a very fun day with the beers flowing freely and plenty of banter – even if we did look like nerds sitting across a big table with laptops in a pub on a Saturday arvo.
The set up of our league is 12 coaches, 5-6-2-5-(4) squad size, captains off and a snake style draft. Next year we really hope that FanHub can drop a ruck from this size and add it to the midfield. Sucks having to pick 24 rucks – it also called for some sneaky tactics, more on that later!
The first round went pretty quickly with some interesting selections, but it went down as we pretty well predicted. A couple of surprises with Barlow and Montagna going before Dusty, but all in all, looked pretty good. I have a feeling that Gary Ablett could hurt a few people who skipped on him.
A Point For Trying – Chopper (Pick 1)
Chop was lucky enough to get the closest golf ball to the hole last week and ended up with pick one. He had no issues with taking the best ruck, Stefan Martin. There was drama for him as his sh*tty laptop wasn't working to start with so it was an auto-draft selection. Good thing he did a pre-draft list! He backed up with Nic Naitanui at pick 24 (his second after a long wait) to make sure he had the two best rucks he could get. Not a bad strategy. Chop is a Hawks supporter. Sam Mitchell (5th round), Jack Gunston (6th round) sit next to the currently injured Liam Shiels (13th round) and Cyril Rioli (14th round).
destROY – Roy (Pick 2)
Old mate Roy got his wish and took life partner Tom Rockliff with his first selection. He was happy to pick plenty of guys who have been training with his Classic team this preseason in Josh P. Kennedy, Mitch Robinson, Aaron Hall, Kade Kolodjashnij, Jake Stringer… the list goes on. Roy loves a bit of NAB Challenge hype too! Grabbing Lachie Hunter (13th round) and Bryce Gibbs (14th round) look to be steals. Roy stacked his bench with the best MIDs available (including Callum Mills who may gain DPP and be very valuable) before settling on a non-playing ruck in Michael Korcheck (who?!). This is so he can loophole and take his lowest scoring bench MID instead of a ruck – who was probably going to be rubbish anyway.
Barefoot Running – Luke (Pick 3)
Todd Goldstein was a solid choice first up before a big MID run, including Dane Swan for DPP with his second pick. Went with the strategy of leaving defenders until the second half of the draft. A bit of DPP action with the rucks, going with Nathan Vardy and Jarrod Witts, could be a masterstroke provided they are playing.
MANZACS – Brett (Pick 4)
Drafting from Noosa with Luke, the MANZACS talk the biggest game in the league – plus throws out PLENTY of trade offers… Warnie is entertaining one now with Dusty for his round one selection, Scott Pendlebury. Brett is pretty happy with how he drafted, going the best available. Not sure why he ended up with Shaun McKernan then. He's keen on Jack Steele being an x-factor and jumping up the rankings while some speculative picks in Christian Salem and a bargain in Matthew Leuenberger later in the draft could be a massive win for the MANZACS. Oh – and he did grab Jarryd Roughead to sit on the pine until he is back. Good call.
Calvinator – Calvin (Pick 5)
As Calvin said in the video, he choked the draft. But on paper, it isn't so bad. Dan Hannebery at pick 5 ahead of Ablett isn't terrible and getting Jordan Lewis late in the second round is pretty good. Calvin was worried about taking Matthew Boyd that early and the table wondered what he was doing getting Sam Gray in the fourth round. There was some good footage of Calvin grabbing Tom Lynch from Gold Coast and wondering what he had done! There's a lot of names in Calvin's list that we probably wouldn't have picked… had he not had so many beers! Who is Seb Ross?
Soup Nazis – Stu (Pick 6)
Our reigning champion, Stu, was pumped to get Gary Ablett at six and then following up with Jack Steven at 19 got his day off to a good start. The Soup Nazis look pretty good across all lines and if Josh Caddy gains FWD status, then wowee… that forward line looks good. Stu is adamant that Jonathon Ceglar will be the number one ruck at the Hawks by mid-season.
Tackling Tit-Ed – Ruz (Pick 7)
With Nat Fyfe at the top of his rankings, Ruz was stoked that he made it all the way to round seven. Mixing between positions as he drafted, the squad looks great with not too much Sydney bias. Ollie Wines at pick 55 could be the steal of the draft. The key for Ruz will be when Jaeger O'Meara gets back. He will help bolster the midfield.
Merv Gray Autos – Chook (Pick 8)
The founder of DT Talk, Chook, had his game face on from the get-go. His laptop, complete with footy goals on top, worked overtime finding the next best available. Michael Barlow was his first selection backing up with arguably the third best ruckman in Max Gawn in the second round. Five Dees ended up in the Autos, including Dom Tyson who could prove to be better than pick 224.
Scottie Doesn't Know – Scott (Pick 9)
Drafting from Melbourne with the races on, which could explain some selections… including an auto-draft of Ethan Hughes (make sure you set a pre-draft list people!!) Scottie did pretty well and his team will be looking good come later in the season. If Dayne Beams was playing round one, he would have been taken in the first round and a half, so pick 33 could be a bargain if he doesn't miss too many games. If Ben McGlynn can get a game early and hit form, his 15th round selection could be a winner. Getting big boy Ben McEvoy at 19 was a win considering how many rucks had gone.
Poketrain – Pokey (Pick 10)
Sitting next to Roy, Pokey took in everything the AFL Fantasy expert had to say, including the sneaky ruck loophole by drafting Mason Cox to the bench. I hope the American plays to foil that plan! Pokey drafted very well. The Poketrain looks sensational on paper with plenty of established stars and a lot of up and comers such as his first round pick Taylor Adams and our boy Jesse Longergan at a tasty pick 130.


Warne Dawgs – Warnie (Pick 11)
After getting the second last ball, thanks Bolts, I went with Sam Jacobs with pick one. I have him ahead of Gawn. It was risky, but by getting Dustin Martin when it came back to me a couple of picks later, I was content. Joel Selwood had a great VFL game the night before, so I grabbed him at a very late 35. I was given plenty of sh*t about it being a VFL game. Cam Guthrie at 16 and James Kelly at 19 could prove to be two of the best selections in the draft if they gain DEF status. Fingers crossed.
Thunder Thighs – Wombat (Pick 12)
Driving to a wedding, Zane – the coach of the back-to-back North Launceston in the TSL – was drafting from his phone and did a pretty good job until pick 157 when the retired Matthew Jaensch became a member of his team. Otherwise, it's looking good for the Thunder Thighs. Luke Hodge for potential DPP would be a win to replace Jaensch while David Zaharakis at 18 is a great selection for someone who could average 95+.
Big thanks to Sporties for the hospitality. Bring on a big season of AFL Fantasy Elite in the Bacon Cup!
The Bacon Cup #AFLFantasy Elite draft 2016! Great day at @Sporties_Hotel in Launceston. Laptops in pubs are cool! pic.twitter.com/sYHEJ7z4ya

— Adam 'Warnie' Child (@WarnieDT) March 19, 2016