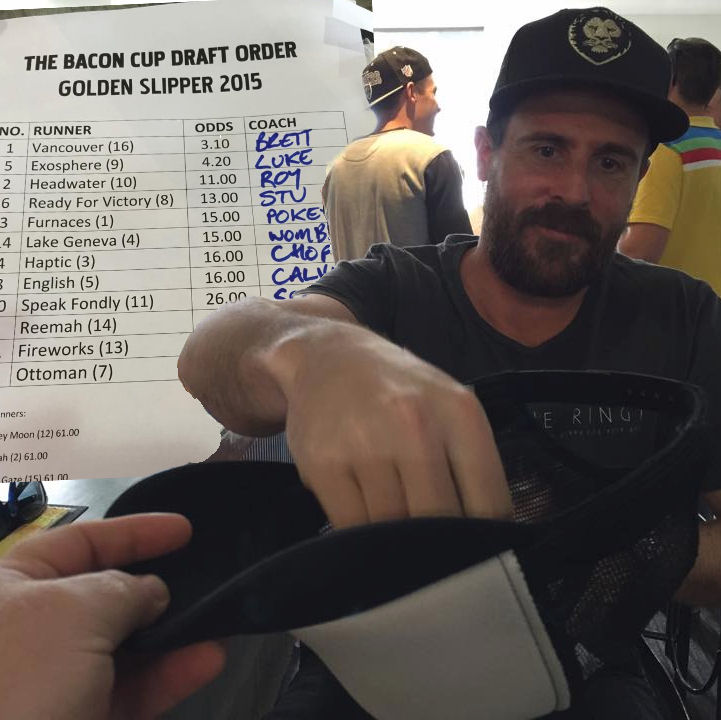 Playing AFL Fantasy Draft is the way to go about things if you want an engaging Fantasy game that allows for plenty of banter and fun during the season. Arguably the best part about playing in a draft league is Draft Day itself.
The preparation is important. Getting your rankings right, making sure your technology/batteries/wifi holds up, etc. What is sometimes missed is how a unique way of getting your draft order for your league is determined. This can add to the fun – and potentially extend the joy of draft day by a few more months in some cases.
Our league, affectionately re-named The Bacon Cup a couple of years ago due to our love of Fantasy Pigs, used to just go with whatever the site gave us randomly. Two years ago we went down to the local watering hole and found a race with 12 runners, we had the bartender draw our names out of a hat and we were assigned a horse. Simple concept and one that has been done many times before. This was a good one for us as we have three of our league members interstate.
Last season, on the weekend before our draft, we headed to a nearby golf club. The winner from the previous year is to pick how the draft order is to be determined and Stu decided to call on our A-Grade golf buddy Bolts to head to a Par 3. He had 12 balls and each coach was assigned a number. Bolts sent his balls down and nearest to the pin would get first pic. Stu even made up some markers with our heads attached. The excitement of seeing what numbered ball that had just landed (as we dodged errant shots from this so-called pro golfer) as we sucked on a few Boag's Draughts was awesome.
What will we be doing this year? We haven't been told as yet. League champion from 2016, Luke, will be getting his thinking cap on to come up with something special.
I reached out via Twitter on how other leagues set their draft order. Of course you can use the random numbers the site gives you, but there are plenty of fun and creative ways commissioners have set their order. A lot will depend on if all coaches are available at the time.
I've just been involved in a draft order selection where we were assigned a group of players in the Australian Open. Your group received points for how far they made it through the rounds.
One of our favourites here at DT Talk, Tbetta, has been playing draft leagues for years across different sports (NBA is a big passion). For the upcoming season they have set up a 'decathalon' where coaches tip the winners of different contests from Darts to Olympic to Hollywood movies to the Bachelorette. This process spans three months!
Also our man Jimbob's league always uses a bartender to help their draft order to be selected. Last year it involved popping balloons.
Anna tweeted us and suggested selecting a case on Deal or No Deal. The case with the highest dollar figure got pick one. McRath played poker one year and on another year they drew a team out of the hat for the pre-season competition and the best performing club got pick one.
If all coaches are available, Sam's suggestion of a running race works well (maybe not for me). I have also heard about sack races and other novelty things such as basketball shootouts, longest golf drive, paper aeroplane throw, darts, etc. The options here are endless. A series of these combines would be good to keep things interesting and hopefully people thinking they are in with a chance.
Over on Facebook, there were some great suggestions.
In Damon's keeper league, the bottom 5 in order got to selected a batsman each from the BBL final. Highest score wins. In the event of a tie, highest strike rate wins.
Here's a ripper! Timothy's group plays beer pong with names and numbers. The names then goes with a horse in a 10 horse race. The order of the race results is the order of the chosen player in the last pre-season full game and, naturally, Fantasy points determine the draft order!
Andrew's 12-man league has two parts to it. Firstly they are divided into three groups of four. Each group was given a pizza delivery joint. The order of the delivery split the positions of the groups. First pizza to arrive sees the group getting picks 1-4, second to be delivered gets picks 5-8, etc. The order for each of the groups is then decided by a 2 v 2 beer pong tournament followed by 1 v 1 and the final pick order is then determined. What an awesome event that would be!
Finally, and something I want my league to consider, is Liam Duffy's epic suggestion. They have 'Crazy Crabs' under a bowl in the middle of the table. Each player bought and 'groomed' their own crab. Draft order was devided by the order the crabs passed a boundary drawn on the table. So good! Possibly a little better than what we saw in the opening episode of season one of The League.
— Sam Lord (@slord81) January 4, 2017
Post any different ways your league has determined your Draft order in the comments.