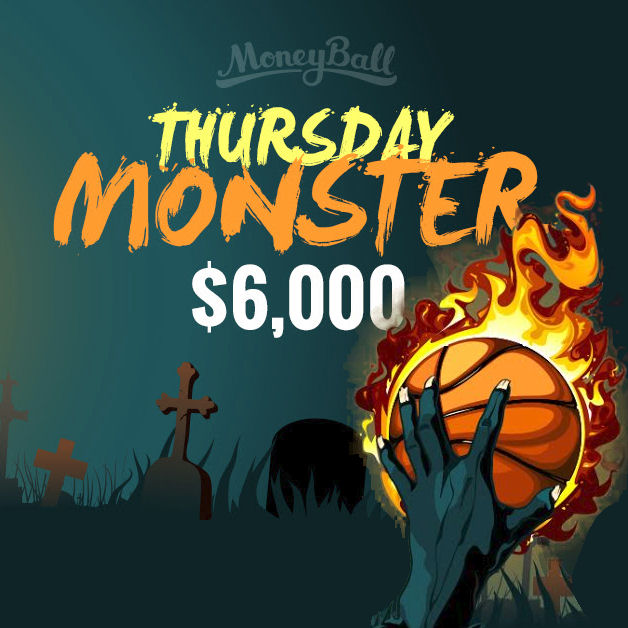 Daily Fantasy Sports has been bought to Australia in 2015 by the guys at Moneyball.com.au – the leading DFS platform in the country. They have a large array of games available in the lobby, ranging from an outlay as little as $2 up to $200 and beyond! Sign up today and join the Daily Fantasy Sports revolution!
Moneyball contests for NBA are easy to be involved in – simply select 9 players (2 point guards, 2 shooting guards, 2 small forwards, 2 power forwards and 1 centre), whilst keeping under the $60,000 salary cap. Jump in the lobby today and give it a go!
Thursday's contests include the HUGE Guaranteed $6,000 Thursday Monster ($15 entry) as well as a Fadeaway Special, a Slam Special (both $10 entry) and an Airball Special ($5 entry). They also have the usual H2H, Double-up and other competitions to satisfy your Daily Fantasy Sports appetite!
Picks for Thursday 7th January 2016:
POINT GUARD:
Russell Westbrook (OKC) – $11,100
The Thunder will be fronting up to this contest against the Grizzlies without their star Small Forward Kevin Durant. What this means is that Russell Westbrook will have to put the Thunder on his back and do it all on both ends of the court. Westbrook is known for going into beast mode when Durant sits and expect more of the same here.
Kemba Walker (CHA) – $8,400
Walker has been in stellar form over the past couple of weeks with 4 of his past 6 games resulting in a Fantasy score of 42 or more. He will be playing here against the Suns whose guards are well known for giving up a lot of Fantasy Points, especially since Eric Bledsoe went down with injury. Expect Walker to score big in this one.
Patty Mills (SAS) – $3,800
Tony Parker has already been ruled out of this game against the Jazz so Parker should get the start in what should be a favourable match-up for him. He has had 18 straight games scoring at least 10 Fantasy Points but without Parker in the team expect quite a few more. Should be a great value play.
Click here to play Daily Fantasy NBA with Moneyball.
SHOOTING GUARD:
DeMar DeRozan (TOR) – $8,400
According to Raptors coach Dwayne Casey, DeRozan is in the best form of his career, and it is certainly translating well in to his Fantasy scores. He went on a run of 11 straight games of 30+ Fantasy Points before being slightly down in his past three games, with scores of 25.5, 32.4 and 26.4. Against the Nets he should easily score 30+ and start a new streak.
Will Barton (DEN) – $7,300
Anyone that selected Barton in his last game have probably put him in the 'do not pick ever again' basket after he put up a 9.4 Fantasy Point stinker against the Blazers. Some are quick to forget that before that game he had eight straight games where he scored at least 27 Fantasy Points. Against the fast-paced Pelicans Barton should recover from his poor last effort.
Arron Afflalo (NYK) – $4,300
Afflalo has been on fire in his past two games with scores of 44.4 and 38.4 Fantasy Points in back-to-back games against the Hawks. He will be suiting up here against the Heat and for the Knicks to be a chance Afflalo will have to continue his good form. Anything over 25 Fantasy Points is great value for his price.
SMALL FORWARD:
Paul George (IND) – $8,800
George went 11 games in a row without scoring 40 Fantasy Points which is an extremely long cold streak. The good news is that in his last three games he has scored 45.7, 48.3 and 46.4 points. It is fair to say Paul George is back! In what should be a great game against the emerging Magic George will need to put up some good numbers if the Pacers are to win.
Andrew Wiggins (MIN) – $6,600
Last year's number 1 draft pick probably hasn't taken the step in his second year that a lot of people thought he would. He has only had three games where he has scored over 40 Fantasy Points out of 34 games played. Against a struggling Nuggets team Wiggins will be a good chance to have one of his better games.
Evan Turner (BOS) – $5,300
Turner was picked number 2 the year he was drafted. To say that his career hasn't quite been as good as you would expect a number 2 draft pick's career should be is a bit of an understatement but regardless of that Turner has been providing some great value, scoring over 20 Fantasy Points in five straight games. Expect another decent score against the Pistons.
Click here to sign up to Moneyball.
POWER FORWARD:
Anthony Davis (NOP) – $10,300
Due to his high price tag Davis can be a bit hit or miss on any given day. Even if he has a score of around 40 Fantasy Points it can still be an underwhelming output for anyone's squad. He is up here against a Dallas side that is coming off a double overtime game against the Kings, where DeMarcus Cousins scored 65.4 Fantasy Points. Hopefully Davis can get somewhere near that score.
Kevin Love (CLE) – $7,400
Love has been battling illness of late but he came good in his last outing, against the Raptors, scoring 36.8 Fantasy Points. Love will likely be playing third string to LeBron James and Kyrie Irving now he is back but at his value price and against a weakened Wizards frontcourt Love should be a good pick.
Tristan Thompson (CLE) – $4,600
Thompson has been starting for the Cavs of late and has been providing great numbers, especially on the glass. He has had double-digit rebounds in six of his past seven games. He doesn't contribute a lot in other categories but against the Wizards he should get his fair share of boards and put-backs to be a good value pick.
CENTRE:
DeAndre Jordan (LAC) – $7,900
With Blake Griffin on the sidelines Jordan has had to step up his game and step up he has. He has had a double-double in seven of his past nine games and is really ripping down the boards. Against the Blazers Jordan should have a field day and a 20-20 game isn't out of range for the big Clippers Centre.
Tim Duncan (SAS) – $5,500
Duncan was held scoreless for the first time in his 1,360 game career a couple of games ago against the Rockets. This surely would not have gone down too well so Duncan bounced back with a 14 point, 10 rebound return in the next game. He is up here against a depleted Jazz outfit and as long as he isn't rested he should put in a vintage Duncan performance.
Jeff Withey (UTA) – $4,300
Withey has seen some increased minutes of late with injuries to Rudy Gobert and Derrick Favors and has been putting up some decent numbers. He has scored at least 30 Fantasy Points in four of his past five games which is great value for his low price. He has a tough match-up against the Spurs but with the minutes he will need to play he should still be good value.
There you have it, my picks for Thursday 7th January 2016. Let me know your thoughts via Twitter – @pearcey47
Click here to find all of the Moneyball contests in the lobby.
And as always, remember to only play with an amount of cash that you can afford to lose.