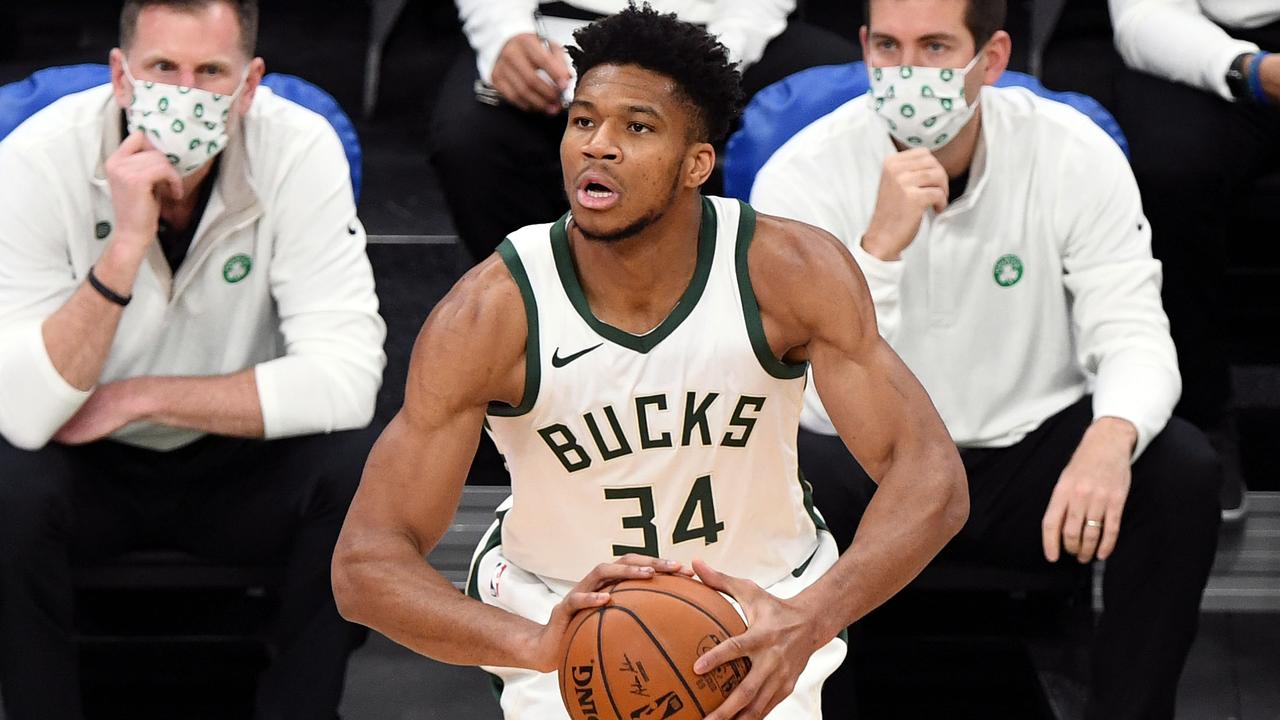 It is well-known that much of the pre-season hype surrounds the NBA Championship and who will get their hands on the Larry O'Brien Trophy. But the question of who will be the MVP is always an interesting counter discussion.
Giannis Antetokounmpo has been the recipient in each of the last three years. He will be looking to emulate three other legendary players, Larry Bird, Bill Russell, and Wilt Chamberlain, in winning a hat-trick of consecutive MVP titles.
Giannis won his second-straight #KiaMVP award last season… who will be named Kia Most Valuable Player this season?

Reply with a gif of who you think will be this year's MVP! #KiaTipOff20: Tuesday, Dec. 22 on TNT pic.twitter.com/qFejbj7d5Z

— NBA (@NBA) December 14, 2020
Can anybody stop the Milwaukee Bucks giant? Here are the leading contenders for the 2020-21 MVP Award according to the sportsbooks.
Luka Doncic
There's almost no doubt that, at some point, Luka Doncic will be the NBA's MVP.
At just 21 years old, the Slovenian has more than a decade of top-level action to come – assuming he stays injury-free. It is undeniable that he is already serving up elite numbers. Last season, Doncic plundered 28.8 points per game, 9.4 rebounds, and 8.8 assists. The point guard really upped his game in the playoffs, where his Dallas Mavericks side were pipped by the LA Clippers.
Here's the stumbling block; in six of the last eight years, a player from the top seed of the regular season has gone on to be crowned MVP. But, at this moment, it seems unlikely the Mavericks will ascend to that level.
Consequently, Doncic will have to put up hall-of-fame style numbers to be considered – not impossible, but it's a surprise to see him listed as the sportsbooks' favorite.
LeBron James
The four-time NBA MVP was overlooked for the award last season, much to his chagrin. This was despite leading the LA Lakers to the Championship title for the first time in more than a decade and being named Finals MVP along the way.
That said, his numbers were down in the stratospheric highs of recent seasons, with his points per game tally, field goal percentage, and rebounding output all down on his prior three campaigns.
But remember, top seeds tend to thrive in the MVP discussion, and with the Lakers as favorites in the latest basketball odds for the NBA Championship and the Western Conference too. LeBron, fuelled by the fury of not taking the crown last year, will surely be in the mix once more.
Stephen Curry
It's a long shot, but Stephen Curry is part of the crème de la crème of the NBA. If his Golden State Warriors teammates can support him suitably, then the two-time MVP can add a third gong to his collection.
That could be the problem, however. Kevin Durant has moved to pastures new. In addition, Klay Thompson – whose 2020 was wiped out by injury – has now suffered a heart-breaking Achilles rupture that will keep him sidelined for most, if not all, of 2021 as well.
Curry himself is starting the season after an injury. In spite of this, ESPN commentator Jeff Van Gundy believes Curry is going to have 'an incredible year', but it's uncertain whether that will include being MVP.
Giannis Antetokounmpo
Of course, no debate about the MVP award can go by without mention of the best in the business.
Giannis' new long-term contract should keep the fire burning inside him, as well as fulfilling his aim of delivering an NBA Championship at long last for the Bucks.
The 2020-21 GM survey has been released by the NBA 🍿

◾️ Most likely to win MVP: Giannis 3-peats
◾️ Best offseason moves: Lakers
◾️ Player to start a franchise with today: Luka or Giannis
◾️ Most likely to win ROY: LaMelo Ball pic.twitter.com/UZbsgrS98A

— Bleacher Report (@BleacherReport) December 18, 2020
They have been the top seeds in each of the last two seasons, and with a settled roster, plus the addition of Jrue Holiday, they will surely go close once again on that front.
Roughly one-third of NBA general managers expect Giannis to be named MVP once more, and it really is hard to argue with such an assertion.
Either way, whoever does take the spoils this season will have very much earned it.