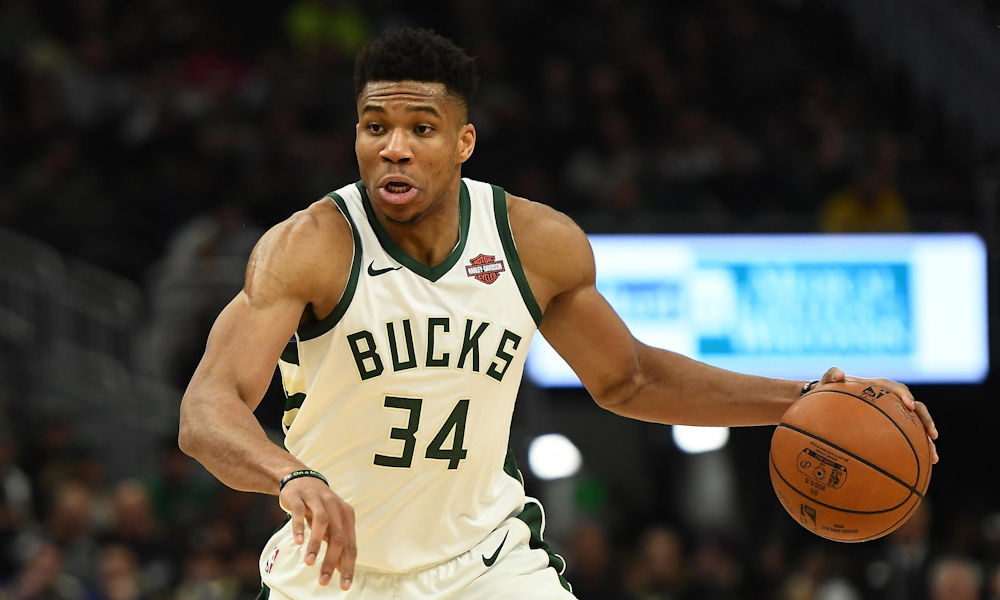 With more than three-quarters of the regular season already played, the race for the MVP award is heating up. Towards the end of 2019, James Harden was many experts' top pick for the honour, but a lot has changed since then with two players, in particular, forcing their way into contention.  So, who will pick up the top honour when the current season concludes later this year?
Bucks forward is leading the way
James Harden may have been a popular pick amongst fantasy players this season, but he has slipped down the pecking order in the MVP rankings after a slight dip in form. That paved the way for Giannis Antetokounmpo of the Milwaukee Bucks to stake his claim, and the Greek professional is the current frontrunner according to most media experts. But can he hang in there for the final run of games to bag a second-straight award? He was certainly full of praise for Harden in a recent interview.
Giannis Antetokounmpo dished out some praise to fellow MVP James Harden on Thursday https://t.co/OABz4xNjqw

— Sports Illustrated (@SInow) March 28, 2020
Pushing the 25-year-old Bucks forward is LeBron James of the LA Lakers who forced his way back into the conversation with some epic performances against the Bucks and the Clippers featuring Antetokounmpo and Kawhi Leonard, respectively. James now stands ahead of Harden but there are still enough games left to be played for several players to make an impact. The Lakers and the Bucks are joint-favourites at 5/2 to win the championship in the latest basketball odds.
Luka Doncic, Kawhi Leonard, Anthony Davis and Chris Paul have all performed well this term but none have done enough to usurp Giannis Antetokounmpo from the No. 1 spot. Likewise, Russell Westbrook has not lived up to expectations and has faded from contention.
Harden suffered from a poor start in 2020
Harden is aiming for his sixth top-five finish in the MVP list. He was second last year and first in 2017/18. He also finished second in 2014/15 and 2016/17, making him second only to LeBron James in the all-time top-two finishers list (James has finished in the top two on seven previous occasions).
The LA-born shooting guard is also on course to land another scoring title after winning the award for the last two seasons. However, his average has dropped from 36.1 per game last year to 34.4 so far this season, despite racking up a 38.6 average across the first 30 games which put him on course to break Wilt Chamberlain's 57-year-old single-season scoring record. A poor start to 2020, which yielded just 29.8 points per game, soon ended any hopes of reaching that goal.
Prediction
Despite the late surge from LeBron James, it seems almost certain that Antetokounmpo will claim the top spot and his second straight MVP award providing he stays fit for the remaining games when action resumes.
Congratulations to @Giannis_An34 of the @Bucks on winning the 2018-19 Most Valuable Player! #KiaMVP #NBAAwards pic.twitter.com/l8SN27FFTG

— NBA (@NBA) June 25, 2019
He leads James in a number of stats including the Player Efficiency Rating (PER) which is often seen as a reliable benchmark for MVP rankings, and the NBA Player Impact Estimate which puts the Bucks' man on 23.9 ahead of James on 20.0. Things are looking good for the player they call the "Greek Freak."