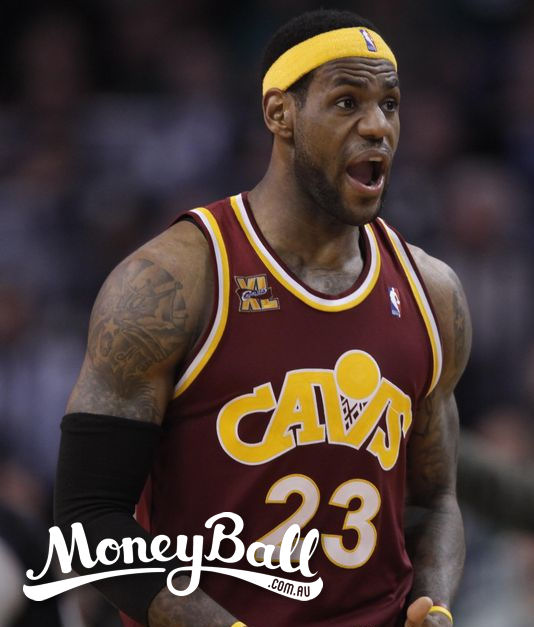 Daily Fantasy Sports has been bought to Australia in 2015 by the guys at Moneyball.com.au – the leading DFS platform in the country. They have a large array of games available in the lobby, ranging from an outlay as little as $2 up to $200 and beyond! Sign up today and join the Daily Fantasy Sports revolution!
Moneyball contests for NBA are easy to be involved in – simply select 9 players (2 point guards, 2 shooting guards, 2 small forwards, 2 power forwards and 1 centre), whilst keeping under the $60,000 salary cap. Jump in the lobby today and give it a go!
Sunday's contests include a Guaranteed $3,500 Sunday Bank ($15 entry) as well as a Rebound Special, a Lay-up Special (both $10 entry) and an Airball Special ($5 entry). They also have the usual H2H, Double-up and other competitions to satisfy your Daily Fantasy Sports appetite!
Picks for Sunday 3rd January 2016:
POINT GUARD:
Russell Westbrook (OKC) – $10,900
Westbrook has been absolutely on fire of late, scoring at a rate of 58.3 Fantasy Points over the past three games. In his last game, against the Suns, he had an unbelievable 36 points, 12 assists and 5 steals. He is matched up here on the road against the Hornets and Westbrook will be keen to silence the home crowd with his stellar play.
JJ Barea (DAL) – $4,600
After recently taking on the starting Point Guard duties in Dallas, Barea has been providing some great numbers and has been the main source of offence for the Mavericks. He will be matched-up in this contest against the fast paced Pelicans, so there will be plenty of points for Barea to acquire.
Ish Smith (PHI) – $4,400
Smith has recently been traded from the Pelicans to the 76ers and Philadelphia Head Coach Brett Brown must have liked what he saw in Smith in New Orleans as he has thrust him straight into the starting line-up. He continues to provide fantastic value for his low price and he is a must start purely based on his bang for buck.
Which teams score the most and give up the most Moneyball points? Click here!
SHOOTING GUARD:
Klay Thompson (GSW) – $7,100
With fellow Warriors guard Steph Curry doubtful with a lower leg injury, Thompson will need to be very active on offense if Curry misses. Thompson was just that in the Warriors last game, against the Rockets, where he scored a game high 38 points on his way to 44.4 Fantasy Points. If Curry misses Thompson will be very important.
Will Barton (DEN) – $6,900
Will 'The Thrill' Barton has been one of the few bright spots for the Nuggets this season. He is a front-runner for 6th Man of the Year as he provides the Nuggets with a great all-around contribution off the bench. If the Nuggets are to have any chance against the Warriors Barton will have to get very busy.
JJ Redick (LAC) – $4,900
Since team-mate Blake Griffin went down with injury Redick has been providing the Clippers with great offensive punch, scoring 20+ points in three of the last four games. Redick doesn't contribute much in any other categories but against the struggling 76ers as long as he hits the scoreboard often he will be good value.
SMALL FORWARD:
Kawhi Leonard (SAS) – $9,100
Leonard's price has crept above $9,000 due to his solid and consistent play this season. He always scores around his season average of 38.6 FPPG, hardly ever dropping under 30 and rarely scoring above 50. He is matched-up here against the Rockets who give up lots of Fantasy Points so Kawhi could have one of his rare 50+ games.
Chandler Parsons (DAL) – $4,900
After a slow start due to a serious knee injury suffered last season, Parsons has started to re-discover the sort of form he is known for. After only having 2 scores of over 20 Fantasy Points his first 19 games, he has scored over 20 in 4 of his past 7. In what should be a fluent contest with the Pelicans look for Parsons to provide some value.
Jeff Green (MEM) – $4,900
Green has been a solid contributor over the past 4 games, scoring at least 28 Fantasy Points in three of those four games. He has been averaging around 28 minutes a game over that period and in a game against a weakened Jazz outfit Green should once again provide the Grizzlies with some good numbers.
Click here to sign up to Moneyball.
POWER FORWARD:
Nerlens Noel (PHI) – $5,800
Noel has been in career-best form over the past four games, scoring at least 33 Fantasy Points in each one of those games. It culminated in his last game, against the Lakers, where he had his second highest Fantasy score of the season, scoring 44.9 Fantasy Points. He is up here against the Clippers where hopefully the good form will continue.
Cody Zeller (CHA) – $4,500
In his past seven games Zeller has scored at least 21 Fantasy Points in each contest. He is stringing together a nice little run of games, and will continue to start for at least the near future whilst Al Jefferson is sidelined. At a price of only $4,500 Zeller provides great value for any Moneyball line-up.
John Henson (MIL) – $4,100
Henson has shown some form of late, scoring 17 Fantasy Points or more in six of his past seven games. When he gets the opportunities he is a very efficient player, showing that over the past couple of weeks with three games of 25 Fantasy Points or more. Up against the young Timberwolves Henson should get ample opportunity to put his skill-set on show.
CENTRE:
Marc Gasol (MEM) – $8,000
In his past 10 games Gasol has put up 4 games of 40+ Fantasy Points. In his last game, against the Heat, he had 23 points, 8 rebounds, 6 assists and 4 blocks on the way to 47.6 Fantasy Points. With his ability to contribute in most categories he rarely posts a bad score. Look for him to go big against a weak Jazz frontcourt.
Andrew Bogut (GSW) – $4,800
Bogut has been playing some larger than normal minutes over the past couple of games due to an injury to fellow Centre Festus Ezeli. Ezeli is again a game-time decision for this upcoming game against the Nuggets so if he sits Bogut might once again have to play extended minutes. If so he should provide great value for his price tag.
Cole Aldrich (LAC) – $3,500
Aldrich hasn't seen the court a lot this season but since Blake Griffin went down with injury Aldrich has seen a few minutes in the Clippers rotation. Just three games ago Aldrich put up 33.7 Fantasy Points against the Wizards and in this game, against the 76ers, Aldrich should see significant minutes if the Clippers get up early.
There you have it, my picks for Sunday 3rd January 2016. Let me know your thoughts via Twitter – @pearcey47
Click here to find all of the Moneyball contests in the lobby.
And as always, remember to only play with an amount of cash that you can afford to lose.