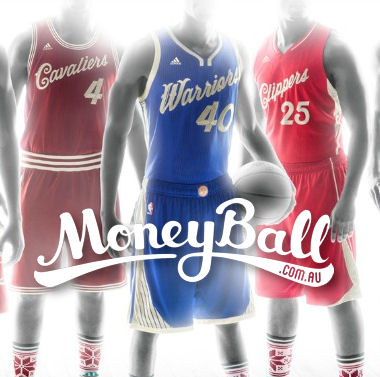 Daily Fantasy Sports has been bought to Australia in 2015 by the guys at Moneyball.com.au – the leading DFS platform in the country. They have a large array of games available in the lobby, ranging from an outlay as little as $2 up to $200 and beyond! Sign up today and join the Daily Fantasy Sports revolution!
Moneyball contests for NBA are easy to be involved in – simply select 9 players (2 point guards, 2 shooting guards, 2 small forwards, 2 power forwards and 1 centre), whilst keeping under the $60,000 salary cap. Jump in the lobby today and give it a go!
Picks for Saturday 26th December 2015:
POINT GUARD:
Stephen Curry (GSW) – $11,200
Curry and the Warriors are playing in this Christmas Day fixture against the Cavaliers. The best in the West vs the best in the East. This has all the makings of an epic game and is just the sort of game that Curry would want to dominate in to show he is the best player in the world. Curry will have all his tricks on show which should amount to a huge Fantasy score.
Russell Westbrook (OKC) – $10,500
Westbrook seems like the sort of guy that loves the big stage and none is bigger during the regular season than Christmas Day basketball. The Thunder play host to the Bulls in what should be another great display. Look for Westbrook to set the tone early to get the jump on the Bulls and put up some big numbers.
Which teams score the most and give up the most Moneyball points? Click here!
SHOOTING GUARD:
Klay Thompson (GSW) – $7,200
Thompson is the self-confessed best Shooting Guard in the NBA so he will be keen to walk the walk after talking the talk in this big game against the Cavs. Thompson started the season very slowly only scoring over 20 points twice in his first 17 games but has been playing much better since, only scoring under 20 points once. Expect him to easily score 20+ here.
Kobe Bryant (LAL) – $6,600
This is going to be the last Christmas Day game that Kobe will ever play in so expect him to go out with a bang. He has been in some decent form lately, equalling his season high of 31 points against Denver earlier in the week. If anyone is going to step up in a widely televised game it's going to be Kobe.
SMALL FORWARD:
LeBron James (CLE) – $10,900
LeBron doesn't seem like he is quite ready to hand his title of 'best basketballer in the world' over to anyone just yet so expect him to put in a huge Christmas Day performance against the league-leading Warriors. James will be showcasing all his abilities and doing everything in his power to get the W for the Cavs.
Luol Deng (MIA) – $5,100
Based on his production to date Deng is having his worst season since he entered the NBA way back in 2004. He had a very ordinary start to the season and then sat out 6 games due to injury but since returning he has hit some decent form, averaging around 35 minutes and 21.1 Fantasy Points in his past 8 games. If he can increase on that here against the Pelicans he will be a solid value play.
Click here to sign up to Moneyball.
POWER FORWARD:
Pau Gasol (CHI) – $9,200
Gasol has been playing the Centre position for the Bulls this season and has just recently lost his back-up Joakim Noah for a couple of weeks due to injury. This may mean that Gasol will have to play a couple of extra minutes than usual here against the Thunder. He has a nice match-up against Steven Adams and should easily dominate him in the paint.
LaMarcus Aldridge (SAS) – $7,300
It would be fair to say that Aldridge has struggled since joining the Spurs and is currently having his worst season since early on in his career. In saying this he has been playing fewer minutes and he is helping his team win games so that is a positive. On this big stage here Aldridge should show why he is being paid the big bucks against the Rockets rotating frontcourt.
CENTRE:
DeAndre Jordan (LAC) – $7,800
Jordan has a great match-up in this game against the Lakers. The Lakers big man Roy Hibbert is a shadow of his former self and Jordan should have a field day on the glass and with easy putbacks against him. If this becomes a blow-out Jordan may sit for periods but he should still put up good numbers.
Enes Kanter (OKC) – $4,800
The Thunder will be on the second game of a back-to-back here against the Bulls but that shouldn't worry Kanter too much as he is on a time-share with Steven Adams and usually only plays around 20 minutes per game. The upside here is he will be matched-up against a weakened Bulls frontcourt, possibly playing on rookie Bobby Portis. Look for Kanter to be a nice value play.
There you have it, my picks for Saturday 26th December 2015. Let me know your thoughts via Twitter – @pearcey47
Click here to find all of the Moneyball contests in the lobby.
And as always, remember to only play with an amount of cash that you can afford to lose.