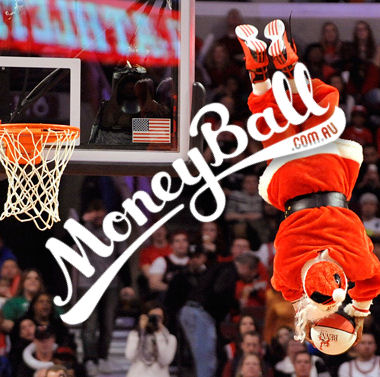 Daily Fantasy Sports has been bought to Australia in 2015 by the guys at Moneyball.com.au – the leading DFS platform in the country. They have a large array of games available in the lobby, ranging from an outlay as little as $2 up to $200 and beyond! Sign up today and join the Daily Fantasy Sports revolution!
Moneyball contests for NBA are easy to be involved in – simply select 9 players (2 point guards, 2 shooting guards, 2 small forwards, 2 power forwards and 1 centre), whilst keeping under the $60,000 salary cap. Jump in the lobby today and give it a go!
Thursday's contests include the HUGE Guaranteed $6,000 Thursday Monster ($15 entry) as well as a Fadeaway Special and a Slam Special (both $10 entry). They also have the usual H2H, Double-up and other competitions to satisfy your Daily Fantasy Sports appetite!
Picks for Thursday 24th December 2015:
POINT GUARD:
John Wall (WAS) – $9,500
With two of his fellow starters out injured Wall has pretty much had to do it all for the Wizards. In his last game he dished out a career-high 19 assists on his way to 45.9 Fantasy Points. That is the 8th time in December that Wall has exceeded 45 Fantasy Points. It's likely that Beal and Porter miss this game against the Grizzlies so Wall will be asked to step up again.
Michael Carter-Williams (MIL) – $6,200
Carter-Williams has found his way back in to the Bucks starting five and has been putting up some nice numbers over his last 5 games, only scoring less than 37 Fantasy Points in one game during that period. He is up against his old club here in the 76ers so look for him to perform well in this revenge game.
Tim Frazier (POR) – $3,500
The question that needs to be asked is "Who is Tim Frazier?". After some research it's apparent he is a 25 year old Point Guard who is currently in his 2nd year in the NBA, firstly playing for the 76ers and then the Blazers. Anyway, he is starting in place of the injured Damien Lillard and scored 31.9 Fantasy Points in 47 minutes and 35 seconds of play. That is exceptional value.
Which teams score the most and give up the most Moneyball points? Click here!
SHOOTING GUARD:
James Harden (HOU) – $10,800
Harden had his first 50+ Fantasy Point game in almost two weeks in his last outing against the Hornets. The thing with Harden is even if he has an off night he still puts up a decent score, but on the flipside his price is so high that he needs 55+ to be a great pick. The Rockets play the Magic and Harden will need a big game if the Rockets are to secure the W.
Will Barton (DEN) – $6,600
In Denver's last game against the Lakers Danilo Gallinari was absent due to injury and it was widely thought that Barton would take he start. He didn't, but when he came on he simply dominated, scoring 18 points in the 1st quarter alone. He only ended up with 25 but he has shown when he gets the minutes he is a highly efficient player.
Rodney Hood (UTA) – $4,200
Hood will be starting for the Jazz and will be matched-up against the self-proclaimed best Shooting Guard in the league in Klay Thompson. This will be a great assignment for young Hood, who can only grow in learning from this sort of contest. Hood will never score huge points but given plenty of minutes he will be a good value play.
SMALL FORWARD:
Paul George (IND) – $9,400
George was much-maligned in the Pacers last game, against the Spurs, due to his poor shooting display of 1-14. It was asked if it was due to Kawhi Leonard's superior defence which George dismissed, saying it had more to do with a lingering illness. Look for George to silence the doubters in this game against the Kings.
Tobias Harris (ORL) – $6,400
Harris has been a bit up and down of late but has a great match-up here against the Rockets. This should be quite a high-scoring game and Harris should get plenty of opportunities to score points and grab rebounds. He has a 3-game average of 33.1 Fantasy Points and he should score around that again here.
TJ Warren (PHO) – $4,100
The Suns are playing here against the Nuggets in a game that is unlikely to feature much defence. This will be welcome by Warren, who is able to score often when given the game time. He seems a better play than Tucker at Small Forward for the Suns so if given the start he should put up good numbers for his price.
Click here to sign up to Moneyball.
POWER FORWARD:
Anthony Davis (NOP) – $10,200
Davis is playing here against the weak frontcourt of the Blazers so he should absolutely dominate. The Blazers simply do not have any one who can match the combination of height, skill and speed that Davis possesses. As long as this game is not a blow-out Davis should easily score in excess of 50 Fantasy Points.
Kenneth Faried (DEN) – $6,300
Faried and the Nuggets are coming off a very demoralising loss to the struggling Lakers. Faried is a very passionate player and he will be keen for the Nuggets to redeem themselves in this contest against the fast-paced Suns. Expect Faried to hit that glass hard and often against the likes of Jon Leuer and Mirza Teletovic.
Trevor Booker (UTA) – $4,200
The Jazz are matched-up here against the league leading Warriors and there is real danger of this game being a blow-out. If so it is likely that Derrick Favors has a lengthy rest and that Booker gets a fair percentage of the frontcourt minutes. He has proved that he is able to provide good production when given the opportunity.
CENTRE:
Brook Lopez (BRO) – $7,400
Lopez went right off the boil mid-month with a patch of three games where he only scored 58.5 Fantasy Points in total for that 3 game period. In his past two games he has re-discovered his form, with back-to-back scores of 43.9 and 45.4 Fantasy Points respectively. He has a nice match-up against the Mavericks here so expect another 40+ outburst.
Kelly Olynyk (BOS) – $4,200
Olynyk is able to provide very competitive numbers when on the court but the problem seems to be that he doesn't get on the court often enough. With injuries to Jared Sullinger and Amir Johnson Olynyk could see some increased court-time in this game against the Hornets. He put up 27.5 Fantasy Points in his last game when both Johnson and Sullinger were sidelined so keep your eye on their status before tip-off.
Nikola Jokic (DEN) – $4,000
Due to Joffrey Lauvergne getting in to early foul trouble Jokic saw some increased playing time, spending almost 30 minutes on the court. In that time he put up a very impressive 31.5 Fantasy Points in a loss to the Lakers. If he can get a similar amount of court-time against the Suns expect him to score as good again.
There you have it, my picks for Thursday 24th December 2015. Let me know your thoughts via Twitter – @pearcey47
Click here to find all of the Moneyball contests in the lobby.
And as always, remember to only play with an amount of cash that you can afford to lose.