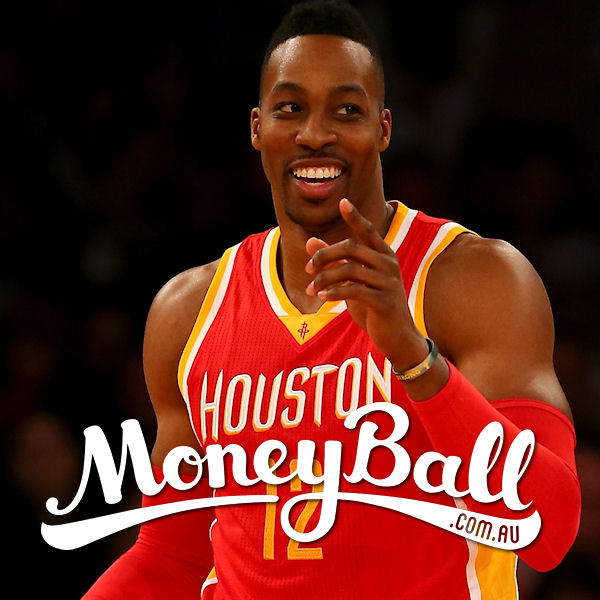 Daily Fantasy Sports has been bought to Australia in 2015 by the guys at Moneyball.com.au – the leading DFS platform in the country. They have a large array of games available in the lobby, ranging from an outlay as little as $2 up to $200 and beyond! Sign up today and join the Daily Fantasy Sports revolution!
Moneyball contests for NBA are easy to be involved in – simply select 9 players (2 point guards, 2 shooting guards, 2 small forwards, 2 power forwards and 1 centre), whilst keeping under the $60,000 salary cap. Jump in the lobby today and give it a go!
Tuesday's contests include a Guaranteed $4,500 Tuesday Bank ($15 entry) as well as a Charge Special, a Tomahawk Special (both $10 entry) and an AirBall Special ($5 entry). They also have the usual H2H, Double-up and other competitions to satisfy your Daily Fantasy Sports appetite!
Picks for Tuesday 22nd December 2015:
POINT GUARD:
John Wall (WAS) – $9,500
With teammate Bradley Beal being sidelined with injury Wall has had to step up on the offensive end and provide the Wizards with some more scoring punch. He has been doing just that of late, with seven of his eleven games in December amounting to 49 Fantasy Points or more. Look for that sort of form to continue against the Kings.
Isaiah Thomas (BOS) – $8,200
Thomas has been very consistent this season, putting up at least 30 Fantasy Points in 18 of his past 20 games. He has always been a very good player but in the past he has usually played in a 6th man role, but this season he has been thrust in to the starting line-up and is reaping the benefits from the extra minutes. We should see another 30+ game against the young Timberwolves.
Patrick Beverley (HOU) – $4,800
Beverley is still getting the start at Point Guard for the Rockets and even though he hasn't been putting up huge numbers he has been providing consistently solid numbers for his price. He has a season average of 20.3 FPPG so if he can just improve on that here against the Hornets by a couple of points he will provide good value.
Which teams score the most and give up the most Moneyball points? Click here!
SHOOTING GUARD:
Jimmy Butler (CHI) – $8,400
Butler is never one to mince his words, this time suggesting that Bulls coach Fred Hoiberg needs to be harder on his under-performing players. Butler obviously wasn't talking about himself when he made the comment, as he was fresh off a career game in which he scored 43 points, grabbed 8 rebounds and had 60.6 Fantasy Points. His good form should continue in this game vs the Nets.
Alec Burks (UTA) – $5,100
Burks role in Utah has been a bit unsettled over the past couple of weeks, with him being moved in and out of the starting line-up. This has resulted in some poor games, with his 3-game average only being 14.2 FPPG. In what should be a free-flowing contest vs the Suns, Burks should get plenty of opportunities on the offensive end which should help him regain his confidence.
JJ Redick (LAC) – $4,700
Redick has been shooting the lights out lately for the Clippers, putting up a 3-game average of 21.9 Fantasy Points and scoring at least 23 Fantasy Points in five of his past seven games. In what should be a hard-fought contest between two Western Conference heavyweights Redick's shot will need to fall often for the Clippers to win.
SMALL FORWARD:
Carmelo Anthony (NYK) – $8,700
Based on his current form Anthony is a steal at only $8,700. He has a 3-game average of 40.1 Fantasy Points, and has only dropped under 39 Fantasy Points in one of his past five games. He is playing here against the young Magic who will be on the second night of a back-to-back – expect Anthony to take full advantage.
Rudy Gay (SAC) – $7,300
Gay has been pretty solid over the past couple of weeks, only dropping under 27 Fantasy Points once in his past 10 games. He is hot off his second biggest game for that period where he scored 37.3 Fantasy Points against the Raptors. He is matched-up here against the Wizards who have struggled to defend the Small Forward position recently so Gay could get off the leash.
TJ Warren (PHO) – $4,100
Warren's stock is starting to rise due to his impressive play over the past five games. He is not getting massive opportunities off the bench but has put up at least 15 Fantasy Points in each of his past five games and has the ability to go big, as he showcased against the Warriors a couple of games ago where he returned 38.1 Fantasy Points.
Click here to sign up to Moneyball.
POWER FORWARD: 
Paul Millsap (ATL) – $8,500
Millsap is rarely talked about when discussing top-quality Power Forwards in the competition but that doesn't mean he isn't a great player. He has a season average of 37.8 Fantasy Points and has slipped under 25 Fantasy Points just once this season. Against the weak frontcourt of the Blazers Millsap should have a day out.
Derrick Favors (UTA) – $7,500
Favors has been a bit up and down recently, averaging just 27.8 Fantasy Points over his past three games as compared to his season average of 33.4 FPPG. He has a great match-up in this game against the Suns so expect Favors to bounce back and put up some good scoring and rebounding numbers.
Jon Leuer (PHO) – $4,800
Leuer has been a consistently good value play since entering the starting line-up for the Suns. He has scored at least 23 Fantasy Points in 7 of his past 9 games, although he only has a 3-game average of 18.9 Fantasy Points. Against the Gobert-less frontcourt of Utah expect Leuer to put in another solid performance.
CENTRE:
Dwight Howard (HOU) – $7,800
Howard threw in an absolute stinker a couple of games ago against the Kings where he only had 13.8 Fantasy Points. He bounced back in the two games since with scores of 38.5 and 40.8 respectively, and as an added bonus his price also dropped slightly. He is up against a very ordinary Hornets frontcourt so expect Howard to dominate in this contest.
DeAndre Jordan (LAC) – $7,800
If Jordan could hit a free throw he would be a much more valuable player but regardless of that he is still a very good player on both ends of the court. He has a season average of 33.3 FPPG and has scored over 30 Fantasy Points in around two-thirds of his games. He will no doubt be fouled quite a few times in what should be a close game against the Thunder – if his shot is on we could see a massive game.
Joakim Noah (CHI) – $5,600
Noah got the start in the Bulls last outing, against the Knicks, and scored a very respectable 37.0 Fantasy Points. Even though he got the start in that game his numbers off the bench have been very consistent, scoring at least 23 Fantasy Points in 10 of his past 11 games. That should continue against the Nets.
There you have it, my picks for Tuesday 22nd December 2015. Let me know your thoughts via Twitter – @pearcey47
Click here to find all of the Moneyball contests in the lobby.
And as always, remember to only play with an amount of cash that you can afford to lose.