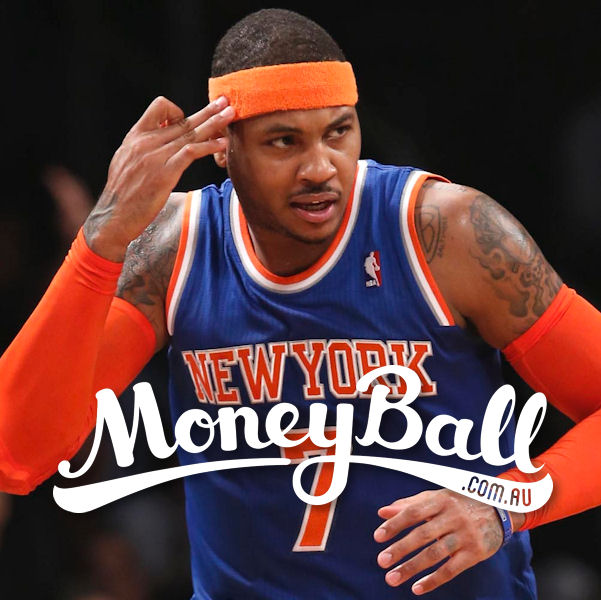 Daily Fantasy Sports has been bought to Australia in 2015 by the guys at Moneyball.com.au – the leading DFS platform in the country. They have a large array of games available in the lobby, ranging from an outlay as little as $2 up to $200 and beyond! Sign up today and join the Daily Fantasy Sports revolution!
Moneyball contests for NBA are easy to be involved in – simply select 9 players (2 point guards, 2 shooting guards, 2 small forwards, 2 power forwards and 1 centre), whilst keeping under the $60,000 salary cap. Jump in the lobby today and give it a go!
Sunday's contests include a Guaranteed $3,500 Sunday Bank ($15 entry) as well as a Rebound Special, a Lay-up Special (both $10 entry) and an AirBall Special ($5 entry). They also have the usual H2H, Double-up and other competitions to satisfy your Daily Fantasy Sports appetite!
Picks for Sunday 20th December 2015:
POINT GUARD:
Chris Paul (LAC) – $8,200
Paul has been in some sparkling form of late, scoring less than 38 Fantasy Points only once in his past five games. He has been down on his usual production this year but seems he may be starting to hit his straps. In what should be a high scoring game against the Rockets expect Paul to score plenty of buckets and dish out a heap of assists.
Kemba Walker (CHA) – $7,800
Walker is hot off his second-best game of the season after dropping 47.7 Fantasy Points against the Raptors. This game will be a great contest with Walker being matched up with the Wizards star Point Guard John Wall. Walker will want to show he deserves to be spoken about in the same conversation as a star player such as Wall so expect a strong showing.
Which teams score the most and give up the most Moneyball points? Click here!
SHOOTING GUARD:
James Harden (HOU) – $11,000
Harden is the equal most expensive player for this slate of games and for good reason – the guy is a great basketballer. He has returned at least 40 Fantasy Points in 13 of his past 14 games. He is playing here against the Clippers who have struggled this season to guard the wing positions so Harden should see plenty of opportunities to score big points.
JJ Redick (LAC) – $4,600
Over the past three games Redick has shown his shooting ability, scoring at an average of 20.3 points per game over that period. Redick doesn't do much other than score but when he is in this sort of form, and against a high-scoring opponent like the Rockets, he doesn't really have to do too much more to be a good value play.
SMALL FORWARD:
Carmelo Anthony (NYK) – $8,600
As one of the best players in the league Anthony knows how to score at will and he has been doing just that over the past handful of games. In three of his past four games he has put up Fantasy scores of 44.8, 49.2 and 51.5, and then he had a modest 29.0 in his last outing, where he only played 28 minutes against the 76ers. Watch for Carmelo to go back to 40+ in this game against the Bulls.
CJ Miles (IND) – $5,600
Miles doesn't get the accolades that his team-mate Paul George does but he is almost as important to the Pacers. He is a high volume scorer and when he is hot he can put a lot of points on the board very quickly. He has scored at least 25 Fantasy Points in six of his past eight games and if he can put up 25+ in this game against the Grizzlies he will be worth his price tag.
Click here to sign up to Moneyball.
POWER FORWARD:
Pau Gasol (CHI) – $8,800
As solid as they come, Gasol is a great option here against the Knicks. Gasol has dropped below 30 Fantasy Points only 4 times in his 23 games this season, and with a 35.9 FPPG season average he is as consistent as they come. Gasol will want to have a big game against the Knicks at New York's Madison Square Garden.
Serge Ibaka (OKC) – $6,400
Ibaka has been well down on his career numbers so far this season but with his team-mates Russell Westbrook and Kevin Durant both healthy and playing well Ibaka is starting to hit some form again. He has a 3-game average of 30.5 Fantasy Points and is matched up here against the Lakers so some big points will be on offer.
CENTRE:
Marcin Gortat (WAS) – $6,500
In his last outing, against the Spurs, Gortat had his best return for the season, a very impressive 42.0 Fantasy Points. He has a favourable match-up here against the likes of Cody Zeller, Spencer Hawes and Frank Kaminsky of the Hornets so look for Gortat to put up back-to-back high-scoring games.
Joakim Noah (CHI) – $5,500
In his past nine games Noah has only dipped under 23 Fantasy Points once. That is an impressive return for a player coming off the bench and that is priced at only $5,500. In a favourable match-up against the Knicks, who will be playing the second game of a back-to-back, look for Noah to continue his hot form.
There you have it, my picks for Sunday 20th December 2015. Let me know your thoughts via Twitter – @pearcey47
Click here to find all of the Moneyball contests in the lobby.
And as always, remember to only play with an amount of cash that you can afford to lose.