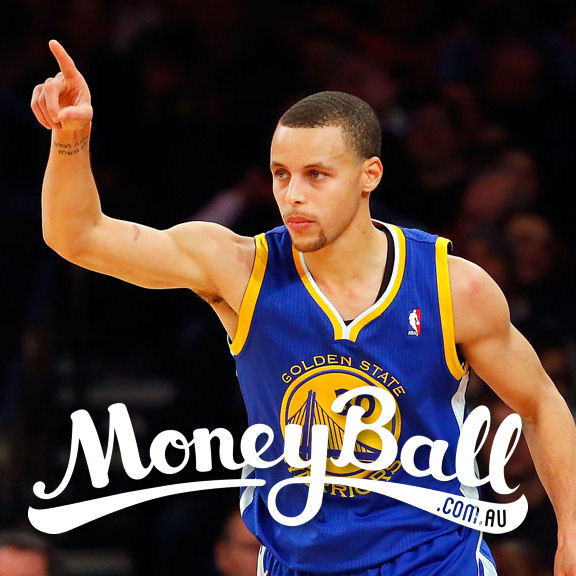 Daily Fantasy Sports has been bought to Australia in 2015 by the guys at Moneyball.com.au – the leading DFS platform in the country. They have a large array of games available in the lobby, ranging from an outlay as little as $2 up to $200 and beyond! Sign up today and join the Daily Fantasy Sports revolution!
Moneyball contests for NBA are easy to be involved in – simply select 9 players (2 point guards, 2 shooting guards, 2 small forwards, 2 power forwards and 1 centre), whilst keeping under the $60,000 salary cap. Jump in the lobby today and give it a go!
Saturday's contests include a Guaranteed $4,500 Saturday Bank ($15 entry) as well as a Buzzer Special, a Dunk Special (both $10 entry) and an AirBall Special ($5 entry). They also have the usual H2H, Double-up and other competitions to satisfy your Daily Fantasy Sports appetite!
Picks for Saturday 19th December 2015:
POINT GUARD:
Stephen Curry (GSW) – $11,300
Curry will be keen to show the Bucks that their win over the Warriors was a one-off triumph and he will be doing all he can to make sure it doesn't happen again. Curry is the most expensive player for this day of games but that is due to his season average of 48.2 FPPG. Look for him to score around the 50 Fantasy Point mark here.
Rajon Rondo (SAC) – $8,300
Rondo will be fresh after serving a one-game suspension due to a remark he made to a referee. Rondo is playing great basketball this season for the Kings, averaging 37.7 FPPG, with that average increasing to 42.2 Fantasy Points over the past three games. Look for Rondo to once again put up a solid score against the Timberwolves.
Jameer Nelson (DEN) – $4,500
Nelson continues to take on the main Point Guard duties with the Nuggets starting PG Emmanuel Mudiay still on the sidelines. He has provided great value since being in the starting five, putting up a 3-game average of 27.6 Fantasy Points. At his current price he is showing great value.
Which teams score the most and give up the most Moneyball points? Click here!
SHOOTING GUARD:
Eric Bledsoe (PHO) – $9,200
Bledsoe has been on a tear recently but was bought down a notch in his last outing against the Warriors. He still has a very healthy season average of 38.6 FPPG and in this game against the Pelicans there will be a lot of Fantasy Points to go around for Bledsoe to get amongst.
Klay Thompson (GSW) – $6.900
Thompson wasn't very impressed with the way the Bucks went about their win against the Warriors and he will be looking to seek some revenge in this game. When Thompson gets hot he gets really hot, showing just that in the third quarter in his last game, against the Suns, where he scored 27 points. Thompson will be hoping his hot form continues.
Kent Bazemore (ATL) – $5,300
Bazemore has been playing well enough lately for the Atlanta coaching staff to put him back in the starting line-up in favour of Thabo Sefolosha. Bazemore hasn't let them down, putting up a 3-game average of 28 Fantasy Points. If he can put up a score around that figure here he will be a great value play.
SMALL FORWARD:
Paul George (IND) – $9,600
George is currently in some ordinary form with his best return over his past four games being only 36.1 Fantasy Points, although it was rumoured he was suffering from an upper respiratory infection. The positive of his poor form is that his price has reduced slightly. After a couple of days rest he will be looking to bounce back strongly here against the Nets.
Omri Casspi (SAC) – $5,400
Casspi has been playing great since moving in to the starting line-up, and that great form has even gone up a notch in his past three games, with his average over the time span being 32.1 Fantasy Points. If he can again score around that mark at his price of $5,400 he will be a great value play.
TJ Warren (PHO) – $3,800
Warren had a huge game in his last outing, up against the league-leading Warriors, where he scored 19 points to go with 8 rebounds, 3 assists, 2 blocks and 38.1 Fantasy Points. A lot of his points came as a result of the blowout score line but in a fast-paced game against the Pelicans Warren could be worth a look, especially at his price.
Click here to sign up to Moneyball.
POWER FORWARD:
DeMarcus Cousins (SAC) – $10,000
Cousins has returned to his early season form over the past three games, matching his season average of 43.3 FPPG over that time. He is matched up here against the Timberwolves, which means he will be playing on the rookie Karl-Anthony Towns, who has given up some monster Fantasy scores this season. Cousins should be in for a massive game.
Derrick Favors (UTA) – $7,600
Favors has had to pick up a lot of the slack on both ends of the court since Rudy Gobert went down with a knee injury and he has performed well. He has a season average of 34.1 FPPG but has been slightly down in the last three, only averaging 30.2 Fantasy Points. Up against the Nuggets and their undersized frontcourt Favors should return to form.
Jon Leuer (PHO) – $4,500
Leuer has been a Fantasy stud over the past couple of weeks, providing exceptional value for his price tag. His price has risen a little here but he is still a very tasty option, with a 3-game average of 25.4 Fantasy Points. In what should be a high-scoring game against the Pelicans Leuer should once again be a great value play.
CENTRE:
Nikola Vucevic (ORL) – $7,400
Vucevic has a great match-up in this game against the Blazers and their rotating frontcourt. The big Montenegrin has the ability to score points in bunches and grab a huge number of rebounds for the Magic so expect him to put in a great game here on both ends of the court and score lots of Fantasy Points.
Jahlil Okafor (PHI) – $6,500
Okafor has been absolutely dominating his competition recently, putting up an average in his last three games of 34.6 Fantasy Points. He is playing here against the Knicks so he could match-up on Robin Lopez or fellow rookie Kristaps Porzingis, which will be the first of many games those two will play against one another. Look for Okafor to be too strong regardless of whom he plays against.
Nikola Jokic (DEN) – $3,900
The second Nikola to feature in this group of picks is Nikola Jokic of the Nuggets. Jokic has been a solid presence off the bench for the Nuggets, doing his job on both ends of the floor when required. Obviously the more opportunities he gets the better he is going to be but over his last three he has a Fantasy Point average of 23.6 which is great for his price of only $3,900.
There you have it, my picks for Saturday 19th December 2015. Let me know your thoughts via Twitter – @pearcey47
Click here to find all of the Moneyball contests in the lobby.
And as always, remember to gamble responsibly.