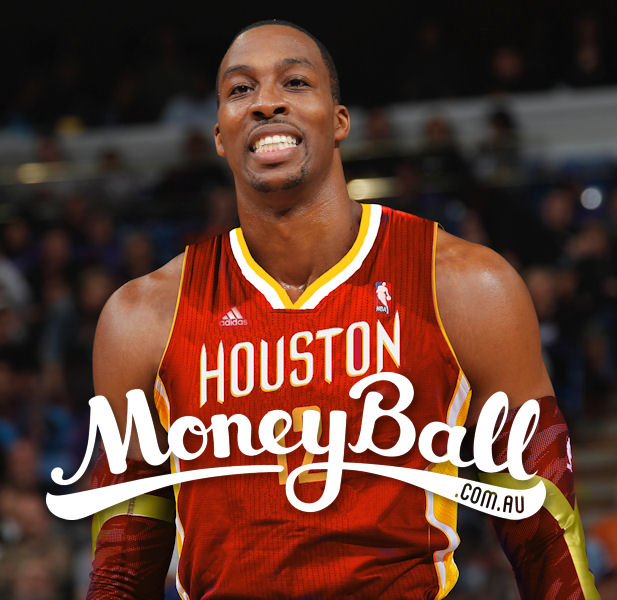 Daily Fantasy Sports has been bought to Australia in 2015 by the guys at Moneyball.com.au – the leading DFS platform in the country. They have a large array of games available in the lobby, ranging from an outlay as little as $2 up to $200 and beyond! Sign up today and join the Daily Fantasy Sports revolution!
Moneyball contests for NBA are easy to be involved in – simply select 9 players (2 point guards, 2 shooting guards, 2 small forwards, 2 power forwards and 1 centre), whilst keeping under the $60,000 salary cap. Jump in the lobby today and give it a go!
Friday's contests include a Guaranteed $3,500 Friday Bank ($15 entry) as well as an Alley-Oop Special for the late games ($10 entry). They also have the usual H2H, Double-up and other competitions to satisfy your Daily Fantasy Sports appetite!
Picks for Friday 18th December 2015:
POINT GUARD:
Russell Westbrook (OKC) – $10,900
In what should be an epic contest between two Championship contenders look for Westbrook to display his full array of talents in this game against the Cavs. Westbrook will be determined to show the Thunder are as good as any team in the competition and when he is locked in he is very hard to stop.
D'Angelo Russell (LAL) – $5,900
Russell is coming off a career best night where he dished out 7 assists to go with 19 points and 4 rebounds. He is still coming off the bench but as the season wears on he will get more opportunities, and this seems to have already started. There will be plenty of points to go around in this match-up with the Rockets so Russell should be in for a good night.
Which teams score the most and give up the most Moneyball points? Click here!
SHOOTING GUARD:
James Harden (HOU) – $11,000
Harden has a dream match-up in this game, playing against the Lakers and their guards that are well-known for giving up a lot of Fantasy Points. Harden contributes in just about all categories and more often than not has the ball in his hands so he is nearly always going to score big points. 50+ Fantasy Points is certainly a possibility here.
Jeremy Lamb (CHA) – $4,600
Lamb is fresh off a huge game where he put up 34 Fantasy Points off the bench against the Magic. His stats were padded a bit due to the fact the Magic got up early and Lamb played an above average amount of minutes, but when Lamb's shot is falling he can score a bunch in a short amount of time. Look for him to provide his offensive spark against the Raptors.
SMALL FORWARD:
LeBron James (CLE) – $11,000
No value options at the Small Forward position here, just two of the best players of all time going head-to-head in what should be a great match-up. James just continues to get it done night after night, with a season average of 45.6 FPPG. Look for him to have his game face on here to try and lead his team to victory.
Kevin Durant (OKC) – $11,000
Durant is also having a very solid season thus far, with an average of 44.5 FPPG through 19 games. He has been a lot more selective with his shots this season which has allowed him to be more efficient on the offensive end, as well as contributing in all of the other major categories. He will be keen to put in an efficient game here to hopefully lead the Thunder to a win.
Click here to sign up to Moneyball.
POWER FORWARD:
Kevin Love (CLE) – $7,700
Love is providing outstanding value at his current price seeing as though he has a season average of 35.3 FPPG and an even better 3-game average of 37.8 Fantasy Points. He has scored at least 30 Fantasy Points in 18 of his 23 games this season so based on that form he is very hard to go past.
Frank Kaminsky (CHA) – $3,500
The rookie Kaminsky has been getting quite a few minutes off the bench lately for the Hornets, mainly due to the absence of their starting Centre Al Jefferson. In his last game, a loss to the Magic, he saw 26 minutes of action but could only muster 17 Fantasy Points. Against a relatively weak Raptors frontcourt Kaminsky should see a few minutes and produce some good value numbers.
CENTRE:
Dwight Howard (HOU) – $7,800
With no other recognised high-scoring Centres on this slate of games Howard almost becomes the best pick by default. That's not to say he isn't a decent option, he is. He has a season average of 32.0 FPPG but is coming off his worst game for the season where he only scored 13.8 Fantasy Points against the Kings. Look for him to bounce back against the Lakers.
Bismack Biyombo (TOR) – $4,200
Biyombo has performed valiantly in the starting line-up for the Raptors since Jonas Valanciunas went down with injury a few weeks ago. He doesn't do a real lot on the offensive end but he hits the boards hard and blocks a decent amount of shots. Should be a good value play in a favourable match-up against Cody Zeller of the Hornets.
There you have it, my picks for Friday 18th December 2015. Let me know your thoughts via Twitter – @pearcey47
Click here to find all of the Moneyball contests in the lobby.
And as always, remember to only play with an amount of cash that you can afford to lose.