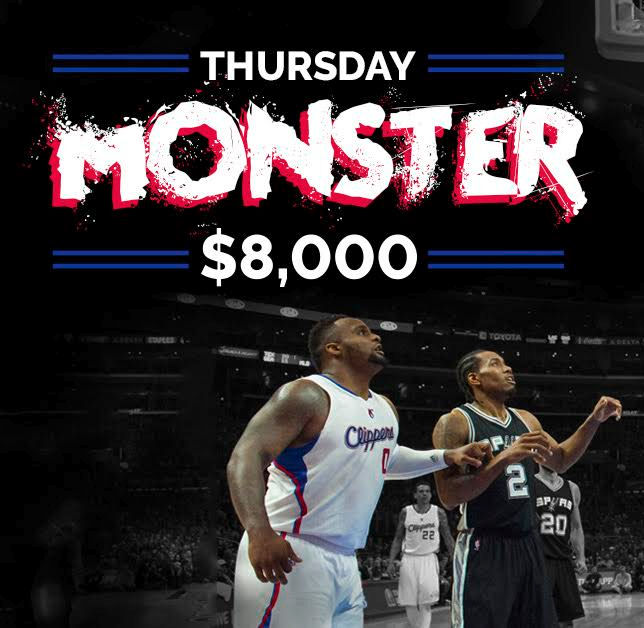 Daily Fantasy Sports has been bought to Australia in 2015 by the guys at Moneyball.com.au – the leading DFS platform in the country. They have a large array of games available in the lobby, ranging from an outlay as little as $2 up to $200 and beyond! Sign up today and join the Daily Fantasy Sports revolution!
Moneyball contests for NBA are easy to be involved in – simply select 9 players (2 point guards, 2 shooting guards, 2 small forwards, 2 power forwards and 1 centre), whilst keeping under the $60,000 salary cap. Jump in the lobby today and give it a go!
Thursday's contests include an ABSOLUTELY HUGE Guaranteed $8,000 Thursday Monster ($15 entry) as well as the usual Special contests throughout the day. They also have the usual H2H, Double-up and other competitions to satisfy your Daily Fantasy Sports appetite!
Picks for Thursday 17th December 2015:
POINT GUARD:
Stephen Curry (GSW) – $11,300
After 24 straight wins to start the season the Warriors finally had a loss in their last game, against the Bucks. No-one would have been more disappointed than Stephen Curry, so no doubt he will be determined to get back on the winner's list against the Suns. In what should be a very high-scoring contest look for Curry to put up a heap of points.
Tyreke Evans (NOP) – $7,000
Evans has the ability to contribute in a number of categories on the stat sheet which makes him a safe play. He has three scores of over 40 Fantasy Points in his seven games this season on his way to an average of 33.8 FPPG. Look for him to contribute his fair share of Fantasy Points in this game against the Jazz.
Dennis Schroder (ATL) – $4,400
The Hawks are matched-up in this game against the 76ers so if the Hawks get out to an early lead Jeff Teague might take a back seat and let Dennis Schroder have the lion's share of the minutes. Schroder has shown that when given the opportunity he can put up a decent amount of Fantasy Points so fingers crossed he can get some good game time.
Which teams score the most and give up the most Moneyball points? Click here!
SHOOTING GUARD:
Eric Bledsoe (PHO) – $8,800
Bledsoe has been an absolute machine on both ends of the court in his past few games, going for combined stats over the past 3 games of 69 points, 14 rebounds, 21 assists, 7 blocks and 9 steals on his way to a 3-game average of 49.4 Fantasy Points. He will want to continue his strong form against the league-leading Warriors.
CJ McCollum (POR) – $7,000
McCollum would have to be one of the favourites for the Most Improved Award this season, and his improved form has made him a great contributor on the young Blazers squad. He is currently averaging 30.4 FPPG for the season and he will be looking to improve on that average in this big game against the Thunder.
Kent Bazemore (ATL) – $5,000
Bazemore has made his way back in to the Hawks starting line-up after a very impressive current run of games. He has a 3-game average of 28.8 FPPG, putting up a season high 39.0 Fantasy Points in his last game, against the Heat. The Hawks play the struggling 76ers here so Bazemore could set another season high for the second time in two games.
SMALL FORWARD:
Kawhi Leonard (SAS) – $8,900
If you don't at least consider Leonard every time he is to take the court then you are not playing the game properly.  Leonard has a season average of 38.8 FPPG and he pretty much scores exactly that amount every game. He is playing here against the Wizards so he should hit his usual 40 Fantasy Points, and maybe even a bit of cream.
Gordon Hayward (UTA) – $7,500
The Jazz have a great match-up here against the Pelicans and Hayward will be starting in the Small Forward position, which is the Pelicans weakest link. Hayward is coming off his worst game for the season where he put up just 9.0 Fantasy Points in a blow-out loss to the Spurs. Look for him to bounce back strong here.
Matt Barnes (MEM) – $4,200
Barnes has entered the Grizzlies starting line-up at the expense of Zach Randolph and it is paying off, especially for Barnes' Fantasy worth. He has scored 37.6 and 32.2 Fantasy Points in his past two games since entering the starting line-up and expect him to get plenty of minutes in this match-up against the Bulls.
Click here to sign up to Moneyball.
POWER FORWARD:
Draymond Green (GSW) – $8,800
Green is fairly unheralded for the contributions he brings to the Warriors but there is no doubting his ability and worth to the team. He is currently enjoying a 3-game average of 44.9 Fantasy Points and in what should be a fast-paced game against the Suns look for Green to contribute across the board.
Jerami Grant (PHI) – $4,900
With Nerlens Noel missing this contest against the Hawks due to an eye injury expect Grant to take the majority of minutes at the Power Forward position. When given the opportunity Grant is capable of a healthy Fantasy score, with an example being a 28.7 Fantasy Point game in his last outing, against the Bulls, that Noel also missed.
Jon Leuer (PHO) – $4,200
Leuer has been a real surprise since entering the starting line-up for the Suns, putting up at least 23 Fantasy Points in each of his past six games. It is hard to know how long Leuer can keep this up but whilst he is running hot it is best to select him at his low price tag of only $4,200 and reap the benefits.
CENTRE:
Nikola Vucevic (ORL) – $7,500
Vucevic has been playing some great basketball over the past couple of weeks, scoring at least 30 Fantasy Points in 6 of his past 8 contests. He has a 3-game average of 30.2 FPPG and has a favourable match-up here against the Hornets who are currently without their starting Centre in Al Jefferson.
Hassan Whiteside (MIA) – $7,400
The name 'Hassan Whiteside' has been thrown around quite a bit in the past 24 hours in various trade discussions. The Heat front office have come out and said that Whiteside is not available to trade but that should be taken with a grain of salt. Look for Whiteside to come out strong in this game, proving to his team that he is a required player, or showing potential suitors his worth.
Jahlil Okafor (PHI) – $6,200
After coming off the bench after a 2-game suspension due to some off-court issues, Okafor is now back in the starting line-up and is playing some great basketball. He will be in this game against Atlanta without his frontcourt mate Nerlens Noel, so expect Okafor to step it up on both ends of the court to counter Noel's absence.
There you have it, my picks for Thursday 17th December 2015. Let me know your thoughts via Twitter – @pearcey47
Click here to find all of the Moneyball contests in the lobby.
And as always, remember to gamble responsibly.