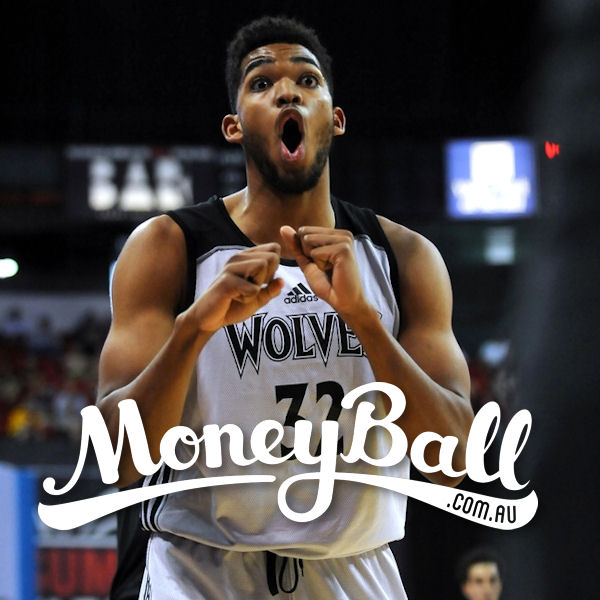 Daily Fantasy Sports has been bought to Australia in 2015 by the guys at Moneyball.com.au – the leading DFS platform in the country. They have a large array of games available in the lobby, ranging from an outlay as little as $2 up to $200 and beyond! Sign up today and join the Daily Fantasy Sports revolution!
Moneyball contests for NBA are easy to be involved in – simply select 9 players (2 point guards, 2 shooting guards, 2 small forwards, 2 power forwards and 1 centre), whilst keeping under the $60,000 salary cap. Jump in the lobby today and give it a go!
Wednesday's contests include a Guaranteed $4,000 Wednesday Bank ($15 entry) as well as a Swish Special ($10 entry). They also have the usual H2H, Double-up and other competitions to satisfy your Daily Fantasy Sports appetite!
Picks for Wednesday 16th December 2015:
POINT GUARD:
Darren Collison (SAC) – $4,900
With Rajon Rondo missing this game due to suspension, Collison will be thrust in to the starting line-up and will play as many minutes as he can handle. Collison has been solid off the bench this season, averaging 21.1 FPPG over 19 games. Collison should score well above average in this contest against the Rockets.
Jameer Nelson (DEN) – $4,100
It looks as if Jameer Nelson will be starting for the Nuggets in the short term due to injury to rooking Point Guard Emmanuel Mudiay. Nelson has been in the league a long time and knows how to distribute the basketball and make his way to the basket so it can be expected that his value will take a nice little spike whilst he is in the starting line-up.
Which teams score the most and give up the most Moneyball points? Click here!
SHOOTING GUARD:
Giannis Antetokounmpo (MIL) – $6,800
The Greek Alphabet is fresh off the first triple-double of his career in the Bucks surprise win over the previously undefeated Warriors. He put up 11 points, 12 rebounds and 10 assists on his way to 42.4 Fantasy Points. He has a great match-up here against the Lakers; another triple-double is not out of the question.
Kevin Martin (MIN) – $4,000
Martin has been great lately for the Timberwolves, with a 3-game average of 33.4 Fantasy Points, as compared to his season average of just 18.1 FPPG. This is mainly due to three games in a row where he has scored at least 19 points. He is matched up here against Denver who he scored 31.3 points on only two games ago.
SMALL FORWARD:
Rudy Gay (SAC) – $7,100
Gay has been remarkably consistent this season, with every score except for two falling somewhere between 20 and 40 Fantasy Points. It would make sense that his season average is currently 29.9 FPPG and we can expect his score in this game to fall somewhere in the 30-40 Fantasy Point range.
Omri Casspi (SAC) – $5,100
Since rookie Centre Willie Cauley-Stein went down with a finger injury a couple of weeks ago the Kings have decided to go with a small-ball line-up which has seen Casspi starting. He has a 3-game average of 26.3 Fantasy Points and in a favourable match-up against the Rockets we should see his good play continue.
Click here to sign up to Moneyball.
POWER FORWARD:
DeMarcus Cousins (SAC) – $9,900
After a handful of down games Cousins has returned to his dominant self. He has a season average of 43.3 Fantasy Points which makes him the third highest scoring player in this slate of games. With Rondo sitting this one out Cousins will have to step up and take control on the offensive end.
Jabari Parker (MIL) – $4,900
After suffering a season ending knee injury last year Parker has been quite slow to get back up to speed, but he is starting to show signs lately of the player he was early in his rookie season. He has a 3-game average of 22.5 and playing against the Lakers he should continue to build his form. A good value play at his current price.
CENTRE:
Karl-Anthony Towns (MIN) – $6,800
After a very lean period towards the end of last month KAT has returned to his early season domination. He has a 3-game average of 33.9 Fantasy Points and against an under-sized Nuggets frontcourt expect him to show why he was taken number one in this season's draft.
Nikola Jokic (DEN) – $3,700
Even though he is not currently starting Jokic is getting a healthy serve of minutes and is providing solid production. He is priced at only $3,700 and is up against the Timberwolves who give up an above average amount of Fantasy Points, so look for Jokic to provide good value.
There you have it, my picks for Wednesday 16th December 2015. Let me know your thoughts via Twitter – @pearcey47
Click here to find all of the Moneyball contests in the lobby.
And as always, remember to gamble responsibly.