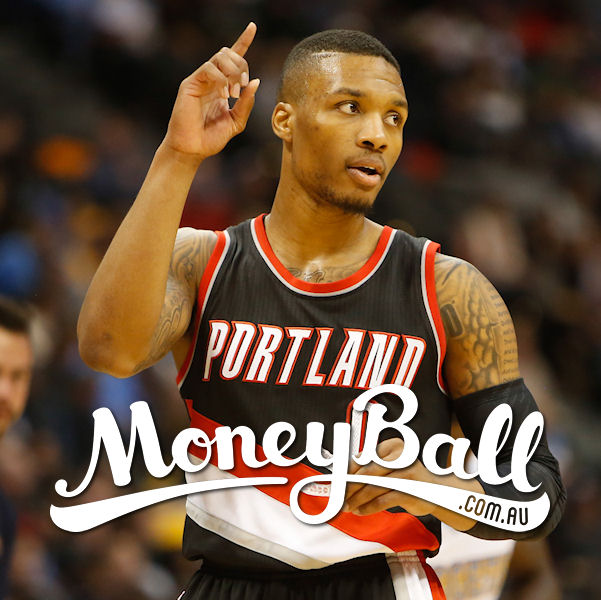 Daily Fantasy Sports has been bought to Australia in 2015 by the guys at Moneyball.com.au – the leading DFS platform in the country. They have a large array of games available in the lobby, ranging from an outlay as little as $2 up to $200 and beyond! Sign up today and join the Daily Fantasy Sports revolution!
Moneyball contests for NBA are easy to be involved in – simply select 9 players (2 point guards, 2 shooting guards, 2 small forwards, 2 power forwards and 1 centre), whilst keeping under the $60,000 salary cap. Jump in the lobby today and give it a go!
Tuesday's contests include a Guaranteed $5,000 Tuesday Bank ($15 entry) as well as a Charge Special, a Tomahawk Special (both $10 entry) and an AirBall Special ($5 entry). They also have the usual H2H, Double-up and other competitions to satisfy your Daily Fantasy Sports appetite!
Picks for Tuesday 15th December 2015:
POINT GUARD:
Damien Lillard (POR) – $9,300
This is such a great match-up for the high scoring Point Guard from the Blazers. The Pelicans give up a huge amount of Fantasy Points and Lillard scores a huge amount of Fantasy points so this contest should be a free-flowing affair. Lillard has had at least 21 shot attempts in his past three games and we can expect him to have more than that here.
Tyreke Evans (NOP) – $7,000
Evans return to the Pelicans line-up has certainly helped the Pelicans fortune this season, making them a lot more competitive than they were earlier in the season. Evans himself has had a great return, scoring 30+ Fantasy Points in 5 of his 6 games. In what should be a fast-paced match-up against the Blazers Evans should put up a decent score.
Jameer Nelson (DEN) – $4,100
This pick is highly reliant on Emmanuel Mudiay sitting out with injury (he is currently listed as day-to-day). If so Nelson will have to run the Point and play as many minutes as he can handle. In his last game, when Mudiay got injured, Nelson played 38 minutes and had 20 points, 6 rebounds and 7 assists. Could be a great value play if Mudiay can't get up.
Which teams score the most and give up the most Moneyball points? Click here!
SHOOTING GUARD:
James Harden (HOU) – $11,100
After Harden's worst game for the season three games ago against the Nets, Harden has bounced back in a big way, scoring 64.3 and 42.1 Fantasy Points in his last two outings. He is matched-up here against Denver, who will struggle to guard 'The Beard' so his great form should continue. A big price tag but can you afford not to have him?
CJ McCollum (POR) – $7,000
McCollum is playing great basketball at the moment, scoring 20+ points in three consecutive games for the first time in his career. He has a 3-game average of 33.5 Fantasy Points and his season average is now 30.5 FPPG. His great play will continue in a high-scoring game against the Pelicans.
JJ Redick (LAC) – $4,400
Redick is a fairly one-dimensional player, only really contributing in the point's category, but in two of his past three games he has been contributing a lot in that category, putting up 31 points three games ago and 21 in his last outing. He has a 3-game average of 26.3 which for his price is great value.
SMALL FORWARD:
Kawhi Leonard (SAS) – $8,900
Leonard has been a staple in most Moneyball line-ups this season and this game should be no different. Leonard has returned from a mini-slump and has put up 40.2 and 45.6 Fantasy Points in his past two contests. He is matched-up here against the Jazz who are on the second game of a back-to-back so look for Leonard to take full advantage of his weary opponent.
Otto Porter Jnr (WAS) – $5,800
Porter is going to be one of the main beneficiaries of Bradley Beal's injury and he has already started to step-up. He has a 3-game average of 31.5 Fantasy Points and in his last game he scored a season-high 42.7 Fantasy Points, his second 40+ score in his past four games. Look for him to continue his hot streak against the Grizzlies.
Bojan Bogdanovic (BRO) – $3,700
Bogdanovic has been in the starting line-up for the Nets ever since Rondae Hollis-Jefferson went down with an ankle injury. Bojan has been solid, averaging 24.8 Fantasy Points in his past three contests. The Nets play a young Magic team here; if Bogdanovic's shot is falling he will be a good value play.
Click here to sign up to Moneyball.
POWER FORWARD:
Anthony Davis (NOP) – $10,400
Davis has scored 40+ Fantasy Points in 65% of his games this season but in two of his past three games he failed to score 35. He has a great match-up here against the Blazers frontcourt rotation, so look for Davis to put up a monster score and get his 3-game average back to some respectability.
Jon Leuer (PHO) – $4,200
Leuer has been in the starting line-up for the Suns for a couple of weeks now as Suns coach Jeff Hornacek has taken a dislike to former starter Markieff Morris. Leuer has been a great value play since, scoring 23+ Fantasy Points in six of his past seven games. Look for that sort of form to continue in this game against the Mavericks.
Andrew Nicholson (ORL) – $3,800
Nicholson has been solid but not spectacular this season, resulting in double figure Fantasy Point games in his past 10 contests. When given the minutes he can grab a lot of boards in a short space of time, so if given the opportunity he is capable of a good score. Hopefully in this game against the Nets Nicholson can see plenty of court time and put together a nice value score.
CENTRE:
Dwight Howard (HOU) – $8,100
Howard has been very inconsistent this season but has a good match-up here against an under-sized Denver frontcourt. He is a solid play every time he hits the court, scoring above 20 Fantasy Points in each of his 18 games this year, with 50% of those being above 35 Fantasy Points. In this game he should be in the high 50%.
Joakim Noah (CHI) – $5,200
Noah has scored at least 23 Fantasy Points in each of his past seven games. The Bulls are playing the struggling 76ers here who may well be without their main defensive big in Nerlens Noel due to an eye injury. If the Bulls get out to a flyer look for Noah to get plenty of garbage minutes that will help pad his Fantasy score.
Nikola Jokic (DEN) – $3,700
If Jokic gets the court time he is capable of a big Fantasy score. He is a bit hit-and-miss but he has had three scores this season over 30 Fantasy Points. He has been coming off the bench in his past few games but if this game against the Rockets gets out of hand look for Jokic to see increased opportunities.
There you have it, my picks for Tuesday 15th December 2015. Let me know your thoughts via Twitter – @pearcey47
Click here to find all of the Moneyball contests in the lobby.
And as always, remember to gamble responsibly.