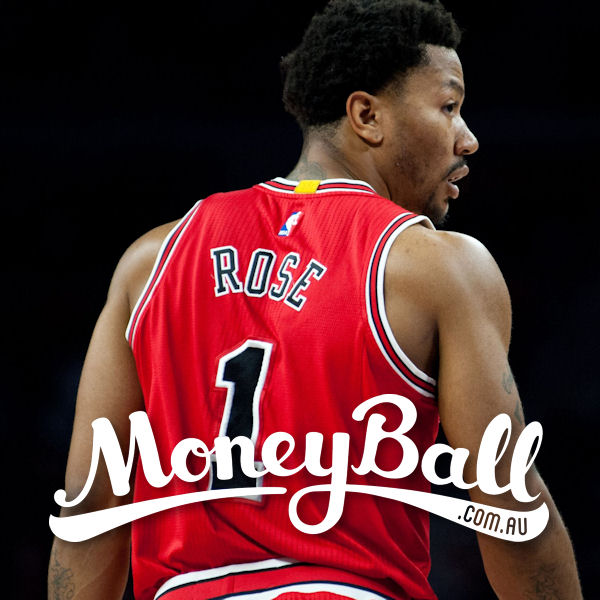 Daily Fantasy Sports has been bought to Australia in 2015 by the guys at Moneyball.com.au – the leading DFS platform in the country. They have a large array of games available in the lobby, ranging from an outlay as little as $2 up to $200 and beyond! Sign up today and join the Daily Fantasy Sports revolution!
Moneyball contests for NBA are easy to be involved in – simply select 9 players (2 point guards, 2 shooting guards, 2 small forwards, 2 power forwards and 1 centre), whilst keeping under the $60,000 salary cap. Jump in the lobby today and give it a go!
Sunday's contests include a Guaranteed $4,000 Sunday Bank ($15 entry) as well as a Rebound Special, a Windmill Special (both $10 entry) and an AirBall Special ($5 entry). They also have the usual H2H, Double-up and other competitions to satisfy your Daily Fantasy Sports appetite!
Picks for Sunday 13th December 2015:
POINT GUARD:
Damien Lillard (POR) – $9,300
Lillard just gets it done night after night, game after game. He has a season average of 39.4 FPPG and has scored over 40 points in 14 of his 23 games. He is matched up here against the Knicks, and it's hard to see someone like Jose Calderon keeping him in check. Watch Lillard fill up the stats sheet across the board.
Derrick Rose (CHI) – $6,900
Rose removed his facemask at halftime in the Bulls last game, against the Clippers. Whether he continues to play with or without the mask is a mystery at this stage but removing it for a half means he must be confident to play without it. A confident Rose, mixed with a great match-up against the high-Fantasy-Point-allowing Pelicans, should amount to a decent Fantasy score.
Patrick Beverley (HOU) – $4,700
Beverley is just about a lock for 20-25 Fantasy Points in every game that he plays. The upside here is that he has a great match-up against the Lakers, so hopefully he can add a few extra points to boost his score. It should be a high-paced, free-flowing affair so look for Beverley to be a great value play.
Which teams score the most and give up the most Moneyball points? Click here!
SHOOTING GUARD:
James Harden (HOU) – $11,300
On paper this looks to be the match-up of all match-ups for Harden. He is fresh off a massive game, against the Wizards, where he had 42 points, 9 rebounds, 7 assists and 64.3 Fantasy Points. This game against the Lakers should be very high-scoring so Harden should get plenty of opportunities to get his points. His price tag is huge but worth it here.
Jimmy Butler (CHI) – $8,200
Butler is coming off back-to-back 40+ Fantasy Point games and has a great match-up here against the Pelicans. Butler seems to get everything out of himself every time he hits the court and can contribute in all categories so look for him to do just that in this high-paced match-up.
Lou Williams (LAL) – $4,400
Williams is really benefitting from his stint in the starting line-up, putting up at least 20 Fantasy Points in 5 of his last 6 outings. He has a great match-up here against the Rockets, so with plenty of minutes and plenty of points to go around look for Williams to be a great value play.
SMALL FORWARD:
Paul George (IND) – $10,400
George had a slightly down game in his last outing, against the Heat, but this can be excused because he still put up a decent score of 36.1 Fantasy Points and the Heat are one of the tightest teams at giving up Fantasy Points. He is playing here against the Pistons where there will be more points on offer – look for George to get amongst them.
Kawhi Leonard (SAS) – $8,900
Leonard has had an indifferent week, missing the Spurs game against the 76ers due to eating a dodgy cheeseburger, and then putting up a season-low score of 22.4 Fantasy Points in his return against the Raptors. Leonard bounced back from that with a decent 40.2 Fantasy Point game against the Lakers so look for him to continue to be back to his old self here against the Hawks.
Corey Brewer (HOU) – $3,500
Brewer is priced at the minimum of just $3,500 which is an absolute bargain considering his last two games he has scores of 30.6 and 28.9 Fantasy Points respectively. These good scores have been due to Trevor Ariza suffering from a back injury and being unable to take the court. If Ariza sits again here lock Brewer in to your line-up.
Click here to sign up to Moneyball.
POWER FORWARD:
Blake Griffin (LAC) – $9,800
Griffin was dominating in his last game, against the Bulls, where he had 18 points and 11 rebounds in 25 minutes of action. That was until the refs decided to stop him by calling a Flagrant Foul for a forearm to the head of Taj Gibson which resulted in an ejection from the game. Griffin will be keen to make amends and here against Brooklyn he will do just that.
Kristaps Porzingis (NYK) – $6,900
Porzingis had a game to forget two games ago where he tallied just 4 points and 3 rebounds in a blow-out loss to the Jazz. He bounced back in his last game, against the Kings, where he put up 13 points, 7 rebounds and 3 blocks. He is matched-up here against a weak Portland frontcourt – watch the first year player get back to his best.
Taj Gibson (CHI) – $4,300
Since joining the starting line-up in favour of Nikola Mirotic, Gibson has been providing some solid numbers, with a 3-game average of 23.2 Fantasy Points. He will be playing against the Pelicans and their star player Anthony Davis here so look for him to get busy on the defensive end. If he can score around the 20-25 Fantasy Point mark he will be good value.
CENTRE:
Dwight Howard (HOU) – $8,300
Howard is nowhere near the same player he was back in his Magic days when he was the self-proclaimed 'Superman'. Now he is probably more of a villain to Rockets fans but he is still capable of the odd super game with a 22 point, 18 rebound game only last week. In a game here against the Lakers look for the 'Superman' to return for a night.
Marcin Gortat (WAS) – $6,500
Gortat was having a nice little run of good scores earlier in the month, posting 5 out of 6 games with 30+ Fantasy scores. He then had to fly off to Poland to be with a sick family member but he has had two games since being back, with scores of 35.1 and 23.6 Fantasy Points. In this game against the Mavericks Gortat should get back to his early-December form.
Festus Ezeli (GSW) – $4,700
Ezeli is still sharing minutes with Andrew Bogut at the Centre position for the Warriors but it does not seem to hinder his Fantasy performance. He has a season average of 20.8 FPPG and because he doesn't play huge minutes his price is never going to blow out. Ezeli should be good value here as the Warriors ain to go 25-0.
There you have it, my picks for Sunday 13th December 2015. Let me know your thoughts via Twitter – @pearcey47
Click here to find all of the Moneyball contests in the lobby.
And as always, remember to gamble responsibly.