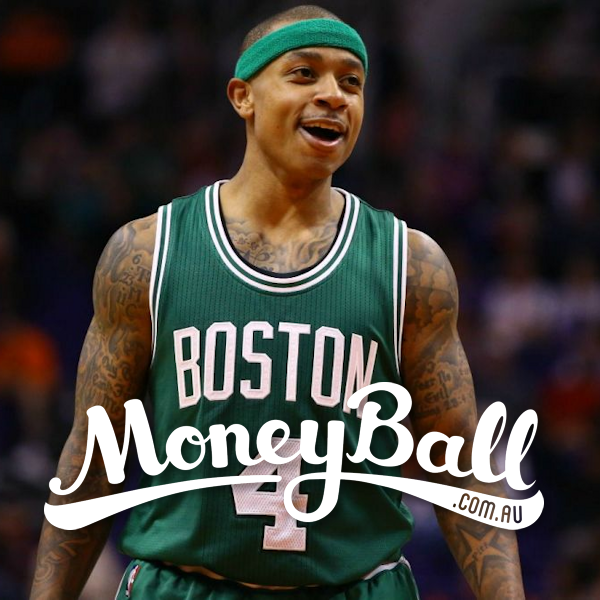 Daily Fantasy Sports has been bought to Australia in 2015 by the guys at Moneyball.com.au – the leading DFS platform in the country. They have a large array of games available in the lobby, ranging from an outlay as little as $2 up to $200 and beyond! Sign up today and join the Daily Fantasy Sports revolution!
Moneyball contests for NBA are easy to be involved in – simply select 9 players (2 point guards, 2 shooting guards, 2 small forwards, 2 power forwards and 1 centre), whilst keeping under the $60,000 salary cap. Jump in the lobby today and give it a go!
Saturday's contests include a Guaranteed $5,000 Saturday Bank ($15 entry) as well as a Buzzer Special, a Dunk Special (both $10 entry) and an AirBall Special ($5 entry). They also have the usual H2H, Double-up and other competitions to satisfy your Daily Fantasy Sports appetite!
Picks for Saturday 12th December 2015:
POINT GUARD:
Isaiah Thomas (BOS) – $8,100
Thomas and the Celtics are faced with the toughest test in professional sports at the moment, playing against the undefeated Warriors. In order for the Celtics to be competitive Thomas will have to have a huge game on the offensive end. He has a 3-game average of 37.7 FPPG but will need to exceed that if Boston are to get the W.
Reggie Jackson (DET) – $8,000
The Pistons have the easy game here against the struggling 76ers and Jackson should benefit greatly from this match-up. He is capable of putting up a very high score, with three games this season in which he has scored over 50 Fantasy Points. Look for him to make it four in this game.
Patrick Mills (SAS) – $3,500
This pick is heavily reliant on Tony Parker taking the night off as the Spurs play against the lowly Lakers. The Spurs rested Tim Duncan and Kawhi Leonard earlier in the week against the 76ers so it wouldn't be a long shot for Parker to sit for this game. If so, Mills will get the start at PG and log heavy minutes, and as a result he should be a great value play.
Which teams score the most and give up the most Moneyball points? Click here!
SHOOTING GUARD:
Eric Bledsoe (PHO) – $8,600
The cupboard is a bit bare for the Shooting Guard position so why not go with the best; in this case Eric Bledsoe. He consistently scores good points, with a season average of 37.8 FPPG. Matched-up here against the Trailblazers Bledsoe should once again score around the 40 Fantasy Point mark.
Will Barton (DEN) – $6,100
Barton is an absolute sparkplug off the bench for the Nuggets, providing numbers in every statistical category when he is on the floor. He is playing around 27 minutes per game so even though he is coming off the bench he is still getting good playing time. Look for him to play plenty again here against the young Timberwolves.
OJ Mayo (MIL) – $4,300
In a fairly surprising move by Bucks coach Jason Kidd, Mayo has been starting at the Point Guard position. Not one to be known for his passing, it seems strange that he would start over someone like Carter-Williams. In any case, he is cheap and is getting plenty of minutes so he is a good value play.
SMALL FORWARD:
Paul George (IND) – $10,400
Regardless of what most pundits are forecasting, Paul George should be very high up on the Most Valuable Player list. His season so far has been nothing short of outstanding, averaging 27.9 points, 8.2 rebounds, 4.3 assists and 1.7 steals per game on his way to a Fantasy average of 47.2. Look for him to dominate again here against the Heat.
Otto Porter Jnr (WAS) – $5,600
Porter has a great match-up here against the Pelicans so he should be in for a big night. He is having a great year since taking on the starting SF duties, with season averages of approximately 11 points, 5 boards and over 1 steal per game. He has a 3-game average of 31.8 Fantasy Points – look for him to exceed that here.
Andre Iguodala (GSW) – $4,500
If the Warriors are going to overcome all of their injuries and keep their winning streak alive then Iguodala is going to have to provide some veteran leadership off the bench. He did just that in the Warriors last outing, against the Pacers, where he contributed 6 points, 5 assists and 5 steals to help them get the W.
Click here to sign up to Moneyball.
POWER FORWARD:
Draymond Green (GSW) – $8,500
Green is the glue guy for the Warriors, the guy that holds it all together and does all the little things. In addition to the little things Green is doing a fair few of the big things as well, averaging approximately 13 points, 8 rebounds and 4 assists per game for the season. If the Warriors are going to win Green will have to do his fair share of the little things, and the big things.
Kenneth Faried (DEN) – $6,000
Faried is starting to find some consistency after having a myriad of injuries in the early part of the season. He has just re-entered the starting line-up and has a 3-game average of 27.6 Fantasy Points. Against the young Timberwolves look for Faried to return to his Manimal-istic ways.
Jon Leuer (PHO) – $3,900
Leuer has been playing some great basketball since moving in to the Suns starting line-up, putting up a 3-game average of 27.7 Fantasy Points. He has scored at least 25 Fantasy Points in 5 of his past 7 games and in this expected high-paced match-up against the Trailblazers expect him to provide great value yet again.
CENTRE:
Andre Drummond (DET) – $10,000
Drummond has been solid recently, scoring at least 38 Fantasy Points in 6 out of his past 7 games. He is matched-up here against the 76ers, who will be on the second game of a back-to-back. Look for Drummond to dominate on both ends of the court and return some very big Fantasy numbers.
Karl-Anthony Towns (MIN) – $6,500
KAT has well and truly returned to his early season form, putting up his biggest Fantasy score, in his last outing against the Lakers, since his second professional game way back at the end of October. He currently has a 40.9 average for the past 3 games and is playing against an ordinary Denver frontcourt. Should be a great play.
Alex Len (PHO) – $4,100
If Tyson Chandler sits again with his hamstring injury then Len will once again be a sensational value pick. In his past three games Len has averaged 31.8 FPPG, with a massive score of 41.3 Fantasy Points in his last game, a win against the Magic. Watch for the injury report and if Chandler is out then consider Len for your squad.
There you have it, my picks for Saturday 12th December 2015. Let me know your thoughts via Twitter – @pearcey47
Click here to find all of the Moneyball contests in the lobby.
And as always, remember to gamble responsibly.