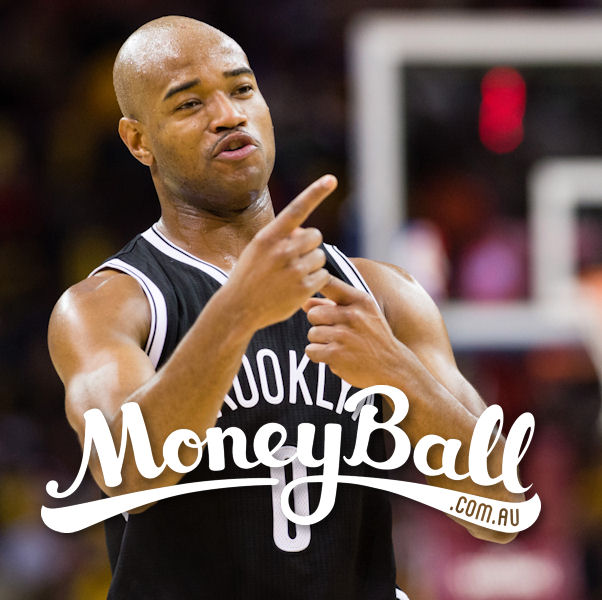 Daily Fantasy Sports has been bought to Australia in 2015 by the guys at Moneyball.com.au – the leading DFS platform in the country. They have a large array of games available in the lobby, ranging from an outlay as little as $2 up to $200 and beyond! Sign up today and join the Daily Fantasy Sports revolution!
Moneyball contests for NBA are easy to be involved in – simply select 9 players (2 point guards, 2 shooting guards, 2 small forwards, 2 power forwards and 1 centre), whilst keeping under the $60,000 salary cap. Jump in the lobby today and give it a go!
Friday's contests include a Guaranteed $4,500 Friday Bank ($15 entry) as well as an Alley-Oop Special ($10 entry) and an AirBall Special ($5 entry). They also have the usual H2H, Double-up and other competitions to satisfy your Daily Fantasy Sports appetite!
Picks for Friday 11th December 2015:
POINT GUARD:
Rajon Rondo (SAC) – $8,100
Rondo has returned to his form of old, scoring points at will and dishing out dimes like its nobody's business. He has season averages of 12.5 points, 6.8 rebounds, 11 assists and 35.3 minutes per game. This all contributes to his 37.4 FPPG season average. He has a great match-up here against the Knicks so look for his vintage form to continue.
Jarrett Jack (BRO) – $6,000
Jack has been a bit up and down of late, with his Fantasy scores ranging from 10 points to 36 points over the past six games. His season average falls somewhere in the middle at 27.6 FPPG. Jack plays in this game against the 76ers so expect him to be at the top of his range.
Which teams score the most and give up the most Moneyball points? Click here!
SHOOTING GUARD:
Jimmy Butler (CHI) – $8,200
Butler is hot off one of his best games of the season where he dropped a career-high 36 points in a loss to the Celtics. In that game he also had 7 rebounds on his way to 45.4 Fantasy Points. The Bulls are currently in a bit of a rut and have another tough game here against the Clippers so Butler will have to put in another career performance if the Bulls are going to have a chance.
Arron Afflalo (NYK) – $4,500
After a recent little hot streak Afflalo has cooled right off in his past 3 games, with scores of 10.6, 19.2 and 14.4 Fantasy Points respectively. Afflalo has the potential to score a bunch of points in a very short timespan and in what should be a high-scoring match-up with the Kings look for Afflalo to return to form.
SMALL FORWARD:
Kevin Durant (OKC) – $10,900
To be able to select a player like Durant for a price under $11,000 seems crazy but here he is at a measly price of just $10,900. Durant has been in great form of late, with three of his four games in December resulting in 40+ Fantasy Points. His opponent here is Atlanta – lock him in and reap the rewards.
Bojan Bogdanovic (BRO) – $3,500
Since rookie Rondae Hollis-Jefferson was sidelined with an ankle injury, Bogdanovic has entered the Nets starting line-up and has been putting up impressive numbers. He is currently enjoying his most consistent run of form this season, capping it off in his last game with his second-highest return of the season, 30.5 Fantasy Points against the Rockets.
Click here to sign up to Moneyball.
POWER FORWARD:
DeMarcus Cousins (SAC) – $10,100
Cousins called himself out earlier in the week, saying the team's poor form was a reflection of his terrible play. He bounced back a couple of days ago, scoring 43.4 Fantasy Points in a win against the Jazz. That should just be the start of Cousins finding some form, so look for him to improve again here against the Knicks.
Thaddeus Young (BRO) – $7,200
There is a bit of a trend starting to show here – to play anyone that is up against the 76ers. Young and his Nets are facing Philadelphia here, and the fact that Young is currently in some hot form also contributes to this pick. Young has a 3-game average of 37.6 Fantasy Points and look for that to improve against the woeful 76ers.
CENTRE:
Brook Lopez (BRO) – $8,500
Another position, another Nets player. Lopez has been very consistent this season, scoring at least 30 Fantasy Points in 16 of his last 18 contests. He has only dipped under 26 Fantasy Points once for the season and being matched up against the 76ers we could see a huge return for Lopez. A must play.
Enes Kanter (OKC) – $5,200
Kanter is averaging approximately 11 points and 8 rebounds on the season, which contributes to his Fantasy average of 21.9. He is the Thunders main offensive option off the bench so in what should be a tight game against the Hawks Kanter will have to put up some decent numbers to keep the Thunder afloat whilst their stars have a rest.
There you have it, my picks for Friday 11th December 2015. Let me know your thoughts via Twitter – @pearcey47
Click here to find all of the Moneyball contests in the lobby.
And as always, remember to gamble responsibly.