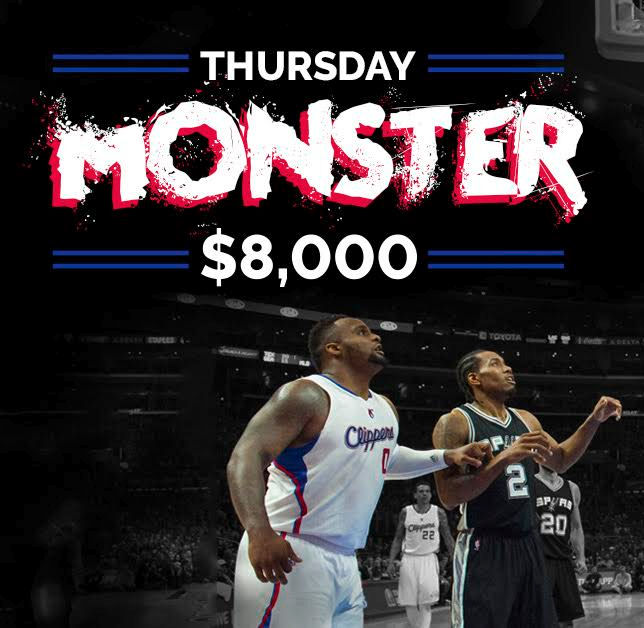 Daily Fantasy Sports has been bought to Australia in 2015 by the guys at Moneyball.com.au – the leading DFS platform in the country. They have a large array of games available in the lobby, ranging from an outlay as little as $2 up to $200 and beyond! Sign up today and join the Daily Fantasy Sports revolution!
Moneyball contests for NBA are easy to be involved in – simply select 9 players (2 point guards, 2 shooting guards, 2 small forwards, 2 power forwards and 1 centre), whilst keeping under the $60,000 salary cap. Jump in the lobby today and give it a go!
Thursday's contests include an ABSOLUTELY HUGE Guaranteed $8,000 Thursday Monster ($15 entry) as well as a Slam Special ($10 entry) and an AirBall Special ($5 entry). They also have the usual H2H, Double-up and other competitions to satisfy your Daily Fantasy Sports appetite!
Picks for Thursday 10th December 2015:
POINT GUARD:
John Wall (WAS) – $8,800
Wall is currently experiencing career-best form, doing all he can to keep the Wizards competitive. He has a 3-game average of 42.3 and has scored 55+ Fantasy Points in three of his past five contests. Wall plays against the Rockets here who are well known to leak Fantasy Points so watch for Wall to have another great game.
Ricky Rubio (MIN) – $6,500
Rubio is a triple-double threat every time he hits the floor and in this dream match-up against the struggling Lakers Rubio should have a terrific game. Rubio currently has a season average of 30.3 FPPG and his two latest games have reaped 35.7 and 34.5 Fantasy Points. Look for that sort of form to continue.
Jeremy Lin (CHA) – $4,300
Lin-sanity hasn't quite hit in Charlotte as yet but Lin has provided a solid option at PG off the bench for the Hornets. In his latest two games he has scored 25.5 and 25.6 Fantasy Points respectively. Lin should continue to provide good value here against the Heat.
Which teams score the most and give up the most Moneyball points? Click here!
SHOOTING GUARD:
Eric Bledsoe (PHO) – $8,600
Bledsoe is one of the most athletic Shooting Guards in the NBA and what he lacks in size he more than makes up for in speed and competitiveness. He is currently averaging 37.7 FPPG and has scored at least 30 Fantasy Points in all of his 21 games so far except for 3. Matched-up here against the young Magic he should be in for another big game.
Bradley Beal (WAS) – $7,200
Along with his backcourt mate John Wall, Beal has been on a tear lately, dropping baskets and scoring big points. He has a 3-game average of 38.1 Fantasy Points and has scored at least 30+ in 4 of his past 6 games. He has a great match-up here against the Rockets so look for him to score some big points.
Lou Williams (LAL) – $4,300
Williams has entered the Lakers starting line-up at the expense of rookie D'Angelo Russell so his game time should increase for the short-term.  Regardless of where he plays he has been averaging around 26 minutes per game and putting up a healthy 19.6 FPPG. He will be up here against the young Timberwolves and should provide good value.
SMALL FORWARD:
Kawhi Leonard (SAS) – $8,900
Leonard missed the Spurs last outing, against the 76ers, due to eating a dodgy cheeseburger but that didn't stop the Spurs crushing them in a very one-sided affair. Regardless of that result the Spurs are arguably better with Leonard in the team. If his stomach has recovered look for him to lead the Spurs into battle against the Raptors and put up something around his 39.2 FPPG average.
Carmelo Anthony (NYK) – $8,700
Carmelo has been playing through a knee injury that has been hampering his performance but he seems to be dealing with it, putting up a 3-game average of 34.9 Fantasy Points. He is matched up here against the Jazz who are on the second game of a back-to-back. Look for Carmelo to hit the scoreboard often.
Corey Brewer (HOU) – $3,500
The Rockets starting Small Forward, Trevor Ariza, sustained a back injury in the Rockets last game and could be absent in this game against the Wizards. If Ariza misses then Brewer should start the game and if he puts in a similar performance to the one he put in against the Nets in the Rockets last game (30.6 Fantasy Points) then he will be a great value play.
Click here to sign up to Moneyball.
POWER FORWARD:
Blake Griffin (LAC) – $9,900
Even though the Clippers have been struggling somewhat this season, Griffin is having his best year since turning pro, putting up averages of around 24 points, 8 rebounds and 5 assists. If the Clippers are going to win this one against the Bucks Griffin will have to have an above–average game so look for him to score more than his 42.3 FPPG average.
Jared Sullinger (BOS) – $6,200
Sullinger has been an absolute beast on the boards this season, cleaning the glass at a rate of over 9 rebounds per game. Add to that his average of over 10 points per game and it all contributes to his Fantasy Point average of 27.7 FPPG. In this match-up against the Bulls look for him to keep up his rebounding ways.
Jon Leuer (PHO) – $3,600
The Suns usual starting Power Forward, Markieff Morris, is currently in the coach's bad books so Leuer has been given the starting job in his place. He has performed well, with a 3-game average of 24.6 Fantasy Points and has scored at least 25 Fantasy Points in 5 of his last 8 contests. He is matched-up here against the Magic so look for him to continue to contribute.
CENTRE:
Hassan Whiteside (MIA) – $8,100
Whiteside's production has dropped off a tad of late but he is still putting up an average of 34.4 FPPG. He is still blocking shots at will and grabbing lots of rebounds but just not at the level he was in the early part of the season. He is matched-up here against the Hornets who are without their starting Centre Al Jefferson so it's a prime opportunity for Whiteside to re-discover his early season form.
Karl-Anthony Towns (MIN) – $6,300
The number 1 draft pick recently went through a bit of a lean patch but over the past few games he has found another gear, putting up a 3-game average of 30.9, which included one of his best games for the season, against the Trailblazers, where he scored 45.4 Fantasy Points. He has a great match-up here against the Lakers so look for him to be a great value pick.
Joakim Noah (CHI) – $4,800
Noah has been disgruntled in Chicago so far this season due to his move to the bench and the resultant lack of playing time. Over the past four games he has been making the most of his opportunities, scoring at least 23 Fantasy Points in each game. Matched-up here against the under-sized Boston frontcourt, Noah should continue his good run of form.
There you have it, my picks for Thursday 10th December 2015. Let me know your thoughts via Twitter – @pearcey47
Click here to find all of the Moneyball contests in the lobby.
And as always, remember to gamble responsibly.