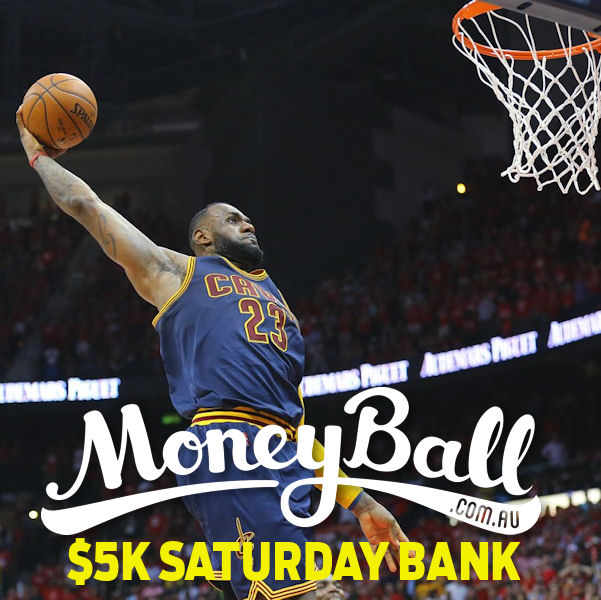 Daily Fantasy Sports has been bought to Australia in 2015 by the guys at Moneyball.com.au – the leading DFS platform in the country. They have a large array of games available in the lobby, ranging from an outlay as little as $2 up to $200 and beyond! Sign up today and join the Daily Fantasy Sports revolution!
Moneyball contests for NBA are easy to be involved in – simply select 9 players (2 point guards, 2 shooting guards, 2 small forwards, 2 power forwards and 1 centre), whilst keeping under the $60,000 salary cap. Jump in the lobby today and give it a go!
Saturday's contests include a Guaranteed $5,000 Saturday Bank ($15 entry) as well as a Dunk Special for the late games ($10 entry). They also have the usual H2H, Double-up and other competitions to satisfy your Daily Fantasy Sports appetite!
Picks for Saturday 5th December 2015:
POINT GUARD:
John Wall (WAS) – $8,300
In an up and down last two games for the Wizards John Wall has been a constant. Two games ago the Wizards defeated a Championship favourite in the Cavs and then the next night lost to the struggling Lakers. Win or lose it didn't matter to Wall who posted Fantasy scores of 59.8 and 57.9. In what will be an up-tempo game against the Suns expect Wall's current form to continue.
Deron Williams (DAL) – $6,900
After not hitting the 30+ Fantasy Point barrier in his first 10 games as a Maverick, Williams has scored 30+ in 6 of his past 8 games, topping his run off in his last game, against the Blazers, with a season high 52.2 Fantasy Points. He has a good match-up here against the Rockets so he should be in for another 30+ game.
Patrick Beverley (HOU) – $4,400
Beverley has recently cracked the Rockets starting line-up in place of the struggling Ty Lawson. In his past 4 games he has scored at least 19 Fantasy Points in each contest, with a 25.9 Fantasy Point game in his last outing against the Pelicans. If he can score around that mark again he will be a good value play.
SHOOTING GUARD:
James Harden (HOU) – $11,600
As the most expensive player in Moneyball in this slate of games, Harden needs to put up some big numbers to prove his worth. Luckily for him he has been on a tear of late, putting up a 3-game average of 49.4 Fantasy Points and not dropping under 49 Fantasy Points in his past 6 games. Expect him to put up some big numbers in this game against the Mavs.
Bradley Beal (WAS) – $6,900
Beal has been in some good form lately with a 3-game average of 33.5 Fantasy Points. He has put up consecutive 38+ Fantasy Point games this week and has a great match-up in this contest against the Suns. Beal should get plenty of looks and if his shot is dropping he should be a handy play.
JR Smith (CLE) – $5,000
Smith has been unusually consistent of late, scoring at least 20 Fantasy Points in 8 out of his last 9 contests. He has always been known as a fairly streaky one-dimensional player and even though he doesn't contribute in a lot of categories other than on the scoreboard, he at least seems to be putting up points on a regular basis.
SMALL FORWARD:
LeBron James (CLE) – $10,500
In what should be an amazing match-up for James, he is up against the Pelicans who are giving up the most Moneyball Points of any team in the league. James is averaging 44.8 FPPG on the season, with a season high of 59.9. If the stars align watch for LeBron to crack the 60+ mark here. Pay the price and watch James go to work.
Thabo Sefolosha (ATL) – $4,400
Sefolosha has started the past 3 games ahead of Kent Bazemore and as a result has seen a nice spike in his production. Over the past 3 games he has a Fantasy Point average of 22.3, up from his season average of 19.6 FPPG. He should get the start here against the Lakers and he will be a good value play.
Rondae Hollis-Jefferson (BRO) – $4,400
RHJ has been off the boil in his past two games but in his four games before that he had a minimum of 25 Fantasy Points in each game. The first year player has been a revelation for the struggling Nets, putting up consistent stats across the entire box score. Look for that to continue here against Knicks.
Click here to sign up to Moneyball.
POWER FORWARD:
Anthony Davis (NOP) – $10,200
Davis is an absolute beast and has been in full-on beast-mode over the past 3 games, putting up an average of 56.2. Even though he only has one eyebrow he is almost a lock for 50+ FPPG and he will want to prove himself here on the big stage against the Eastern Conference favourites Cleveland.
Terrence Jones (HOU) – $5,400
It has been reported that Dwight Howard is going to sit this game out against the Mavs so Jones should slot in to the starting line-up in the PF position. He has been coming off the bench in the past couple of games and has been fairly quiet but with the start he should put up some decent numbers.
Mirza Teletovic (PHO) – $3,900
Teletovic has been a gun off the bench of late, knocking down three's from all over the court on the way to a 3-game average of 22.1 Fantasy Points. He has put up at least 15 Fantasy Points in 9 of his past 11 games and should be a lock to score at least that here against the Wizards.
CENTRE:
Al Horford (ATL) – $7,100
This game against the Lakers should be a dream match-up for Horford. He has been well down on form with only one score over 35 Fantasy Points in his past 10 games. As long as this game isn't a huge blow-out Horford should play his usual minutes and play himself back in to form.
Clint Capela (HOU) – $5,000
With Dwight Howard sitting out Capela should see a nice increase in production, especially in the rebounding department. He has been starting alongside Howard recently but without Howard in his way he should be the key man in the paint and his Fantasy score should reflect this.
Alex Len (PHO) – $3,600
As long as Tyson Chandler is on the pine Alex Len is a great value play. He has a 3-game average of 23.7 Fantasy Points and just two games ago he put up 13 points and 14 rebounds on his way to 38.8 Fantasy Points. He is matched up here against the Gortat-less Wizards so he should be very productive.
There you have it, my picks for Saturday 5th December 2015. Let me know your thoughts via Twitter – @pearcey47
Click here to find all of the Moneyball contests in the lobby.
And as always, remember to gamble responsibly.