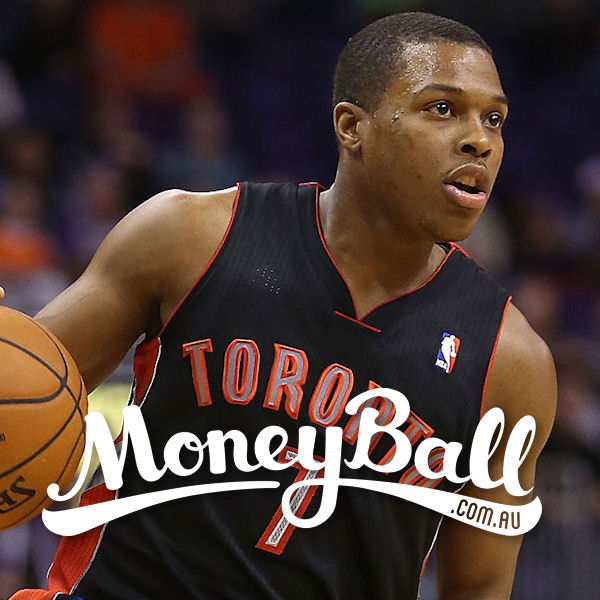 Daily Fantasy Sports has been bought to Australia in 2015 by the guys at Moneyball.com.au – the leading DFS platform in the country. They have a large array of games available in the lobby, ranging from an outlay as little as $2 up to $200 and beyond! Sign up today and join the Daily Fantasy Sports revolution!
Moneyball contests for fantasy basketball are easy to be involved in – simply select 9 players (2 point guards, 2 shooting guards, 2 small forwards, 2 power forwards and 1 centre), whilst keeping under the $60,000 salary cap. Jump in the lobby today and give it a go!
Friday's contests include a Guaranteed $5,000 Friday Bank ($15 entry) as well as an Alley-Oop Special for the late games ($10 entry). They also have the usual H2H, Double-up and other competitions to satisfy your moneyball nba Daily Fantasy Sports appetite!
Picks for Friday 4th December 2015:
POINT GUARD:
Kyle Lowry (TOR) – $8,800
Lowry is hot off a big game against the Hawks, where he scored a season-high 31 points, and also contributed 5 boards and 5 assists. He really lit it up in the last quarter, scoring 22 of those 31 points. He is matched up here against the Nuggets which will be a great match-up. Look for him to score big.
Rajon Rondo (SAC) – $8,100
The Kings take on the Celtics here with the game to take place in Mexico City. Rondo will be keen to have a huge game after a 2 hour sit-down with team mate DeMarcus Cousins and coach George Karl where a few home-truths were told. Look for Rondo to jump out of the blocks and put in a big individual performance.
Cory Joseph (TOR) – $4,200
This is a bit of an insurance pick in case the game against the Nuggets becomes a blow-out. Even if it doesn't Joseph still gets a lot of run in the Raptors rotation, playing 34 minutes off the bench in his last game against the Hawks. A good value pick for his price. Patty Mills would also be a decent play here with Parker possibly resting on the second game of a back-to-back.
SHOOTING GUARD:
Victor Oladipo (ORL) – $7,200
Oladipo has been coming off the bench of late but this has not hindered his Fantasy output one little bit. He has a 3-game average of 37.4 FPPG and has scored 30+ Fantasy Points in each of his past 4 games. He has a nice match-up here against the Jazz so look for his stellar form to continue.
Will Barton (DEN) – $5,500
Even though Barton's team mate and Denver's starting SG Gary Harris has missed the past few games due to concussion, Barton is still coming off the bench as the coach has chosen to start Randy Foye. No wonder the Nuggets continue to lose. Barton is a great all-around player and has scored at least 24 Fantasy Points in 9 of his past 11 games. If only he could crack the starting line-up.
Avery Bradley (BOS) – $5,800
Bradley continues to get it done on the offensive end for the Celtics, putting up another 25 points in his last game, against the Heat. If he could add a few more stats across the other lines he would be a much better Fantasy player but in what should be a fast-paced game against the Kings look for Bradley to light up the scoreboard at the very least.
SMALL FORWARD:
Paul George (IND) – $10,100
George did it all in his last outing, against the Clippers, scoring 31 points, to go along with 10 boards and 3 steals. It all amounted to a huge 57.0 Fantasy Points to lead the Pacers to their 6th straight win. He is matched up here against a very ordinary POR outfit. Look for him to go big again.
Gordon Hayward (UTA) – $7,000
Hayward doesn't really look like a superstar basketballer, other than the fact that he is over 2 metres tall. But don't let looks deceive, this guy can seriously play. H has scored at least 27 Fantasy Points in 10 of his past 12 games and has a 3-game average of 34.9 Fantasy Points. He has a good match up here against the Magic so watch for his hot form to continue.
Justise Winslow (MIA) – $3,900
Winslow was touted as the steal of the draft when he was taken at pick 10 by the Heat. He had massive wraps on him coming out of College and he is providing the Heat with great support off the bench in his rookie year. When given the opportunity he can put up some decent numbers.
Click here to sign up to Moneyball.
POWER FORWARD:
Derrick Favors (UTA) – $7,400
With shocking news coming out of the Jazz camp that Rudy Gobert has injured his knee and is out indefinitely; look for Favors to step up big time in his absence. Favors has a 3-game average of 34.7 and is coming off his third best game of the season where he put up 42.0 Fantasy Points against the Warriors. Look for him to increase production with Gobert on the sidelines.
Trevor Booker (UTA) – $3,900
Another Jazz player to benefit from Gobert's knee injury is Trevor Booker, who should get the start in Gobert's place. In his last start, 2 games ago against the Pelicans when Favors sat out, Booker had a huge game with 13 points and 15 rebounds on his way to 43.5 Fantasy Points. He won't put up those numbers on a nightly basis but is worth a play based on his low price and potential alone.
Joffrey Lauvergne (DEN) – $3,700
King Joffrey is back from injury and is trying to regain his position on the Nuggets starting line-up. He has been solid but not spectacular in his past 2 games, scoring 14.7 and 24.4 Fantasy Points respectively.  Look for him to continue to improve in this game vs the Raptors.
CENTRE:
Hassan Whiteside (MIA) – $8,500
Whiteside had his worst game for the season since game one, putting up a very ordinary 22.6 Fantasy Points against Boston. He is averaging 36.0 FPPG for the season and is leading the league in blocks. Look for him to bounce back in a big way here against the Thunder.
Nikola Vucevic (ORL) – $7,200
Vucevic is one of the most under-rated Centres in the league. Night in and night out he puts points on the scoreboard and cleans the glass with amazing efficiency. In his last game, against the T-Wolves, he put up 18 points and grabbed 12 rebounds. He has a great match-up here against the Gobert-less Jazz so look for him to put up his usual numbers and then some.
Meyers Leonard (POR) – $4,700
Leonard has played 3 games in his return from a shoulder injury and in those 3 games he has averaged 21.8 FPPG. He had a big game in his last outing, putting up 23 points and grabbing 7 rebounds off the bench. Look for him to continue to improve and make his way back in to the starting line-up.
There you have it, my picks for Friday 4th December 2015. Let me know your thoughts via Twitter – @pearcey47
Click here to find all of the Moneyball contests in the lobby.
And as always, remember to gamble responsibly.