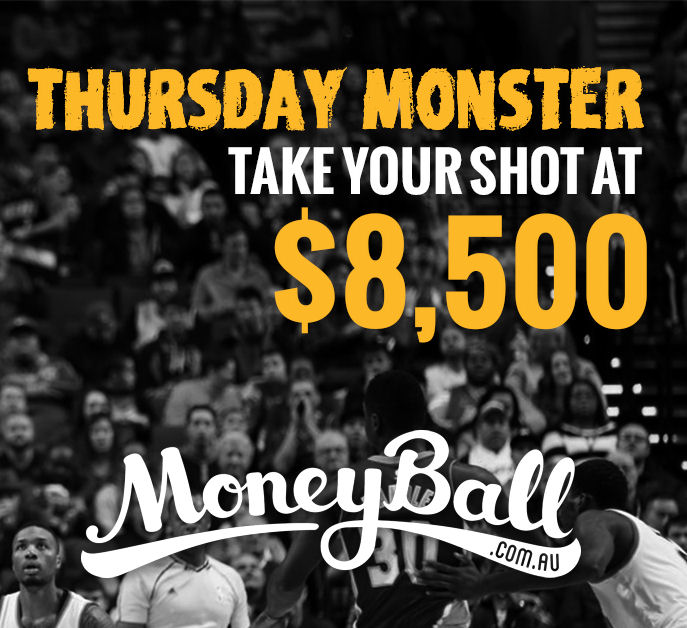 Daily Fantasy Sports has been bought to Australia in 2015 by the guys at Moneyball.com.au – the leading DFS platform in the country. They have a large array of games available in the lobby, ranging from an outlay as little as $2 up to $200 and beyond! Sign up today and join the Daily Fantasy Sports revolution!
Moneyball contests for NBA are easy to be involved in – simply select 9 players (2 point guards, 2 shooting guards, 2 small forwards, 2 power forwards and 1 centre), whilst keeping under the $60,000 salary cap. Jump in the lobby today and give it a go!
Thursday's contests include THE BIGGEST EVER Guaranteed $8,500 Thursday Monster ($15 entry) as well as a Fadeaway Special for the late games ($10 entry). They also have the usual H2H, Double-up and other competitions to satisfy your Daily Fantasy Sports appetite!
Picks for Thursday 3rd December 2015:
POINT GUARD:
Stephen Curry (GSW) – $11,200
Curry and the Warriors are playing the first of a big 6-game road swing here against the Hornets. If the Warriors are going to continue their history-making winning run Curry is going to have to keep playing well and put the points on the scoreboard. Look for Curry to be at his best on the road to keep the streak alive.
John Wall (WAS) – $8,200
Wall had arguably his best game for the season in his last outing, against the Cav, where he put up a huge stat line of 35 points, 10 assists and 5 steals on his way to 59.8 Fantasy Points. He has a great match-up here against the struggling Lakers, so look for Wall to put together another big game.
Isaiah Canaan (PHI) – $4,600
Priced at just $4,600, Canaan doesn't have to do a heap to be a good value play. In his last game, against the Lakers, he scored 12 points, had 3 rebounds, 5 assists and a steal, which was enough for him to score 25.1 Fantasy Points. If he can have a similar night here against the Knicks he will be a great value play.
SHOOTING GUARD:
James Harden (HOU) – $11,500
Harden will never die wondering. He definitely does not have a problem with handling the basketball, shooting the basketball and just basically keeping the basketball to himself. This is good for Moneyball coaches as it usually ends with Harden having a huge score. Matched up here against the Pelicans look for Harden to continue his hungry ways and put up a whopping score.
Jimmy Butler (CHI) – $8,500
Butler is one of the best 2-way players in the NBA but he never truly gets to realise his full talents when paired in the backcourt with Derrick Rose. Regardless of this, Butler still continues to put up great Fantasy scores, scoring at least 30 in 6 of his past 7 games. He has a great match-up here against the Nuggets so look for him to contribute in a big way.
Arron Afflalo (NYK) – $4,400
Afflalo went off in his last start, against the Rockets, putting up a season high 31 points and adding 7 rebounds and 4 assists. It must be noted that Carmelo Anthony sat this game out due to illness and is expected back in this game against the 76ers, but if Afflalo can put up something close he will be worth the $4,400 price tag.
SMALL FORWARD:
Kawhi Leonard (SAS) – $8,900
Leonard just continues to get it done, night after night. Even though the Spurs lost their last game, against the Bulls, Leonard impressed with 25 points, 8 rebounds and 41.1 Fantasy Points. He is matched up here against the Bucks so look for him to get his regulation 40+ Fantasy Points.
Robert Covington (PHI) – $6,300
Covington helped the 76ers notch up their first win of the season against the Lakers in their last game by putting up a stat-line of 23 points, 5 rebounds, 4 assists, 2 blocks and 36.0 Fantasy Points. He now has a 3-game average of 42.8 Fantasy Points, and he plays the Knicks in his next game. Well worth a look.
Stanley Johnson (DET) – $3,500
Johnson had a surprisingly good game in the Pistons last start, against the Rockets, by putting up 19 points and pulling down 10 boards on his way to 37.5 Fantasy Points. This game is against the up-tempo Suns, so if he gets decent minutes off the bench Johnson is capable of putting up some great numbers.
Click here to sign up to Moneyball.
POWER FORWARD:
Paul Millsap (ATL) – $8,800
It wouldn't be a stretch to say that the majority of NBA fans wouldn't even know what number Paul Millsap wears. That is how little is spoken about him. But don't let his anonymity fool you – Millsap is a great basketballer. He currently has a season average of 39.2 FPPG and has a great match-up here against the Raptors.
Kristaps Porzingis (NYK) – $6,700
In what is one of the great stories of the current NBA season, the rookie out of Latvia is putting together a very fine debut season. He is currently averaging around 14 points, 9 rebounds and 29.7 Fantasy Points. He has a sensational match-up here against the 76ers so look for his form to continue.
Cody Zeller (CHA) – $3,700
Zeller has been pretty quiet this season, averaging only 7 points and 5 rebounds in approximately 20 minutes per game. In what could be a big boost to those numbers Zeller is going to be starting in place of the injured Al Jefferson in the Hornets next game against the Warriors. If he can put up 20+ Fantasy Points he will be good value.
CENTRE:
Andre Drummond (DET) – $10,000
Drummond is coming off a massive game in his last outing, against the Rockets, where he had 24 points, 13 rebounds and 53.6 Fantasy Points. He is an absolute beast and has an ideal match-up here against a Tyson Chandler-less Suns, so look for Drummond to put up some huge numbers. 25-25 is not out of the question.
Clint Capela (HOU) – $4,700
Capela has started the past couple of games alongside Dwight Howard and has put up a solid 3-game average of 29.9 FPPG. Just two games ago he put up a season high 38.2 Fantasy Points against the Knicks. The Rockets play the Pelicans is this one, hopefully Capela's good form can continue.
Alex Len (PHO) – $3,500
Len has been getting the start for the Suns in the absence of Tyson Chandler and in today's game against the Nets he put up some very impressive numbers – 13 points, 14 boards, 3 blocks and a season-high 38.8 Fantasy Points. He has a tough match-up here against Andre Drummond but at his price of only $3,500 he doesn't have to score big to be of value.
There you have it, my picks for Thursday 3rd December 2015. Let me know your thoughts via Twitter – @pearcey47
Click here to find all of the Moneyball contests in the lobby.
And as always, remember to gamble responsibly.