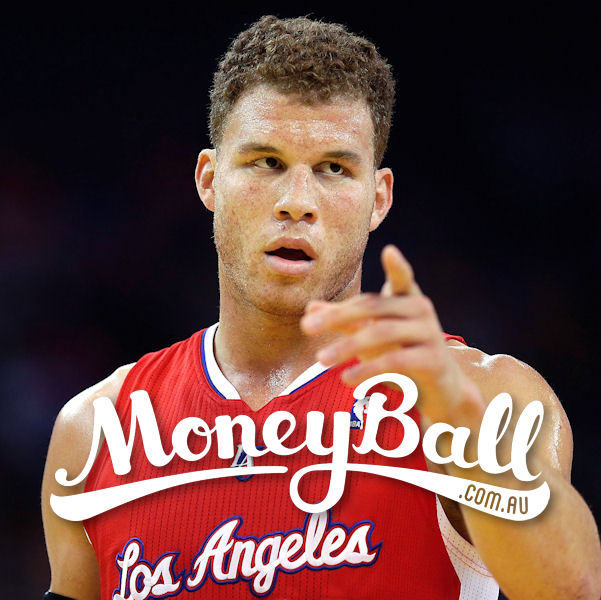 Daily Fantasy Sports has been bought to Australia in 2015 by the guys at Moneyball.com.au – the leading DFS platform in the country. They have a large array of games available in the lobby, ranging from an outlay as little as $2 up to $200 and beyond! Sign up today and join the Daily Fantasy Sports revolution!
Moneyball contests for NBA are easy to be involved in – simply select 9 players (2 point guards, 2 shooting guards, 2 small forwards, 2 power forwards and 1 centre), whilst keeping under the $60,000 salary cap. Jump in the lobby today and give it a go!
Tuesday's contests include a Guaranteed $5,000 Tuesday Bank ($15 entry) as well as a Charge Special for the late games ($10 entry). They also have the usual H2H, Double-up and other competitions to satisfy your Daily Fantasy Sports appetite!
Picks for Tuesday 1st December 2015:
POINT GUARD:
Damien Lillard (POR) – $9,400
Lillard has had a very good past four games, scoring at least 40 Fantasy Points in each of those contests. Only a week ago he had his best game of the season, dropping 60.7 Fantasy Points on the Lakers. He is matched up here against the Clippers so his good form will have to continue to keep the Blazers competitive.
Darren Collison (SAC) – $5,000
Since returning from injury Collison has been coming off the bench for the Kings. He is slowly building back to his early season form, scoring 23.9 and 24.3 Fantasy Points in two of his past 3 games. He has a great match-up here against the Mavs so he should be a good value play.
Jerryd Bayless (MIL) – $4,900
As a result of his solid play over the past four games, Bayless got the start in the Bucks last game, against the Hornets. He didn't disappoint, putting up 11 points, 6 rebounds and 6 assists on his way to 27.2 Fantasy Points. If he gets the start again in this game against the Nuggets he will provide great value.
SHOOTING GUARD:
James Harden (HOU) – $11,500
Along with having the best beard in the NBA, Harden also is one of the most talented basketballers in the league. His exceptional talents have been on display in a big way over the past few games, with Harden scoring at least 49 Fantasy Points in 5 of his past 6 games.  He is matched up here against the Pistons so expect his great form to continue.
Wesley Matthews (DAL) – $4,900
Matthews has had a slow start to his career with the Mavs after signing with them in the off-season. His priced has reduced due to this, and he is now priced at a bargain amount of only $4,900. He has put up 20+ Fantasy Points in 3 of his past 4 games and in this favourable match-up against the Kings look for him to put up a decent score.
Kentavious Caldwell-Pope (DET) – $4,800
KCP has been a bit off his game of late but he bounced back with a vengeance in his last outing, against the Nets, putting up a season high of 32.9 Fantasy Points. He is averaging 21.7 FPPG on the season which is a decent return for his price but if he can re-enact his last outing he will be a sensational play.
SMALL FORWARD:
Kevin Durant (OKC) – $10,700
Durant seems to be back to his best after having a 6 game lay-off with a hamstring injury. In his past three games since returning to the line-up he has averaged 30.3 points, 8.3 rebounds, 3.7 assists and 2.3 blocks on his way to 49.8 Fantasy Points. Against the Hawks Durant should keep up those averages and maybe even add a bit of cream.
Khris Middleton (MIL) – $5,800
Middleton is having a great little run for the Bucks, putting up at least 26 Fantasy Points in each of his past four games, topping it off with a season high 37.0 Fantasy Points in his last game, a loss to the Hornets. He seems to be a lot more active all over the court and is matched-up here against the Nuggets, a game he should thrive in.
Stanley Johnson (DET) – $3,500
The rookie Johnson has been slightly inconsistent in his first season for the Pistons but there is definitely plenty of potential for improvement. He has scored at least 18 Fantasy Points in three of his past four games and if he can just increase on that a little in this game against the Rockets he will be a solid value play.
Click here to sign up to Moneyball.
POWER FORWARD:
Blake Griffin (LAC) – $9,800
Griffin had a great all-around game in his last outing, against the Wolves, with 26 points, 8 rebounds, 8 assists, and 48.6 Fantasy Points. He has a 3-game average of 48.2 Fantasy Points and at only $9,800 and matched-up against the Trailblazers he is in for a massive game.
Draymond Green (GSW) – $8,400
Green is coming off back-to-back triple-doubles, the first against the Suns (14 points, 10 boards, 10 assists) and then the next night against the Kings (13 points, 11 boards, 12 assists). He has a 3-game average of 44 points and against the Jazz he could well put up his third triple-double in a row.
Jared Sullinger (BOS) – $6,200
Sullinger didn't have a great game offensively in his last outing (only 3 points) but he made up for it on the defensive end with 11 rebounds, 3 blocks and 3 steals. He has been playing very well of late, putting up at least 29 Fantasy Points in each of his last three games. He has a tough match-up here against the Heat but he should still be good for around 30 Fantasy Points.
CENTRE:
Andre Drummond (DET) – $10,000
This will be the second game of a back-to-back for Drummond but if he replicates his last outing his owners will be happy. He had 20 points, 18 rebounds and 3 steals, which amounted to 46.6 Fantasy Points. He is matched up against the Rockets here so there will be plenty of missed shots for him to gather.
DeAndre Jordan (LAC) – $7,900
Jordan has a very favourable match-up here against a weak Trailblazers frontcourt. He has been great this season on the defensive end averaging around 12 rebounds and 3 blocks per game so if he can get it going on the scoreboard he could be in for a big night.
Clint Capela (HOU) – $4,700
Capela started his last game, against the Knicks, alongside Dwight Howard in place of Terrence Jones. He made the most of his opportunities with a great stat-line of 18 points, 11 rebounds and 3 steals, which helped him achieve 38.2 Fantasy Points. If he gets the start again in this game against the Pistons he should be very good value.
There you have it, my picks for Tuesday 1st December 2015. Let me know your thoughts via Twitter – @pearcey47
Click here to find all of the Moneyball contests in the lobby.
And as always, remember to gamble responsibly.