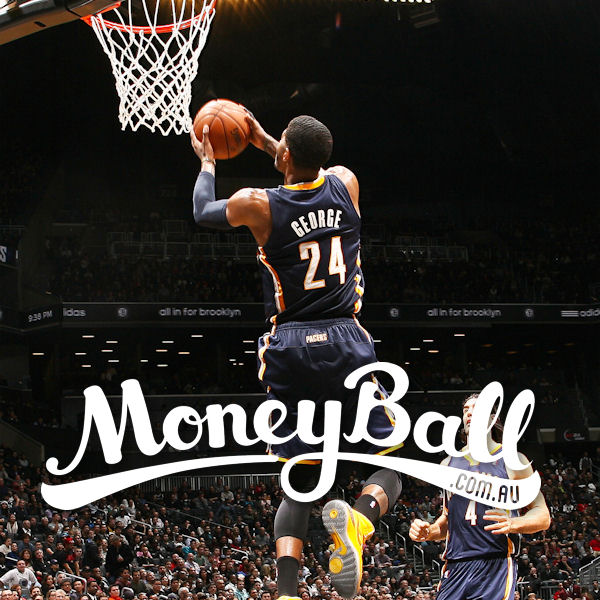 Daily Fantasy Sports has been bought to Australia in 2015 by the guys at Moneyball.com.au – the leading DFS platform in the country. They have a large array of games available in the lobby, ranging from an outlay as little as $2 up to $200 and beyond! Sign up today and join the Daily Fantasy Sports revolution!
Moneyball contests for NBA are easy to be involved in – simply select 9 players (2 point guards, 2 shooting guards, 2 small forwards, 2 power forwards and 1 centre), whilst keeping under the $60,000 salary cap. Jump in the lobby today and give it a go!
Saturday's contests include a Guaranteed $3,500 Monday Bank ($15 entry) as well as a Baller Special (all games) and a Windmill Special for the late games (both $10 entry). They also have the usual H2H, Double-up and other competitions to satisfy your Daily Fantasy Sports appetite!
Picks for Monday 30th November 2015:
POINT GUARD:
Kyle Lowry (TOR) – $8,500
Lowry has put up at least 33 Fantasy Points in every contest except for two this season, including all of his past ten. He has a great match-up here against the fast-paced Suns, so look for him to score his 33 and then a whole lot more.
Mike Conley (MEM) – $7,200
Conley doesn't put up massive numbers, averaging 29.4 FPPG this season and only having 2 games out of 17 where he has exceeded 40+ Fantasy Points. The reason he is chosen here is because he will be matched up against the 0-17 76ers, so look for him to go for a season high.
Isaiah Canaan (PHI) – $4,300
After forcing his way back in to the starting line-up, Canaan has strung a few good games together, averaging just over 25 FPPG in his past four contests. At his price of only $4,300, he will be a great value play here if he can keep putting up those sorts of numbers.
SHOOTING GUARD:
James Harden (HOU) – $11,100
Harden is currently enjoying his best run of form for the season, scoring at least 54 Fantasy Points in four out of his past five games, including 63.8 in his last outing. Harden is matched-up in this game against the Knicks, and to give his team a chance he will need to go big. Jump on.
Avery Bradley (BOS) – $5,600
Bradley has been providing great value of late, going for at least 24 Fantasy Points in 7 of his past 8 games. He has been the main beneficiary of Marcus Smart being on the sidelines so as long as Smart is out Bradley is definitely a player to consider.
Jeremy Lamb (CHA) – $4,500
Lamb has been providing great offense for the Hornets off the bench this season, averaging around 13 points per game in less than 25 minutes of play. He has scored at least 20 Fantasy Points in 11 of his 14 games this season so at a cost of only $4,500 he is terrific value.
SMALL FORWARD:
Paul George (IND) – $9,800
Paul George has scored 20+ points in 11 straight games, and has scored at least 35 Fantasy Points in every game he has played this season except for one. He is asserting himself as one of the premier players in the competition and has a super match-up here against the Lakers, which makes him a must-buy.
Robert Covington (PHI) – $5,700
In his last game, against the Rockets, Covington put up a tremendous stat-line of 28 points, 7 rebounds, 5 assists and a massive 8 steals. This all amounted to 57.9 Fantasy Points.  On a team that is currently winless after 17 games, a player of Covington's skill will continue to get ample opportunity to put up stats like this on a game-by-game basis.
Rondae Hollis-Jefferson (BRO) – $3,900
Proving to be a jack of all trades, RHJ put up another solid game in his last outing, against the Cavs, where he had 6 points, 10 rebounds and 5 steals. He is doing his best Kawhi Leonard impression and at only $3,900 he is almost a must-play every time he hits the court.
Click here to sign up to Moneyball.
POWER FORWARD:
Blake Griffin (LAC) – $9,900
Griffin exploded two games ago with a massive 40 point, 12 rebound outburst against the Jazz. His Fantasy Point total was 59.9, his second highest return for the season. Griffin and the Clippers play the Timberwolves in this match-up – watch for him to be too much for the young Wolves to handle.
Jared Sullinger (BOS) – $6,100
When Sullinger gets the opportunity he has shown he can put up some very handy Fantasy numbers. In his last game, against the Wizards, he had 18 points and grabbed 15 boards, resulting in 42.5 Fantasy Points, his best game for the season. He has now grabbed 15 rebounds in each of his past two games.
Luis Scola (TOR) – $4,400
Scola is coming off a very quiet game where he could only total 6 points, 6 rebounds and 11.2 Fantasy Points against the Wizards. He had scored at least 25 Fantasy Points in 3 of his 4 contests before the Wizards game. He has a great match-up here against the Suns so don't be too frightened off by his poor game last start.
CENTRE:
Andre Drummond (DET) – $10,200
Drummond should be nicknamed 'The Optometrist' because every time you look at his box scores you see '20-20'. He has had games of 15 rebounds and 20 rebounds in two of his past three starts, taking his tally to 12 games this season that he has had at least 15 rebounds. He is up against Brooklyn in this match-up so we could be seeing '20-20' once again.
Marc Gasol (MEM) – $8,000
Gasol hasn't been in super form lately, with a 3-game average of only 26.7 FPPG, which is down on his season average of 29.8 FPPG. He is matched-up in this game against the 76ers so look for his form to return here.
Bismack Biyombo (TOR) – $3,500
Biyombo didn't worry the scorers in his last game, against the Wizards, but that didn't mean he was ineffective. To go with his 0 points he also tallied 16 rebounds and 4 blocks, which bought his Fantasy Point total to 30.2. He is averaging 25.5 FPPG in his past 3 games and is a steal at only $3,500.
There you have it, my picks for Monday 30th November 2015. Let me know your thoughts via Twitter – @pearcey47
Click here to find all of the Moneyball contests in the lobby.
And as always, remember to gamble responsibly.