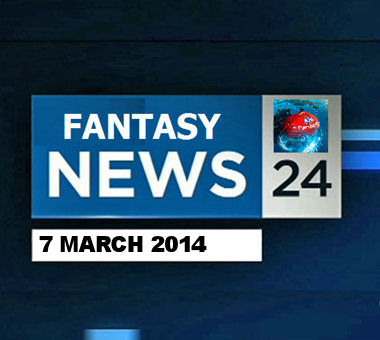 A quick round-up of the happenings in the footy world, with a fantasy spin.
Selwood Ping only Minor
Geelong Captain, Joel Selwood came off with a minor hamstring injury in the Cats 13 point win over Melbourne last Friday night. Scott had this to say on the latest setback for the 25 year old.
"For those really, really minor hamstring concerns, scans are a waste of time. The short-term prognosis is that he'll be fine."
Selwood appeared on AFL 360 on Monday Night and also had this to say;
"It was so minor it didn't even show up on the scans. I'll be right for Round 1."
Ben Says: Selwood's nightmare preseason has continued. Foot surgery in January led to him missing the best part of a month in the preseason, and not getting the required volume of training has certainly shown up after this scare. Whilst he's almost certain to feature in Round 1, I'd hold concerns over his fantasy value during the early part of the year. Out of his 7 year career, only once has he dropped his scoring in the second half of the year. In fact last year he improved by 20 points in the second half of the year and on average improves by 15 in the latter half of the campaign. The Cat's skipper does take a while to get going, and after this preseason I see no reason why that would change.
Parker Vision Impaired
21 year old Luke Parker suffered an eye injury during Thursday night's loss against the Eagles. Longmire had this to say on Luke's injury.
"Thankfully the back of his eye seems OK and he will just require some rest as the blood at the front of his eye settles down. Luke has had a great pre-season and if he is unavailable next weekend in Brisbane, we hope to have him return for round one."
He also revealed why Mitchell was unavailable for the clash;
"He didn't play last night due to a sore calf. As he plays a really contested style, we have to be mindful of his workload."
Ben Says: Parker, priced at $459,000 in Fantasy and $462,200 in RDT, has steadily increased his average from 49 in 11 games (2011) to 66 in 16 (during 2012) and finally 84.8 in all 22 last year. He's a man who has continued to impose himself for the Swans. Now with mid/fwd status and the general progression from half forward to out and out midfielder, Luke is ready to push into the elite fantasy forwards category. After a phenomenal preseason, this eye injury will just allow him to freshen up the body for the season ahead. Tom Mitchell, last season's basement priced star now also has dual position eligibility and has thrust his name into the forefront of fantasy coaches thinking. Nonetheless this calf injury is more worrying than Parker's ailment. After an interrupted preseason, Tom now has a sore calf and Longmire has suggested that his workload may need to be dropped. Calf's can be difficult injuries at the best of times, but coming off a less than perfect preseason it may well be that much harder to overcome.
Nic Nat not so Paddy Whack
Naitanui played his first 50 minutes last night in the match against the Dockers. Adam Simpson had this to say on the enigmatic former #2 draft pick.
"We're not looking at an exceptional performance from Nic. If we get out of the game with 50 or so minutes, with no injuries and he just has a good run around, we'll be really happy."
Drawn on Nic's likelihood for Round 1, Simpson replied;
"We haven't looked that far ahead. If he gets through tomorrow [against Fremantle] we'll work out what we do after that."
Ben Says: Overall this is exceptionally worrying for Naitanui owners. Priced at $423,100 in RDT and $419,800 in AFL Fantasy, Nic has had a very unrewarding preseason as he's battled to simply get some minutes on the park, rather than being able to push his body for some much needed fitness. He'll start the season very slowly, with Simpson suggesting he doesn't want to give him ruck minutes heading into Round 1. He may be a solid acquisition heading into the second half of the season, but for now avoid like the plague. Nonetheless this allows us to once again re-consider the legendary ruckmen, Dean Cox. Priced at $530,100 in RDT and $526,000 in AFL Fantasy, Cox must be considered given the dearth of genuine, dependable and prolific ruck options this year. In the last 4 years he hasn't missed a single home and away game. He'll be given a large amount of early ruck minutes as Nic recovers to full fitness, the Eagles should be stronger in 2014 and to top everything off, in the last 9 years he has only averaged fewer than 95 once. He's a star and I wouldn't back against him heading into the new campaign.
Great Dane Ready to Roll
Swan spoke to the media Thursday morning and discussed his preseason and how he has coped with the wrist surgery he had done earlier in the preseason.
"It's going alright, it's certainly good enough to play footy. The last month it's come on very well so hopefully within two or three weeks it will be 100 per cent."
Ben Says: The greatest fantasy player of all time in Australia's most watched sport comes priced at $641,600 in RDT and $636,600 in AFL Fantasy. Just to dispell any worry his recent comments may have created, Dane won't be effected by this at all. He got the surgery done prior to Christmas and whilst ball skills weren't in his training repatoire during rehab, running certainly was. Swan looks extremely fit and is ready to roll. Lock him in, throw away the key, put the C on him and enjoy the monstrous scores that roll in on a weekly basis.
Wrap Up
Injuries were the main talk of the Fantasy Footy Community this week as the first lockout of 2014 fast approaches. Keep your eyes pinned to my twitter account today, as I will attempt to give fantasy feedback on all the un-televised games happening! Good luck with settling your squads fantasy folks!
I hope you guys enjoyed my fantasy review of the week's news. You can follow me on twitter @B_Gogos and check out my fantasy blog at JustAnotherFantasyBlog! Have a great weekend!