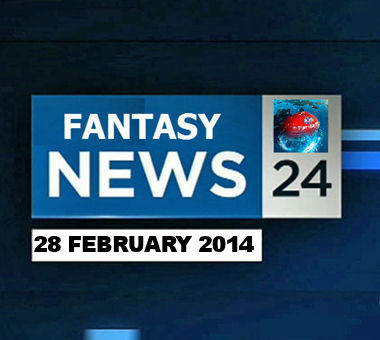 A quick round-up of the happenings in the footy world, with a fantasy spin.
Luckless Vardy Ruptures Knee
During a training session last Saturday morning, 22 year old Nathan Vardy ruptured his ACL and will unfortunately miss the entire 2014 season as a result. Football manager Neil Balme notified the club website and had this to say.
"As is often the case, the injury happened in an innocuous situation at training. Nathan and our medical team will consult with specialists ahead of surgery to repair his knee. Nathan had enjoyed a really good pre-season and has shown that he can compete and play well at AFL level."
Balme went on to talk about Shane Kersten, Vardy's obvious replacement.
"He had a little bit of knee surgery at the end of the season, and he's sort of battled to come back from that. He comes good, then he gets a bit sore, then works again and gets a bit sore. So we've had to back off a little bit. But it's only a minor thing. I think he's had some fluid drawn off it. He probably won't be available this week … but he's not that far away."
Ben Says: This is a major fantasy relevant injury to deal with. It's very unfortunate for Vardy, Geelong and the fans of the game because Nathan has serious potential and it's just a matter of time before he takes the game by storm. His injury does allow us to consider Shane Kersten, rookie priced across all formats and coming off a very strong campaign in the VFL last season, in which he averaged 63 points per game. Considering the absolute dearth of rookie options and Shane's apparent job security, fingers will be crossed in the hope that his knee can withstand the rigours of AFL. It's his position to lose, so if he can make any sort of statement in the last round of NAB, lock him in!
Hibberd Remains in the Frame
Running defender Michael Hibberd came off with a hamstring injury during the Powers 25 point win over the Bombers on Tuesday night. He fronted the media at Olympic Park the following morning.
"Hopefully it'll only be two to three weeks and I'll be back for round one," he told reporters outside the scanning centre at Olympic Park on Wednesday. I just felt a bit of tightness … chasing someone, so I just went off. You know a NAB (Challenge) game there's no point staying on. Get a scan now and see how it is. See what happens, hopefully back and contribute round one."
Ben Says: Whilst this is far from ideal heading into Round 1, for those considering Michael, priced at $476,000 in RDT and $472,000 in Fantasy, I'd suggest that this shouldn't be much of an issue. Given Hibberd's lack of hamstring injuries in the past and his strong preseason to date, you can take him into the season unconcerned that there'll be either a re-occurrence or he won't be in ripping shape. Over the first 2 NAB games he has shown that his output will be consistent with last year and with top reliable defenders being few and far between, you could do worse than purchasing the 24 year old.
More Preseason Surgery for Maric
Former Adelaide ruckmen, Ivan Maric, is set to miss the next 2 months after having surgery on his injured ankle. Performance manager Peter Burge spoke to the clubs website to outline what this means for the season ahead.
"He's been able to train with it in the last couple of weeks, but he hasn't been 100 per cent comfortable. It was a decision we had to make – does he play with it the whole year, or do we just get it done now and get him right? It's good to get that done now, and start moving into his rehab phase, and hopefully get him back on track soon."
The Tigers first pick at the draft, Ben Lennon, has also been put in for surgery.
"It's not a big operation, but it gives him a bit of a mental break, and then we can get him back and get him going again."
Ben Says: Whilst this isn't season defining for Ivan, fantasy coaches can still attempt to capitalise on the big man's absence. Shaun Hampson, newly recruited from the Blues, will now play the #1 ruck role and rest assured his numbers will jump due to this role change. Priced at $303,200 in RDT and $294,100, Hampson has never been a high scorer with a season average of 65 in 2012 being his peak to this stage, the stats don't suggest he's capable in the fantasy caper by any means. He did manage 5 games in a row as the #1 ruck in 2012, in which he averaged 81.2 over that time which included 26 hit outs per game. Whilst it's not a lot to go on, it still suggests that improvement is there to be had. If one of the mid-priced ruckmen picks up an injury before Round 1, you could do much worse than bring Shaun into your team. Also cross Ben Lennon off your list and expect him to be a downgrade option heading into the second half of the year.
Bad News for Steven
Jack Steven will miss the first 6-8 weeks of the AFL season with a foot fracture. Whilst it's the result of a impact injury suffered on Thursday, Jack won't be able to train for a month. Head of Football, Chris Pelchen released this statement to the media.
"Scans conducted late this afternoon revealed a fracture in his right foot which is obviously disappointing for both Jack and the club on the eve of the 2014 season. It's important to note that the fracture is not stress related and followed an innocuous incident during training."
Ben Says: This comes as further bad news for an already weak squad at the Saints. Steven was shaping as a genuine option for Fantasy as a free hit against the Dees, but unfortunately that option will now be put on the back burner. In fact this injury further strengthens the job security of popular midfield rookie Luke Dunstan, who is priced at $127,800 in RDT and $216,800 in Fantasy. Although Dunstan didn't show much in his first Challenge match, the absolute dearth of options at Richardson's disposal may mean he is gifted games early. After averaging 98 points per 100 minutes at the Under 18 Championships and a solid 91 points in the SANFL reserves, Luke does have a very solid fantasy game. To further strengthen this point, he weighs in at 82kg, ready-made for AFL level. All signs point to a Round 1 debut and a bumper year from the 18th draft selection from 2013.
Wright Still a Worry
Matthew Wright spoke to the media on Tuesday morning to speak about his personal form and his expectations for the season ahead.
"There's going to be different times in games where I'm going to have to run with someone and then play as an offensive midfielder, so it's just that mindset of being able to change quarter to quarter. It's just the start, so hopefully I get another hit-out against GWS (Greater Western Sydney) and play well in that and put my hand up for round one."
Ben Says: Matthew Wright has pumped out major numbers this preseason running through the midfield. Priced at $371,800 in RDT and $368,900 in Fantasy, Wright has demonstrated that when he has a chance to play his preferred role he makes the most of it. With his dual position eligibility, he has created a fantasy frenzy as coaches wonder whether this form is transferrable into the regular season. After reading these comments by the man himself, it'd take a brave individual to pick him. Wright plays the defensive forward role superbly and he'll be used in that role quite often throughout the season, because he's simply the best at it for his side. This role will kill his fantasy output and whilst he may provide some value, it's unlikely to be worthy of a starting position in your team.
I hope you guys enjoyed my fantasy review of the week's news. You can follow me on twitter @B_Gogos and check out my fantasy blog at JustAnotherFantasyBlog! Have a great weekend!