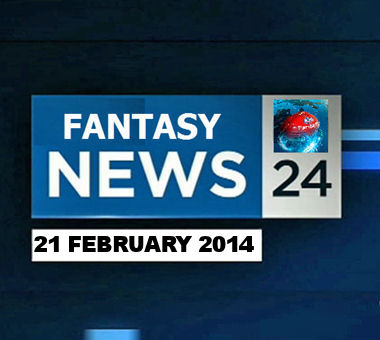 A quick round-up of the happenings in the footy world, with a fantasy spin.
Currie still in with a Chance
After a stellar year in the VFL, Currie has again thrown his hat in the ring after producing a stellar preseason. Stand-in captain Drew Petrie fronted the media on Friday, and had this to say;
"Currie has been outstanding in the pre-season again and it was only a thumb injury at the middle of last season that kept him from making his debut last year. We'll look at the two ruckmen option in the NAB Challenge series. His ability to play as a forward is what Daniel's been able to show the coaching staff in the last three weeks, and that's what's put him in contention."
Ben Says: Given the dearth of financially viable ruck bench options in all fantasy formats this season, the news that Currie has had a strong preseason will come as a welcome relief. Whilst many viewed his NAB effort as a little disappointing, Currie's performance wasn't all too poor. Playing second fiddle to Petrie and spending little time in the ruck, Currie was never in for a big game points wise. What he did do was never get out marked and provided a contest for the likes of Thomas and Nahas to feed off all day. I suggest that internally his performance would be valued far higher than what the general public have.
Middle still the Place for Gaz
McKenna fronted the media on Thursday and had this to say on the reigning Brownlow Medallist, Gary Ablett Jnr, talking specifically about where he intends to play him.
"Let's be honest, he won a Brownlow playing in the midfield and we improved our percentage from 60 per cent to 90 per cent. I'm not saying it's all about Gary but he certainly had a huge part to play in that. So I don't just want to rip him out of the midfield and stick him up forward either. If he's a strength of ours, and we know he's a strength of ours in and around the clearances where the game is won and lost, well I want him in there."
Ben Says: This has been put in to simply dispel the rumours and quieten the naysayers. Ablett will be staying in the midfield; he will continue to gather the ball at will whilst shrugging off his tagger and shouting instructions to his youthful teammates. The guy is a once in a generation player, and people who bypass him will be devastated on a weekly basis. You've been warned!
Lock Polec Now
Coming off a solid 20 possession NAB performance last Sunday, Jared spoke to the media on Tuesday to discuss exactly why he's improved.
"Just my general fitness is a lot better and knowing that I've done a full pre-season helps with my confidence too. I think it's more effort that I've put into it this pre-season, [I'm] a bit more professional, more settled. I pulled up pretty well after the game, probably the best I've felt in the last three years, so it's good to have the pre-season under my belt. Normally it takes me a couple of days just to feel good again but I feel good now – I feel like I could play straight away almost."
Ben Says: Port Adelaide's new recruit, Jared Polec, a former #5 draft pick, comes priced at $135,500 in Fantasy and $169,300 in RDT. After previous suggestions that he lacked the aerobic capacity to play long spells through the midfield, Polec wiped more than a minute off his 3km time trial within a month and has continued on with what can only be called pre-season perfect. Given he produced a 91 point effort in a game dominated by the opposition; Jared is proving that he does more than just win the outside ball, something Hinkley will undoubtedly have taken note of.
Composed Swallow Ready for Midfield Time
Speaking after Gold Coast's Gary Ablett inspired 1 point win over the Bombers, Guy McKenna mentioned Swallow's expected positioning for the season ahead.
"There might be some games where he might play half-back, but I think he's learning that maturity and composure to have a real impact for us through the midfield."
Ben Says: I must admit just writing this is bringing a large grin to my face. Priced at $377,000 in Fantasy and $380,000 in RDT, the former #1 draft pick began the season in style, posting 73 points during the middle 2 quarters. There is risk attached with a pick like this. David is dependent on the health of Harbrow and McKenzie if he is going to get consistent midfield minutes. Nonetheless, priced at just under 70 in both comps, he will average far higher than that with extended time in the midfield. If he can reach a mid-80's average, we may well have our first under-priced keeper of the season.
McEvoy Quality on Debut
The Hawks began their NAB Challenge series with a smashing 131 point victory over the hapless Lions. Assistant coach Luke Beveridge took over the press conference after the match and spoke about what Ben McEvoy will provide the club.
"We got him to the club to play that ruck role and he'll diversify and play some forward as well. It was really good for him to play with his teammates tonight and really feel a part of it after such a hard training period where he's impressed with his character and his training qualities. We've found him to be a really mature young man, an old head on young shoulders, and he really adds to our leadership mix and that's a big bonus."
Ben Says: It seems like a match made in heaven for my namesake and the Hawks. First things first, Ben is under-priced. In Round 13 he was knocked out against the Dees and managed just a meagre 30 points. Then in Round 21 he was subbed out for 23 after playing in a game where he was clearly fatigued and just not quite right at the SCG. Take these two scores out and his average lifts to 80, not a big difference but not something worth bypassing either. As Hook discussed on a recent Tbetta's Bulletin Podcast, he is keen on McEvoy and when you consider that unlike last year, he will be able to take the odd break and won't be run into the ground, he should certainly be high on everyone's radar. Moving to the Hawks should benefit him with a couple more soft +6's a game, an easy way to elevate his numbers back into the elite category.
Man Love Alert
Vince OUT, Crouch IN; it may well prove to be as easy as that. Sanderson spoke to the press after the younger Crouch collected 23 touches in the Crows match against the Power.
"You know that I liked him before the draft and for him just to slot in today and just get into the rhythm of the game really quickly was really pleasing for me. I was really happy to see Bernie play well, he was really good [on Friday night] but all my energy and all my focus now is on my boy which is Matt Crouch."
Ben Says: Wow Brendon, lets calm the man love down a bit. In all seriousness he seems to be pulling the same moves an over the top fanatic would be on a BigFooty Forum. If I'm to be completely honest though, his excitement is causing a similar feeling for this writer. Whilst he is just one voice at selection meetings, he is also the main voice and that bodes well for Crouch's chances. Priced at $203,200 in Fantasy and $112,800 in RDT, Crouch is an obvious bargain in RDT but also a genuine option even at his elevated price in Fantasy. He averaged a herculean 131 DT from his TAC Cup matches, which includes a 38 possession average topped off with nearly 6 tackles per game. He picked up 23 touches and 8 tackles in his first NAB Challenge game. I dare suggest he may well have a dash of pig blood running through his veins (sorry Calvin).
I hope you guys enjoyed my fantasy review of the week's news. You can follow me on twitter @B_Gogos and check out my fantasy blog at JustAnotherFantasyBlog! Have a great weekend!