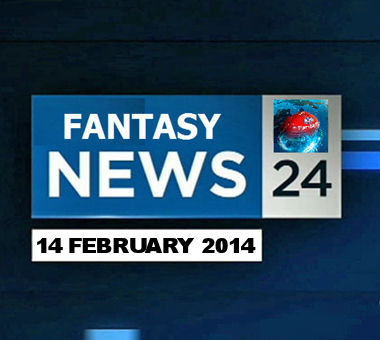 A quick round-up of the happenings in the footy world, with a fantasy spin.
Cash Cow's Go 'MOOOO'
St Kilda had their first intra club practice match last Saturday morning, and the rookies shone brightest. Billings played through the midfield racking up touches in half a game whilst Dunstan extracted from the middle all day. Alan Richardson had this to say on his two young stars;
"Billings showed the class that we know he has throughout the first half. We're going to make sure he's right. I would think that he'll play a fair bit of NAB Challenge footy. Dunstan's whole game (was good), really. He played a bit of inside, a bit of outside. He was impressive. Luke's a really mature kid. He's very impressive physically. He's lifting as big a weights as third and fourth-year players, so he's a really powerful guy. If he continues, there's every chance he'll play some footy for us early (in the home and away season)."
Ben Says: Although many of these reports can be blown out of proportion, it's certainly positive that Richardson backs up the claims that these two are Round 1 candidates. Billings, pick 3 in last year's draft is priced at $257,400 in Fantasy and $202,800 in RDT. Whilst he is a pricey option, the advantage is that he appears likely to play majority of the season and has dual position status (mid/fwd). To add further fuel to the fire, he managed a respectable 93 point average in the TAC Cup. Dunstan, who is priced at $216,800 (Fantasy) and $127,800 (RDT) is a somewhat more enticing option at this stage. He has had a trouble free preseason and is already built like a seasoned footballer (weighing in at 82kg before preseason). He averaged 90 at the Under 18 Champs and 117 per 120 minutes. He appears to be the obvious inclusion for Dal Santo at this early stage.
O'Meara II
Jack Martin is expected to follow in the footsteps of Jaeger O'Meara after the club suggested that he'll play a full season, much like Jaeger did in his first campaign. Gold Coast football manager Marcus Ashcroft had this to say to the waiting media;
"We know Jack's a different player … but I think for Jack, he's fit and ready to go so we'll play him and then assess him after every game. He's had a full year with us and we think he's been fairly resilient in that time. We're confident he can handle the rigours of the AFL from week to week, but until he gets into it and experiences it, we won't really know."
Ben Says: If you can look past his price tag, Jack Martin appears to be the pick of the rookies this season. Priced at $268,300 in Fantasy and $217,800 in RDT, Jack is expected to play in the middle and up forward in his first season for the Suns. After having a perfect preseason, Jack will be looking to replicate the 97 average he put up in the NEAFL last season. Given he has had an extra year with the Suns the expectation is that he'll hit the ground running.
X On Track
The Eagles first intra club practice match was played on Tuesday night and the Eagles star forwards shone (Kennedy kicked 5 and LeCras had 4) whilst ex-Hawk Xavier Ellis, managed a half of competitive football for the first time in months. Xavier had this to say to the clubs website;
"It's been really good. I haven't missed a training session. I haven't been able to say that for a few years so it was good to get out there and play a game and not get subbed off. I'm fit and really looking forward to what the Eagles can produce this year."
Ben Says: Whilst some suggest a cold breeze could wreak havoc on X's fragile body, given his price, he must be high on our radars. Ellis is priced at $163,900 in RDT and $135,500 in Fantasy. After previously managing averages of 76 and 75 in 2010/11 respectively, he will surely have large ownership if named in Round 1. Whilst he'll always be an injury risk, he can score big and thus make a quick profit, as proved by his 136 in the '08 GF.
Griffen Worries
Newly appointed captain, Ryan Griffen, sat down with AFL.com on Tuesday and opened up about his recent back injury, due to overload.
"It's nothing to worry about. Just a slight niggle. I'm hoping to play two of those games. I actually haven't sat down with 'Macca' (Brendan McCartney) to discuss it yet."
Ben Says: Whilst this doesn't appear to be particularly worrisome, I'd voice a word of warning for any prospective buyers. Back injuries are notorious for their ability to stick around, and given the workhorse style approach Ryan has to his football, it's unlikely to go away as quickly as his quotes suggest. Priced at an average of 105, Griffen finally announced himself as a top tier fantasy midfielder with a top 10 average for the first time in his career. Given he averaged a touch over 108 in the second half of the season, fantasy coaches have been considering him as a unique option, but this news is sure to deter many.
Maric To Hit Heights Once More
After end of year groin surgery, Ivan Maric has managed his first quality preseason in years. Ruck coach, Brendon Lade spoke to the press on Friday;
"He had a groin op towards the end of last year but he's been training fully for us. It really helped, the operation. He's a big player for our team and we need him playing. Having the workload he (Maric) had over the past two years, we probably contributed to the injury as coaches but he was all we had."
Ben Says: With majority of fantasy coachers yet to feel comfortable with their rucks, Maric may well prove to be a solid option. Entering his third season with the Tigers, Maric managed an incredible 97 average in his first season with the club, before falling back to a 74 average last time out. Due to his ongoing hip soreness, Maric lost the ability to fully extend which saw a decrease in his hitout average by 6.8 per game. With the inclusion of Hampson and a strong preseason, it appears that Maric will have less physical burden in 2014. While Hampson may cut into some of Maric's ruck time, it's rather likely that Ivan will improve considerably on his 2013 numbers. Given he has only missed 4 games in his last 2 seasons, he can be counted on for his durability.
I hope you guys enjoyed my fantasy review of the week's news. You can follow me on twitter @B_Gogos and check out my fantasy blog at JustAnotherFantasyBlog! Have a great weekend!