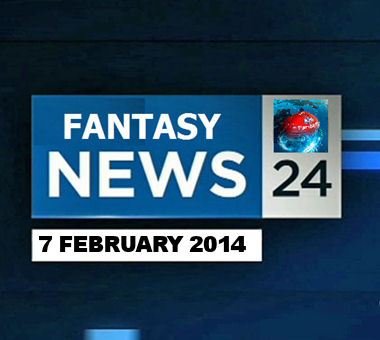 A quick round-up of the happenings in the footy world, with a fantasy spin.
Power loses Ruck Depth
Jarrad Redden is set for a stint on the sidelines after undergoing knee surgery which will rule him out for 8 to 10 weeks. After an injury blighted 2013, Hinkley released the info to the media on Tuesday.
"This is a decision based on getting Jarrad right so he can play as much football as possible in the 2014 season. He'll now dedicate himself to his rehabilitation and work closely with our medical staff.
Ben Says: Whilst Redden isn't of particular fantasy interest with a high score of only 89, this does have a roll on effect for Matthew Lobbe. After averaging 81 over 19 games, Lobbe most certainly broke out and showed the AFL world what he was about. In fact in his last 7 matches he managed a herculean 103.7, putting him on many fantasy coaches radar. His 3 matches with Redden in the team produced a dismal 58 average, suggesting that he performs much grander without his fellow tall man. If he can continue on where he left off from last season, he will be a stellar pick and this news will help him with that endeavour.
Sharenberg Delayed Further
Collingwood's first pick at the draft this year, Matthew Sharenberg, is set to undergo surgery to deal with his persistent foot injuries. The Pies suspect he will be eligible for selection in the second half of the season. Eade had this to say;
"There is no real time frame on his return but all going well he should be running and seriously preparing to play in late May."
Scharenberg also had this to say in a recent interview with AFL.com;
"I've been on a modified program, just doing rehab mainly and trying to get the feet right. It's still been pretty solid and lots of hard work, but it's been good."
Ben Says: Matthew Sharenberg, priced at $187,800 in RDT and 249,300 in AFL Fantasy, is a defender who has shown fantasy prowess throughout his junior days. He averaged 108.5 per 120 mins in the Under 18 Champs and has played senior SANFL. This will come as a blow to the Pies who would've been looking to run this man out as soon as possible. Given the injuries to rebounders Sharenberg and Seedsman, with Shaw also exiting the club, this may open the door for midpriced rebounding defender Tony Armstrong to get a senior opportunity early in the season.
Preseason Perfect for Beams
After an injury ravaged 2013 season which produced just 2 games, Claye Beams is fit and firing heading into this year's campaign. After a quick rehabilitation, Claye managed his first full contact hit out since his ACL injury on Monday. He had this to say;
"I reckon the best year of footy I had was in my first year when I was a rookie and I wasn't guaranteed a spot on the list let alone a senior game. I've got to play footy to retain my spot on the list. I look forward to the challenge ahead. (With an ACL injury) You just get stuck into your rehab. I attacked it pretty hard and hence why I'm a few months ahead of schedule."
Ben Says: After waiting year upon year for Claye to fulfil his promise, it appears that 2014 may well be that year. Priced at $187,400 in AFL Fantasy and $198,800 in RDT, Beams should be on everyone's watch list at this stage. Having previously shown his DT ability with 114 against the Dogs in 2012 and major sub reduced scores (such as the 39 in less than a Quarter v Carlton), Beams has undoubted fantasy ability. After what appears to have been a very strong preseason, he may finally have the chance to realise his potential.
Prestia Setback
Dion Prestia, the now established member of Gold Coast's engine room went down clutching at his calf during a Monday training session. Scans later that afternoon eased concerns, with Dion expected to be in full training by the end of the NAB Challenge. Marcus Ashcroft released this statement to the press;
"The scans revealed a grade one calf strain. As a result we anticipate Dion will be on a modified training program for a couple of weeks and he should be in a position to return to full training before the end of the NAB Challenge."
Ben Says: Whilst a Grade 1 tear is usually a minor setback, often taking not much longer than 2 weeks to fully recover, I'd voice a word of caution on this young Suns star. Missing at this stage of the preseason delays your ability to gain match fitness and may lead to a somewhat slow start to begin the season. Given his cost in all fantasy formats, the expectations must be that he'll become a keeper and unless you're absolutely convinced, I'd bypass at this stage.
Magician Released in Intra Club
DayneZorko played much of the Lions Intra Club match through the midfield on Thursday morning. After playing the small forward role under Voss last season, Dayne has trained largely in the midfield this preseason and this seems like the position he may play throughout 2014.
Ben Says: Given a 21 point drop in fantasy production last year, Dayne does come at a cut price level for anyone willing to trust him again. During the 2013 season, Voss played him in a small forward role which led to a far greater scoreboard impact (26 goals in comparison to 2012's 16), yet also meant he wasn't as damaging, recording less score assists per game and his disposal and mark averages were down by 4 and 2 respectively. If he is allowed to play through the midfield, expect him to hit the heights of his 95 debut average (which included a sub induced 26 on debut). Watch to see who has the small forward role early days, but if Ash McGrath and Lewis Taylor perform adequately in this role, look to get yourself one magician.
Chappy Ready to Go
Paul Chapman, triple premiership player is now showing Essendon what it takes to become the best. Thompson was interviewed on Thursday, and his review was nothing but positive.
"Chappy hasn't lost anything in his ability to play. So far at training he has done nearly every session. But the key thing for him, as it is for anyone who gets older, is if his body is going to be able to do it over the duration of a season. I think if we manage him, it will. The ease with which he gets the ball at training and delivers it to his teammates … it has just lifted the standard."
Ben Says: Let me run out some stats here. From '09 to '13, Chappy's average reads 112, 114, 102, 98, 85. In 2013, he averaged a mere 86 minutes per game, ranking him elite in the points per minute stakes. Thus far he has had a very strong season, barely missing a session. He won't be a sub or even get subbed (unless those hammys go twang), because Essendon simply aren't strong enough to rest their stars in game. He will be rested, but considering the two byes and the dependency the Bombers will have on him, surely he will be rested no more than 3 times throughout the campaign. Given he should be in the realms of a 100 point average (easily placing him in the top 3 forwards), the odd resting may not hurt an awful lot. Especially with these limitless trades in AFL Fantasy. It'll be a risk to take him on, but the bigger risk may be not starting him at all.
I hope you guys enjoyed my fantasy review of the week's news. You can follow me on twitter @B_Gogos and check out my fantasy blog at JustAnotherFantasyBlog! Have a great weekend!