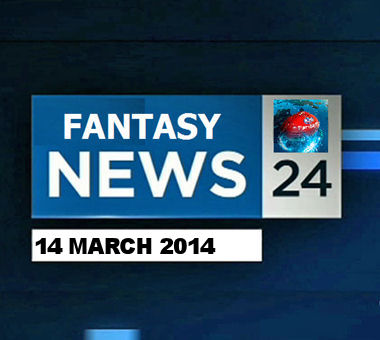 A quick round-up of the happenings in the footy world, with a fantasy spin.
Sewell Injury Opens Midfield Spot
Two time premiership on-baller Brad Sewell, slightly tweaked his hamstring in the 110 point win over the Demons last Saturday afternoon. Football operations boss Chris Fagan spoke to the media on Tuesday to release the news.
"We expect at this point in time he won't be available for round one. We'll see how it goes from that point on."
Ben Says: Now Brad Sewell isn't fantasy relevant per se, given his age and defensive responsibilities. Nonetheless his injury does have consequences for young Will Langford to further his cause for Round 1. Priced at basement levels across all major competitions, Will has proven that he has no issues with finding the ball, posting an average of 93 points per 100 minutes. Whilst Sewell's injury is only minor, it almost certainly locks Will in for a Round 1 spot. After that it's his spot to lose, but having served a three year apprenticeship it seems that his time is now. Given the scoring potential of this youngster, consider him for a place on your field.
Buddy Getting Better Every Week
Swans co-captain Jarrad McVeigh fronted the media on Sunday and spoke about their last preseason hit out and how he expects Buddy's season to evolve.
"He was good. His pressure last week was really good and again this week. He got a bit more of the ball. The delivery this week to him was a lot better. I think last week we had (only) three inside 50s in one quarter, so you can't expect him to get too much of the ball when that happens. He was a lot better yesterday and we look forward to him getting better each game when he becomes familiar with our group as well."
Ben Says: Lance Franklin has been one of the major question marks heading into the final days before lockout. Priced at $429,800 in RDT and $426,500 in AFL Fantasy, Buddy has produced scores of 31 and 44 (in a half), in his two outings during the preseason. Whilst these scores are far from awe inspiring, you suspect McVeigh is correct in suggesting that he'll begin to hit his straps with a few games under his belt. An interesting comment McVeigh made was that he doesn't expect Franklin to get involved with low amounts of Inside 50's. Given Lance played a roaming half forward role for the Hawks, in which many times he'd be seen in the backline, Jarrad's comments suggest a role change is imminent. Food for thought, but given the supply he's likely to receive against the Giants, expect a big score first up.
Reality Check for Dees & our Fantasy Sides
Paul Roos spoke to the media after Sunday's 110 point loss to the reigning premiers. He had this to say on where the club is at.
"We've made so much ground over the pre-season. Clearly the competitiveness for longer is going to be the greatest challenge for the group. We were able to do it for two weeks, but in the third week it became really difficult. Today just tells everyone what we already know, but it probably tells the footy public that there's still a long way to go."
Ben Says: Over the first 2 Rounds of NAB Challenge, the Demons were the toast of the fantasy community, posting an average of 445 disposals per game, which included an incredible 444 touches in a losing side against the Cats. Against the Hawks, only one Demon got over 20 touches. This will happen occasionally for the Demons, so don't expect blistering numbers across the board from your red and blue representatives each week. Although I'm not suggesting that we shouldn't go heavily on the Dees if you do see value, just tread carefully with the knowledge that a substandard score could come in any given week, especially against strong opposition.
Warning Bell for Lobbe Owners
Yesterday afternoon Port Adelaide elevated ex-Hawthorn premiership ruckmen Brent Renouf to the senior list, replacing the injured Jarrad Redden. Football manager Peter Rhode spoke to the media and had this to say.
"Obviously having Reddo out with a long-term injury meant we always had the option to upgrade a rookie, and Brent was the player we suspected would get the nod. Now we're able to consider him for selection."
Ben Says: This elevation could have major fantasy repercussions for Matthew Lobbe, one of the ruckmen who could elevate himself to the next level. With an accomplished back up ruck in the side, Lobbe averaged just 60 over 8 games last season. This preseason he has been playing as a stay at home forward, mainly due to the Jay Shulz injury. Warning bells are ringing indeed and the intelligent advice at this stage is to look elsewhere.
Birchall not 100%
Grant Birchall spoke to AFL.com at Hawthorn's season launch on Wednesday Night and had this to say about how his body is travelling.
"My knee's really good. I've just managed it from last year, just slowly built it up and it feels great and is right to go for round one. Obviously the knee kept me out of action for a couple of months last year and it wasn't 100 per cent when I got back into the side. But I didn't need surgery at the end of the year and have just been careful and tried to get my quad and glute strength up so the knee can handle the loads. It's not going to be 100 per cent. It's just one of those injuries that you have to keep on top of and manage."
Ben Says: Grant Birchall, priced at $436,300 in AFL Fantasy and $439,700 in RDT, is look increasingly unlikely to jump back up to his high 80 average which he produced for 2 years in succession before last season's injury ravaged campaign. Having played last weekend's game against the Demons and not particularly impressing, it may be a good call to avoid and wait till after the bye for Grant. Given the fact that he expects to be managing this injury throughout the season, expect the odd resting against clubs considered easy beats.
Quick Notes from Last Saturday's Untelevised Games
Made my way down to the Dogs Blues game at Visy Park on Friday afternoon and streamed the Tigers Bombers from Punt Rd as well. These were some quick thoughts I had.
Higgins was flying in a very loose role at the defensive end of the ground for the Dogs. Looks fit and you'd suspect in this new role he isn't as likely to pick up too many impact injuries.
Liberatore played an incredible game after coming on at half time. Won the ball inside and outside the contest. Colleagues and I were counting the stats on a minutely basis. Gun, expect him to take another step in his development this year.
Simpson free roaming role across the half back line and wing area. Malthouse seems to have made him into Scotland 2.0. Can see some very big days on the horizon for this stat padding monster.
Fuller came on in the last quarter and played majority of his time on Jarrad Waite. Looks capable from the little game time he has, but clearly not in the Dogs plans early. Keep in mind for a downgrade option down the track.
Cotchin was irresistible in his game play. In the first half he was everywhere, getting it inside the pack, out on the wings or winning contests deep in the forward line. Will kick a lot of goals this season, and I think that alone should see him produce 2012 type figures.
Watson did what Watson does. Pressured with ferocious tackling and used the ball well inside and outside the contest. During the first half he didn't get much space, but as the game opened up he became far more involved in the outside game.
McDonough kid looked seriously good, attacking the contest with a vengeance and using the ball by foot as well as anyone out on the ground. Priced a little highly, but seems assured of minutes in a very fantasy relevant role.
Houli was playing on the wing, a much different role to we have previously seen him in. Ran the lines well and used his disposal very effectively moving into the forward 50. Expect a slight increase in his scoring across the board if this role persists.
Live AFL Fantasy Radio
This season every Friday night you'll be able to tune into a live fantasy call of the game via ustream on Just Another Fantasy's Radio Page!
Instead of listening to unimportant comments on why one team is winning, get calls on why our fantasy relevant gems are producing the scores that they are. Will answer questions throughout the call, so shoot us a question! It'll begin 15 minutes before the bounce, be sure to tune in!
I hope you guys enjoyed my fantasy review of the week's news. You can follow me on twitter @B_Gogos and check out my fantasy blog and live fantasy radio for Friday night at JustAnotherFantasyBlog! More on this soon to come! Have a great weekend of Footy!