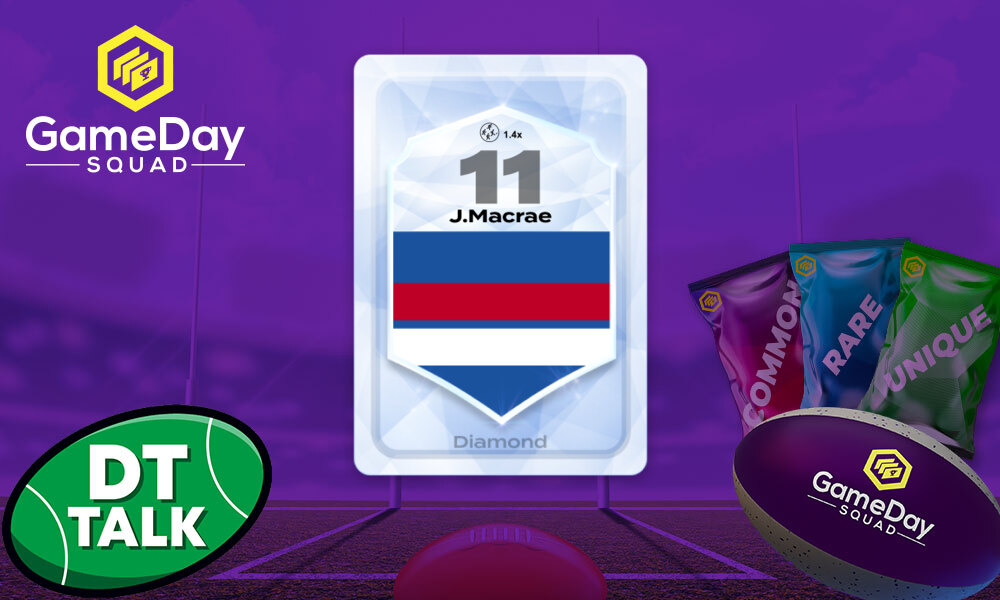 | | |
| --- | --- |
| Player | Jack Macrae |
| Club | Western Bulldogs |
| Position | MID |
| Price | $916,000 |
| Bye | Round 15 |
| 2022 avg | 103.4 |
| 2022 gms | 22 |
| Proj. avg | 107 |
| Draft range | 5-10 |
Click here for 2023 Fantasy Classic prices.
Why should I pick him?
When Jack Macrae eventually retires, he'll take residence in the AFL Fantasy Hall of Fame and finish his career as one of the best accumulators the game has ever seen. The 3x All-Australian has been a mainstay in Classic leagues for almost a decade and annually he's picked in the first round of Draft leagues – so why should 2023 be any different?
His proven track record of excellence has seen Macrae finish among the top scorers in each of the last five seasons. Ninth in total points last season, he also finished fourth in 2021, seventh in 2020, second in 2019, and seventh in 2018; with the Bulldogs star missing just three games in a five-year span! That unparalleled consistency has seen Macrae become a fantasy favourite, averaging north of 100 points (adjustment made for 2020) in every season he has played with the exception of his rookie campaign.
There's no reason why that streak should end in 2023 either, especially now that Josh Dunkley has departed the Kennell for Brisvegas. The loss of Dunks won't dramatically affect the on-ball rotations for the Dogs, and if anything, Macrae will only see his CBA's go up. A mainstay in their engine room, Macrae was second in the entire league for disposals throughout the 2022 fantasy campaign. In fact, he owns the third-highest disposals average in AFL history at 28.9 a contest, with the classy superstar showing no signs of slowing down in his 11th season.
In a nutshell, there may not be a better accumulator in today's game (no offence Clayton Oliver). When you cough up north of $900K for a gun midfielder, you want to be certain that player is going to feature in 22 contests. There are little to no concerns in that area for the Footscray vice-captain, with Macrae's last missed game coming all the way back in 2018. Barring any unforeseen misfortune, I fully expect the fantasy stalwart to again be among the top handful of players in the game.
Why shouldn't I pick him?
Most of the AFL Fantasy faithful are aware that Jack Macrae is prone to the occasional off-game. Whether it's due to him sulking while watching the centre bounces from one of the wing positions, or one of his star teammates dominating the Sherrin, Macrae isn't the same 'home-run' 115+ that we have loved in the past.
The big dog scored a season-high 148 points coming off his bye in 2022, unfortunately though, his season was lacklustre from that point onward. Macrae failed to top 110 points in his last nine games, going at a measly average of 93 – averaging 17 fewer points compared to his first 13 contests. That trend also occurred in 2021, with Macrae recording an AVG of 121 points from the first 13 games of the year, only to slip back to 108 points over the back-9.
It's worth mentioning he still recorded 34 touches and 123 points in their elimination final loss to Freo last season, but it's not ideal to see Macrae's fantasy numbers slowing up in the back half of the year. Some expect the absence of Dunkley to translate to higher point totals, but I'm not entirely convinced. Dunks was 7th in CBA% for the Bulldogs in 2022 at just 50%, while Macrae attended 64% of the centre bounces. As I mentioned above, that percentage should increase for Macrae, but I'm inclined to think Dunkley's departure will equate to a small boost across the board. Marcus Bontempelli sees more than his fair share of time in the middle, and the likes of Bailey Smith and Adam Treloar, coupled with up-and-comers like Rhylee West and Lachlan McNeil all expected to see midfield clock next season.
We've come to appreciate and expect fantasy greatness from Jack Macrae, although he is hardly a young pup anymore. With 208 games under his belt, the 28-year-old won't fall off a cliff from a production standpoint, but it may be foolish to expect a ton of upside from Macrae. An average of 103.4 in 2022 broke his streak of four consecutive seasons recording 112+ AVG points, and while I still expect him to get close to the magical 110 mark, it's hard to envision Macrae surpassing that.
Deck of DT Rating.
ACE
Make no mistake, Jack Macrae is still a stud and everyone expects him to end 2023 amongst the top scorers. However, a dip in production to close the last two fantasy seasons may be a sign that his days averaging north of 115 are over – with coaches instead expecting him to be in the mix for a top-8 MID berth with a low triple-figure average. Picking Macrae for your starting side comes down to a bit of personal preference, with 18% of coaches backing in the star Bulldog to run amok again this season. He's out of my team right now, but it's not impossible Macrae is sitting at M1 when he plays Melbourne in March.
---
Catch more from Fry by visiting the SportsbyFry website for additional AFL Fantasy articles, plus NBA and NFL updates!
FOLLOW US  ON TWITTER: @DTTALK for all things AFL Fantasy (and more). Got something to say about the Deck or AFL Fantasy in general? Join the conversation and use the hashtag… #AFLFantasy.