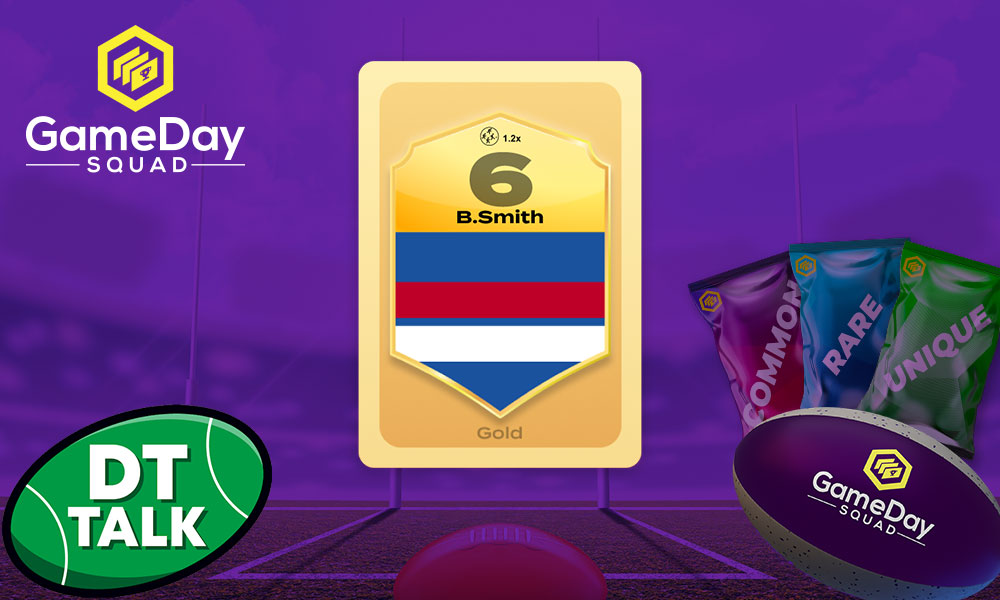 | | |
| --- | --- |
| Player | Bailey Smith |
| Club | Western Bulldogs |
| Position | MID |
| Price | $935,000 |
| Bye | 15 |
| 2022 avg | 105.6 |
| 2022 gms | 16 |
| Proj. avg | 109 |
| Draft range | 2nd Round |
Click here for 2023 Fantasy Classic prices.
Why should I pick him?
Hot Start To 2022
Baz Smith posted some insane Fantasy scores to open up the 2022 season, and fully established himself as a genuine uber premium. 154, 108, 131, 147 in the first 4 games of the year for an average of 135, then followed that up with 92, 100, 100, 116, 118 to take his average in the first 10 rounds to 118. Truely elite. The scoring came from two massive changes to his game from previous years.
1) High time on ground, Baz was running out games at a massive 94% TOG (in the first 10 rounds).
2) Increased CBA's. Bailey was attending around-61% of the Bulldogs centre bounces (in the first 10 rounds).
The two stats combined make for a deadly Fantasy combination.
The Headbutt & The Bag
The headbutt + bag combo changed the fortunes of Bailey's 2022 and he never really returned to the form and fitness he displayed in the first 10 rounds. I've decided to highlight this section in a positive light as it's the reason you could make a case for Bailey Smith being an underpriced uber premium pick. Plus neither were injuries, both were just stupid brain-fades, so it won't impact anything going into 2023.
After round 10, Bailey scored 63, 109, 107, 65, 110, 95, & 74 over the last 7 rounds for an average of 89… A huge 29 point slide from his opener.
Notably, Bailey also returned with an average TOG of 84% for the remainder of the year… 10% less TOG than the first 9. And his CBA % took a rough-10% hit too.
The lowest score (63) in Bailey's year came in round 12 vs Geelong, the headbutt game. If you remember this game Bailey wasn't his usual self, and once the incident occurred he may as well have hit the showers. He checked out of the game big time. Interestingly enough, Bailey's 2nd lowest score of the year (65) came against Geelong again after just 2 games back. The mental demons were still definitely haunting him.
Being super generous and factoring out his two headbutt effected scores, Bailey goes on to average 112. Ranking him as the 4th highest averaging midfielder. If you think it's too generous taking out his 2nd Geelong match for psychological reasons, which is fair. I'm still okay with taking out the headbutt game, which takes his average to a 108. Not huge growth on his starting price, but it still would make him a top 8 averaging midfielder to start 2023.
Dunkley-less Midfield
During the 2022 season there were 5 main Doggies midfielders sharing the CBA load with Bailey (53.7%) , Macrae (season CBA% was 63.4%), Liberatore (59.1%), Bont (55.4%), Dunkley (49.5%), and Treloar (35.3%). Of the current midfield rotation, who do you think benefits the most from Dunkley's departing 50% CBA's?
Loading ...
In round 23, Smith's CBA noticeably bumped up (58.3%) to rank 2nd in that list (for that particular game), after Macrae, and his TOG went back up to 91%. These numbers were more in line with his dominant start to the year. And to add to that he played a high 85% of the game in the mids in the Bulldogs only finals campaign (not included in Fantasy) which resulted in him missing the FWD DPP. Round 23 & finals takings also can be a strong indicator to the future usage of Smith.
Coming Into Prime
Bailey Smith enters the 2023 season in his prime age of 22.
Let's not forget it's only 5th season, and every year his average and Fantasy game has improved, so why should it stop now?
Western Bulldogs
Playing for a Fantasy friendly team is definitely a big pro. Bulldogs ranked 2nd in the comp for handballs, 4th for disposals, and 6th for Fantasy scoring across the league.
Elite Fitness
I mean… This NSFW pic says it all. Shredded. He's ready for some more 90%+ game time clock.
Why shouldn't I pick him?
Other Safer Options?
The main reason to avoid smith is the obvious pricing issue. Smith comes into 2023 awkwardly priced. He's only $14k cheaper than the only Fantasy player to have scored over 100 every year since 2016 in Merrett, and $40k (give-or-take) from the 2022 120 averaging guys in Steele and Miller. Not to mention he actually costs more than his 4×110+ averaging team mate in Macrae… It's always tough selecting guys around this range as you really need to be sure of the pick, and there are others in this range that have a LOT more data to suggest their safety.
Bevo
The Bevo factor is definitely real. At any given time Bailey could be running off the half back flank (which is what actually happened for Treloar). He's a coach that makes some crazy moves without any notice, so just prepare yourself for some stressful game watching.
As mentioned above too, Bailey returned from suspension with a 10% decrease in his TOG. It's hard to say if this was a Baz or a Bevo issue, but knowing the coaches volatility and the fact Baz returned to his usual 90%+ TOG in the final round suggests it was a Bevo one.
Deck of DT Rating.
KING
Bailey Smith is a high risk high reward selection to start the 2023 season. And a potential genuine underpriced uber premium, at that.
I can only see a world where Dunkley's departure aids the 22 yr old gun. We should see a small bump to Bailey's CBA's, maybe only as much as 5% per game as the Doggies have enjoyed sharing the load with all their jet mids in the past, but any bump can only be good!
Another tough player to draw a ranking line between. It's a coin toss for ACE or KING, but I've landed on KING purely based on where Bailey's starting price for 2023 is and my predicted average (109). I also wouldn't be shocked if Bailey Smith goes on to average closer to the 112 mark, which is what he did without those 2x Geelong games highlighted above.
The definition of a sexy pick… If you've got the guts.
FOLLOW US  ON TWITTER: @DTTALK for all things AFL Fantasy (and more). Got something to say about the Deck or AFL Fantasy in general? Join the conversation and use the hashtag… #AFLFantasy.