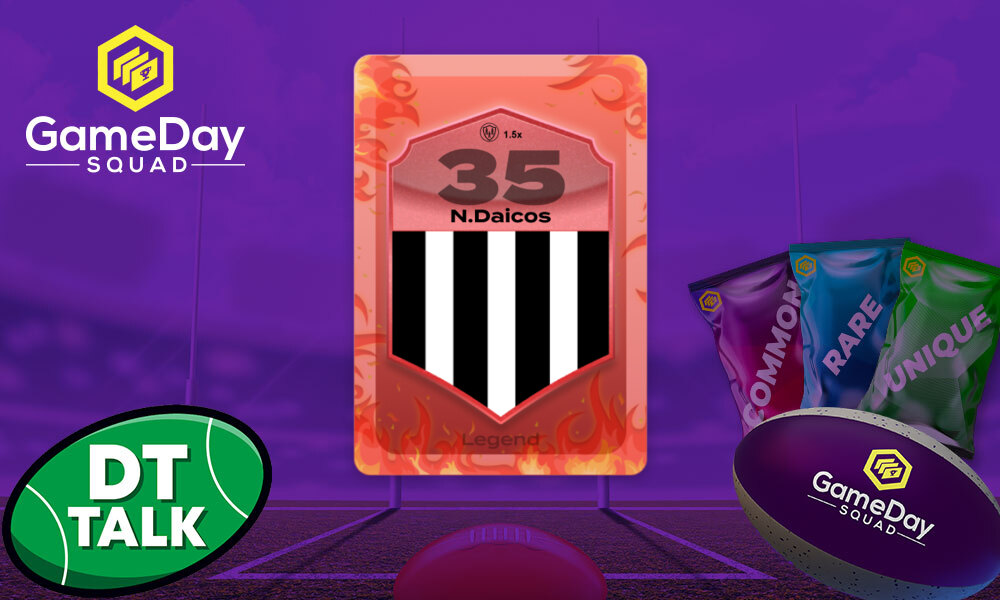 | | |
| --- | --- |
| Player | Nick Daicos |
| Club | Collingwood |
| Position | DEF |
| Price | $769,000 |
| Bye | 14 |
| 2022 avg | 86.8 |
| 2022 gms | 22 |
| Proj. avg | 96 |
| Draft range | 3rd Round |
Click here for 2023 Fantasy Classic prices.
Why should I pick him?
You're Only As Good As Your 2nd Half Of The Year
Over the course of the season Daicos progressively improved his average. He came out of the gates hot with scores of 102, 73, 89, and 126 (including a 99 in the pre season match), before tapering off after whispers of a small ankle niggle started to surface. Daicos (perhaps carrying a small injury) continued to an average of 80 in first half of the year, respectable considering he came in last year priced at $284,000. But the second half of the year is where Daicos turns himself from a rookie into a bonafide premium option for this year. From round 12 onwards Daicos went at an average of 96 per game (including his 3 neglected finals scores of 90, 96, 99) , which would place him as the 6th highest averaging defender of this year. Compare this to his ranking in starting price of the defenders which is 17th, and you've got yourself an underpriced premo.
Junior Scores
Nick Daicos was a class above his NAB League peers last season, averaging a ridiculous 35.8 disposals from his five matches which translated to an average of 136 fantasy points. Daicos' best performance of the year came when he amassed 44 touches for a score of 149 against the Murray Bushrangers, highlighting his natural ability to find the footy and produce big time, pig-ish, Fantasy scores.
More Mid Time?
It wouldn't be a proper preseason without the words, "more mid time", thrown around. In his junior years Daicos was a pure midfielder so it's safe to assume he'll transition into that role at some stage of his career. "I'm, sort of, trying to improve (on) so many aspects, running, strength … putting on a bit of size (to) hopefully play a little bit more midfield time next year," Daicos claimed this preseason. Although the acquisition of Tom Mitchell doesn't bode well for his claim, we could see a few more games this year with increased CBA's.
Daicos had his first proper run through the mids in round 7 vs Essendon, but was flicked back to half back in the last quarter, for a score of 77. Throughout the course of 2022, Daicos attended an average of just 4% of the Pies' centre bounces, with his engine room peak coming between Rounds 21 and 22 where these means rose to 46.5% per week.
Why shouldn't I pick him?
More Mid Time!?
There's no doubt he'll collect more CBA's than his debut year, but Mitchell coming into this already mature midfield group pushes Daicos one more player away. Daicos is the sort of player that can accumulate 30+ disposals at full back, but his ability to do this super consistently is definitely effected by a role in the back line. And the stat line that gets effected the most playing this loose defender role are his tackle numbers. In 2022 Daicos only averaged 2.2 tackles a game.
And remember how I said between Rounds 21 and 22 Daicos' CBA's peaked at 46.5% week? He only scored 65 and 69 in those games, respectively. So maybe more CBA's isn't necessarily a good thing?
Not Cheap.
As mentioned, he's the 17th most expensive defender, which at $769,000 isn't exactly cheap. There is still risk associated with the pick because of this. As always, the aim of the game is to select players who are going to increase their value and there is a world in which Daicos either matches his current price, or decreases his price. Daicos still managed to hit a few floors during his stellar 2022 campaign with scores of 59, 63, 52, 66, 65, 65 and 69. You could even argue that his average is inflated due to a massive 147 in round 18 against Adelaide, a game 21 points above his next highest score.
Tag
Hard to imagine that Daicos would be drawing the heat of a forward tag coming off half back by the end of the year, but he did. Daicos became a bit of a target, namely by Sydney's Ryan Clarke on a few occasions, which reduced him to one of his basement scores. This trend could continue going into 2023, especially as tagging came back into vogue going into the end of 2022 and he's fresh off his target inducing Rising Star award.
Deck of DT Rating.
KING
He's got Fantasy chops. No doubt about that.
He's going to be the sort of player that'll spend a lot of his career in our Fantasy teams. A season average of 110+ is a matter of when, not if.
The main draw card in Daicos' favour is if he can replicate his 2nd half of 2022 he's a top 6 defender. And that's without factoring in any natural improvement (I feel there's a lot here), plus what having another full preseason will mean for him mentally and physically.
If he runs at that 96 he did in the final 14 games of 2022 then it makes Daicos a stellar starting option, and a season long keeper.
A 96 average was the line between KING & QUEEN here, and I think he can scrape through!
FOLLOW US  ON TWITTER: @DTTALK for all things AFL Fantasy (and more). Got something to say about the Deck or AFL Fantasy in general? Join the conversation and use the hashtag… #AFLFantasy.