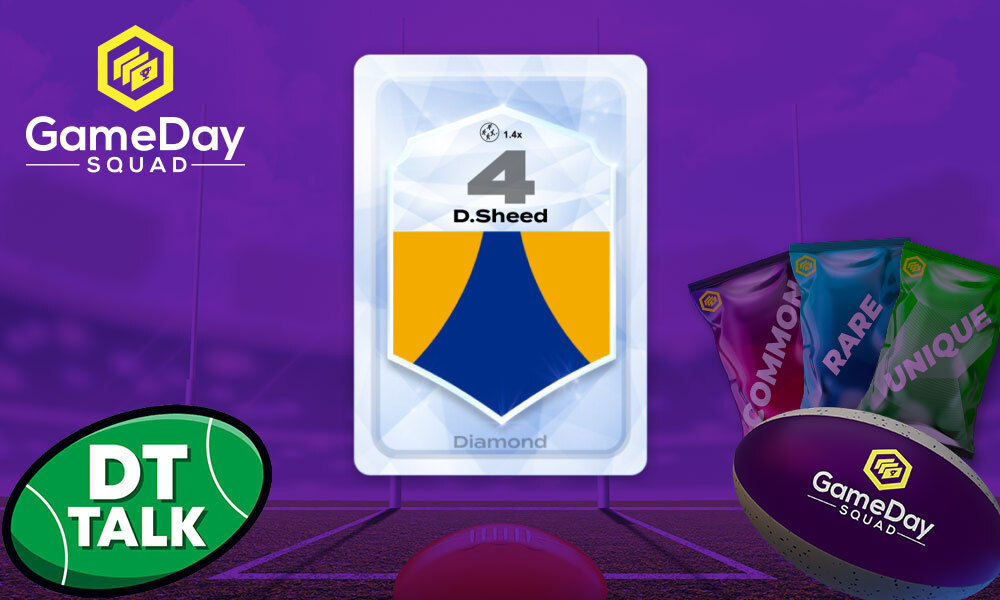 | | |
| --- | --- |
| Player | Dom Sheed |
| Club | West Coast Eagles |
| Position | MID |
| Price | $591,000 |
| Bye | 14 |
| 2022 avg | 70 |
| 2022 gms | 1 |
| Proj. avg | 92 |
| Draft range | Draft Sleeper |
Click here for 2023 Fantasy Classic prices.
Why should I pick him?
Value Value Value
Finding mid priced value in the mids is seeming like a possible early strategy with a lot of our salary tied up with the big forward names. Sheed receives a 27% discount for playing just the one game in 2022, which prices him down at an average of 67. A fairly tantalising price for someone who's averaged 86, 95, 89 (BCV) and 91 before. My usual point increase margin for someone around Sheed's price would be a 20-25 average increase. Anything in the 90's is good enough to hold until you get a luxury trade and any average in the 80's forces you into an earlier upgrade as you'll end up losing on too many points in the MID line. So my realistic bar for Sheed in 2023 (92 average) is very attainable as he's done it twice before. Although I'm quietly bullish Sheed can get closer (if not better – as his previous best average was reached with a full strength Eagles midfield) to his career best average this year for the reasons specified below.
Eagles Mid Pecking Order
It's worth opening with stating I'm an Eagles supporter so a lot of this is educated prediction. The Eagles midfield should have a fairly new look after a horror 2022;
Redden retires after being one of the Eagles mainstay mids.
Shuey has had obvious soft tissue issues for the past 3 years, paired with the fact he turns 32 this year, Eagles will want to ease his burst running. I also cannot see a world he plays more than 18 games.
Yeo had a forgettable 2022 (like the rest of the team) but it's already been flagged by Simpson that he will continue to play a rotating Mid / Def role for the team.
Kelly is going to continue to be one of, if not the highest CBA getter, as underwhelming as he's been for us to date. Out of necessity he's there.
There's a mature age group of names like Connor West, Jai Culley, Xavier O'Neill and Greg Clark who will continue to get opportunity but none command bulk CBA numbers.
Then there's the focus on youth. Gibney and Hewett sound ready to go after they both played WAFL in their draft years, but first year teenagers are never going to take away from someone like Sheed.
Plus add to that, our wings are tied up by Gaff, and someone like Chesser or Jayden Hunt.
All that considered, Sheed just has to get bulk CBA's, my prediction is 2nd most per game after Kelly. He's the ripe age of 27, and still fits the bill for a redeveloping squad.
Ceiling
Believe it or not, Sheed knows how to hit a ceiling score, but unfortunately his average is always held down by his basement. Sheed's a bit of a Yeo-Yeo. I honestly couldn't believe the scores Sheed posted in 2021… Some very good Fantasy scorers don't even hit these ceilings this consistently; 138, 135, 135, 123, 129 (and 4x other 100's in there too). If he hits these at the right time…. BANG! Which is a neat segue into the next section…
Loves Round One
Sheed has been pretty damn impressive in round 1 from his last 3 seasons (taking out his only injured game in 2022). He's gone 133 (2019), 116 (2020 BCV), and 138 (2021). Pretty useless stat, but if I were a betting man, when Eagles play North Melbourne in round 1, I'm tipping 100+ off the bat.
If we delve into Eagles opening even further, of the first 4 games, Sheed plays at Optus Stadium 3 times. I don't know the exact stats (until Fantasy opens) but I'm also tipping, like most Eagles players, he has a pretty heavily increased average playing at home.
It's especially important to highlight this stat for a player like Sheed (or even Yeo) as the aim here is to make the most money out of him as fast as possible and upgrade to a genuine 110 premium.
Fit & Firing (so far)
Reports from the West Coast Eagles say Sheed is in good shape so far this pre-season and is ready to return to "beyond his best".
"Sheed was running towards the front of the pack at training and appears in excellent shape."
"I've had a good, solid off-season of running and trained the last couple of weeks, so touch wood it stays that way," Sheed said.
"I feel fit and healthy now, which is nice."
Plus he returned to training before his required start date. Tick.
"I've got no issues so I had a good solid off-season of running" Dom Sheed@aflratings

— AFLRATINGS Player News (@aflratings_Live) December 5, 2022

Why shouldn't I pick him?
Floor
Sheed has never had a massive career ceiling (95), which tempers my expectation on a massive return in 2023. A lot of this is due to his basement games. Based on his most recent full season, and most recent 90+ average season, he posted sub-optimal full-game scores of; 58, 47, 67, 56, 57, 65. That is some pretty mid-tier scoring right there. And if you cop that early it's going to force you into a trade and officially makes Sheed a failed pick.
Can Eagles Bounce Back?
Another reason to not pick Sheed would be obvious to anyone who watched a single quarter of the Eagles last year. It was the most unwatchable football going around. A lot of Sheed's output is going to rely on Eagles actually putting in effort. Eagles were the 3rd lowest scoring team Fantasy wise in 2022 and that all came down to us being completely uncompetitive.
Youth
Eagles have the 2nd oldest list in the AFL and there is going to be an obvious push for more youth this year. A lot of that youth could be seen through the midfield, but as stated above I think Sheed is safe. It's just a flag. A very real flag.
Deck of DT Rating.
QUEEN
Sheed shapes up as a genuine starting option in classic for 2023. There's a lot pointing to him returning to a 90+ average, at least for the first half of the season, which is all you need/want from a player in this price range.
Perhaps I'm a little more bullish than others as I haven't been able to select a genuine Eagle Fantasy option for 2 years now, but I've never had team bias when it comes to Fantasy so I like to think my feeling is deeper than that.
There are a LOT of genuine underpriced options in the mids already… So can you fit Sheed too?
Let me know your thoughts on Sheed's predicted average for 2023;
Loading ...
FOLLOW US  ON TWITTER: @DTTALK for all things AFL Fantasy (and more). Got something to say about the Deck or AFL Fantasy in general? Join the conversation and use the hashtag… #AFLFantasy.