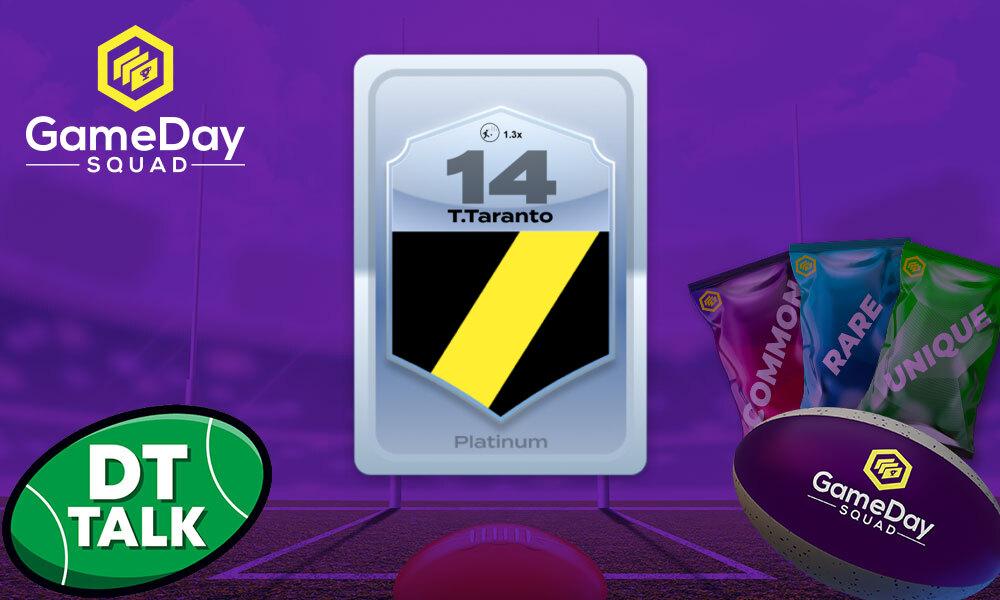 | | |
| --- | --- |
| Player | Tim Taranto |
| Club | Richmond |
| Position | FWD / MID |
| Price | $846,000 |
| Bye | 15 |
| 2022 avg | 95.5 |
| 2022 gms | 16 |
| Proj. avg | 105 |
| Draft range | 1st-2nd Round |
Click here for 2023 Fantasy Classic prices.
Why should I pick him?
New Club = More Opportunity
A Fantasy favourite reason for selection. We collectively lick our lips whenever a player moves on to another club with perceived increased opportunity. Since returning from his long term shoulder injury back in 2020 through to the end of his time at GWS in 2022 (a lowly 47% CBA usage last year) Taranto has been used on-and-off as a mid-sized forward. But let's rewind and remember what Taranto put out when played as a CBA midfielder;
113 season average. High score of 156. Low score of 75. 15 scores above 100. 7 scores above 120 (a common captaincy line).
Taranto's best is top 8 midfield worthy, forget that he's named up as a forward!
The increased opportunity and CBA's come from team depth. He leaves a team with Ward, Kelly, Hopper (aware he's moved across too), Tom Green, Coniglio and the army of untried/new first round midfielders coming through and joins an ageing, constantly injured midfield brigade at Richmond. Prestia is 30 and can't stay on the park, Cotchin is 32, Dusty is 31 and has had his own issues of late. These three have carried a lot of the midfield weight over the Richmond premiership era but change is coming…
New Club = First Impressions
The other reason to love a club switch is the 'First Impression' factor. You train harder, run faster, score higher… Timmy is walking into a club still within a premiership window, and he wants that W after coming so close in 2019. Tipping a hot start here!
Playstyle
Taranto's play style suits Richmond's to a tee. It's no secret that the Tigers play that forward-at-all-costs style. Often that forward movement happens by boot. In 2022 Richmond averaged 76 more kicks than handballs every game. In Taranto's 3 main midfield years (2019, 2021, 2022) he averaged 6 more kicks than handballs each game. He's always been a kick over handball sort of midfielder, which translates well for Fantasy output and team role.
On a side note, I think playing for Richmond actually takes out Taranto's weakest element in his game. He ranked 4th for total clangers (in the competition) and 7th for clangers per game in 2022. Woeful from a career perspective, but us Fantasy coaches like to look at stats with rose tinted glasses, and I actually think the Richmond game style will come extremely naturally for TT.
Prestia vs Taranto
While I was crunching some numbers I came across a redeeming one on the "Richmond sucks at Fantasy" front. Last year Prestia was the highest scoring midfielder with 86… Which is vomit worthy. But going through his games from 2022, he had 3 injured games on low scores, including a 17. Taking these out, he actually averaged 99. Which makes him the highest averaging player for Richmond. Still very vomit worthy. Prestia also managed to scrape together a few decent scores in that, although those scores lacked a ceiling: 114, 104, 109, 105, 104, and 107. But compare this to Taranto now… As Fantasy players, it's chalk & cheese. Prestia has averaged over 100 (100.3 in 2014)  once in 12 years, Taranto (113 & 108) has done it twice in six, he's simply a better Fantasy player. If you consider the scoring potential of both, and say Prestia can average 99 in this current Richmond lineup, which is essentially his career ceiling… By comparison Taranto's floor should be 99, but I'm predicting something closer to 105-108.
Why shouldn't I pick him?
Affordability 
Choosing between the plethora of underpriced (but still expensive) gun forwards is shaping up to be an early season definer. The already Deck of DT covered trio of Rozee, Coniglio and D.Cameron present some obvious value. Then add the soon to be covered Josh Dunkley and Dylan Moore to that list and… BAM! Salary deleted. There's a serious case to run all these names in our starting squads, and it's still very possible considering we can run D.Cameron in the RUC, and one of the other DPP FWD's in a starting MID spot but how many is too many? And which, are optimal?
Overly Forward Heavy?
One issue I've ran into in previous seasons (and one I hope to avoid in 2023) is completing a single line too early. Completing a line with premiums is extremely gratifying, but it also can put you in some very undesirable positions. Last year I completed my mids real early, I had the chest pumped out and a strut in my step (was ranked around the 100 mark)… But then imagine how inverted the chest became and hobbled the walk was when I had no room for Laird in the 2nd half of the year. Premiums aside, there will ALWAYS be a season making mid-pricer or rookie that scores in line with premiums in the second half of the year. We don't know who that will be yet in 2023, but when it comes, and if there's a big one in the forward line, you'll be wishing you had a spot free for it.
Let's address the ginormous elephant standing in Richmond's locker room.
Here's how Richmond ranked in 2022 against other clubs in some very important Fantasy stat lines; 18th in tackles, 16th in clearances, 13th in handballs, 12th in marks, 10th in kicks. Which makes them the 14th worst club for Fantasy points, ahead of Roos, Suns, Eagles, and Crows. It's worth noting Richmond ranked 1st in goals, 3rd in behinds, which ranks them 2nd on the scoreboard. If we factored out goals and behinds from the total Fantasy output, Richmond would rank the worst. And to make matters worse, Short was the only Richmond player to score above 90 last year. The best of the midfielders was Prestia on an average of 86 (although he did have 3 injured game scores in that). These are incredibly damning facts. It's the main reason you should have any hesitation in starting Tim Taranto, and it's the only reason why I held my predicted average back to 105 from anything too ambitious.
Deck of DT Rating.
ACE
This conversation would have been a lot more interesting if Taranto was a MID only. And TBH I'm kind of wishing he were to make this a really spicy pick. There would have still been a lot of merit in TT being a Classic starter as a MID based on his starting price based on a 96 average (17 points below his best), but the fact he can be chosen as a FWD makes this a whole lot easier.
Best case: the upside is tremendous. Like, absolutely must have territory. 110+ average levels.
Worst case: he falls into the Richmond regime of low Fantasy scoring. Even then, low scoring from Timmy in the mids is probably still around where he is currently priced (96). Won't be a punishing miss, but still puts him in touch with the top 6 forwards by the end of the year. And if that's a worst case, that's still pretty good.
A contender to be in the top 3 highest scoring forwards for Fantasy 2023, and a LOCK to be a top 6. And if you're not going to give an ACE to a potential top 3 of their line, I'm not sure who would get it.
FOLLOW US  ON TWITTER: @DTTALK for all things AFL Fantasy (and more). Got something to say about the Deck or AFL Fantasy in general? Join the conversation and use the hashtag… #AFLFantasy.