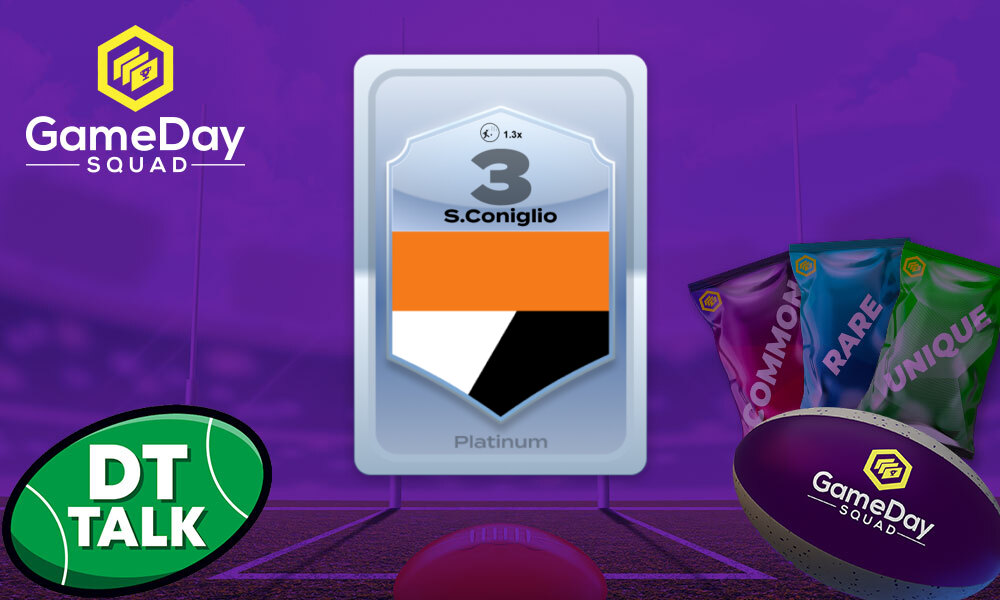 | | |
| --- | --- |
| Player | Stephen Coniglio |
| Club | GWS Giants |
| Position | FWD/MID |
| Price | $871,000 |
| Bye | 15 |
| 2022 avg | 98 |
| 2022 gms | 21 |
| Proj. avg | 105 |
| Draft range | Round 2 |
Click here for 2023 Fantasy Classic prices.
Why should I pick him?
The eleven year veteran has been under rated in recent times due to the memories of 2020 and 2021 where Cogs faced an number of injury and form issues that left him out of favor and out of confidence. The results spoke for themselves with two basically unrecognizable years playing 16 and five games respectively while averaging a career low 59 in the latter. This was a far cry from what we had seen in the past.
Fast forward to 2022 and he was back! He played 21 games and started to show glimpses of why he has been a Fantasy favorite for the last decade… Especially in the second half of the year. In the first nine rounds, he was solid without being outstanding, attending 26% of CBA while spending a lot of time forward (averaging 89). From round ten however, he finally returned to his rightful role in the midfield and didn't look back. He bumped his CBA average to an impressive 68% from that point on and his numbers spoke for themselves, averaging 109 in that time, highlighted by an impressive ceiling that included scores of 120, 121, 129 and 130.
So, lets think about this… The numbers here suggest that if Cogs is a midfielder, he comfortably averages triple figures in the past we have seen him demonstrate the ability to reach the elite 110 mark he did back in 2018. But, will he be in there? Of course he will! The departure of Tim Taranto (46%CBA) and Jacob Hopper (52% CBA) leave a huge hole and responsibilities in the middle and the experience and big bodies will be required for bulk work, whether in a rebuild or not.
There is no way a new coach doesn't want to win games and the best chance of doing so is putting his best players in their best positions. Therefore, Cogs will be at the first CBA of the season and he will play the majority of his footy there.
Why shouldn't I pick him?
When there is a new coach, obviously there is uncertainty. Does he have a group of kids he wants to play through the middle? Did he prefer what he saw from Cogs as a forward when watching from afar? I don't think any of this will be an issue, but we should keep an ear to the ground and a close eye on it though the pre season because we aren't touching him id he is playing mainly forward.
Durability has always been as issue for Cogs, and if you want a player who is going to give you 22 games, you better look elsewhere. In his 11 seasons, he has never managed to play all regular season games. The positive spin on this is last year he equaled his career high of 21 which he has now done on three occasions.
I can't even say he is too old, he is only 29… He can score well in both wins and losses so it doesn't matter they have traveled poorly in recent times, I can't really find any reason not to start him unless he has a hiccup in the Pre Season.
The only way coaches shouldn't start Cogs is if they prefer to load up with a combination of other good premium forward options in Dunks, Rozee and Taranto.
Deck of DT Rating.
KING
King Cogs is set for a big year playing on the ball. Can I ask that you scroll back up and look what he did in the second half of the year when he had a significant spike in his CBA? Huge. I think that is a direct preview of what we can expect in 2023. I currently have him comfortabley in the mix for a top four forward with Dunkley leading the way and a blanket over Rozee, Taranto and Cogs. If he has a good run at it over the Pre Season, don't hesitate to lock him in especially given Cal has him ranked as the number one forward.
FOLLOW US  ON TWITTER: @DTTALK for all things AFL Fantasy (and more). Got something to say about the Deck or AFL Fantasy in general? Join the conversation and use the hashtag… #AFLFantasy.