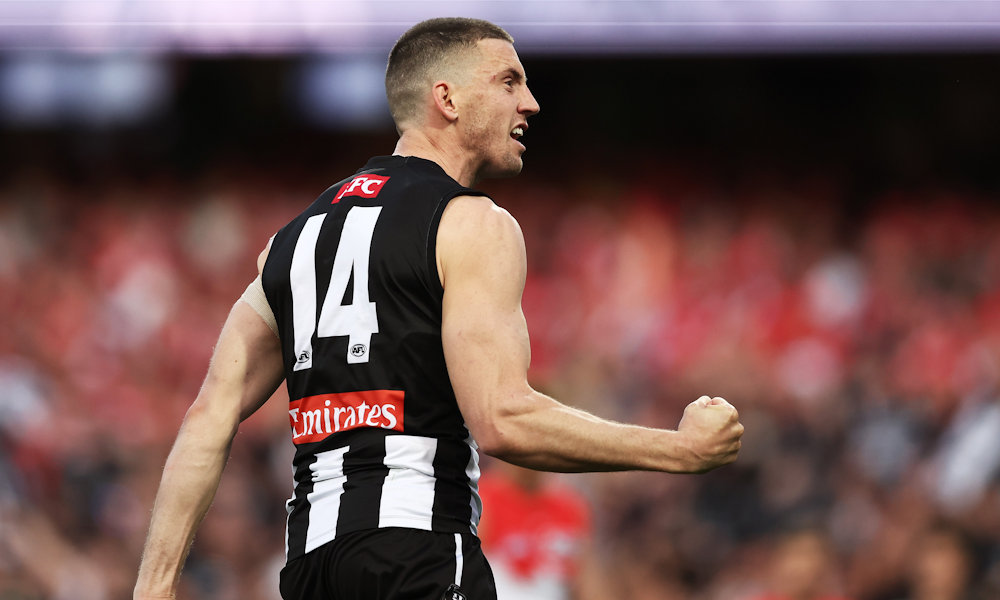 | | |
| --- | --- |
| Player | Darcy Cameron |
| Club | Collingwood |
| Position | RUC/FWD |
| Price | $725,000 |
| Bye | 14 |
| 2022 avg | 81.9 |
| 2022 gms | 21 |
| Proj. avg | 90-95 |
| Draft range | Rounds 3-4 |
Click here for 2023 Fantasy Classic prices.
Why should I pick him?
Darcy Cameron has been fantasy relevant for us coaches for a long time, often sitting as our R3 or R4 as a basement rookie that would finally get a game. Unfortunately for Cameron, he was always behind Brodie Grundy who has been regarded as one of the top 2 ruckman in the game in the last 5 years. In 2022, that all changed when Grundy went down with a season ending injury, which gave Cameron the ability to showcase his skills as Collingwood's number one ruckman. Fast forward to 2023, Grundy is gone, McStay has come to Collingwood to fill a void in the forward line and all things point to Cameron having a crack at being Collingwood's number one ruck for the entirity of the season.
Cameron comes in priced at an average of 81.9, which includes two vested scores of 27 and 40 along with scores of 71, 51 and 50 playing as the second ruck before Grundy went down injured. These scores alone lower Cameron's average and naturally build value into his starting price. If we look at his average from round 7 onwards when he assumed the number one ruck mantle, Cameron went at 93.4 averaging 58% CBA's. If things play out as expected, with Mason Cox not being in the side and McStay chopping out in the ruck, a 93 average should in theory be the absolute floor of what Cameron can do and an increase in CBA's could see him improve on that average.
The other main reason to start Cameron is his handy ruck/forward status. With uncertainty surrounding the top line ruckman this season, a play could be to start Cameron at R2 and move him into the forward line when a clear R2 option presents themselves, with Cameron likely to put up numbers inside the top 10 forwards regardless. Another option could be to start a value R2 option, with Cameron at F3 or F4 allowing for a back up option if your value R2 gets dropped, managed, or puts up underwhelming scores.
Why shouldn't I pick him?
Like any time when predicting a breakout, there is always risk attached. Sean Darcy had a similar season in 2021 starting slow due to injury, but finishing the season averaging 93 with a back half average of close to 100. All signs pointed to a further breakout, with Darcy instead regressing back to an 85 average. Obviously there are multiple factors at play, but these are all variables we must consider when taking a punt on a breakout player. Just because they were able to do it in patches last season, does not guarantee they can emulate that for a full season in the next.
The elephant in the room when it comes to Cameron's fantasy scoring is Mason Cox. At times in the back half of the year, the duo were essentially splitting the ruck share 50/50, leading to a couple of putrid scores from Cameron including a 34 and a 52. There was talk of Cameron starting to get sore towards the end of the year, so it is impossible to know whether Cox was talking a large portion of the ruck due to that being the preferred game plan, or whether it was a necessity to get Cameron through the season and playing finals. Regardless, if in the pre-season it looks like Cox is a part of the Collingwood best 22, I would find it hard to pick Cameron knowing that the ruck could be split.
Deck of DT Rating.
KING
It is hard to ignore the obvious value and upside built into Cameron's starting price in 2023. A full pre-season with the aim in mind of playing full time ruck, combined with his valuable ruck/forward status will see him a popular name this pre-season for our starting squads. He is not an ace due to the Mason Cox threat and the fact we have only really seen this kind of form for two thirds of a season however, he should be someone you heavily consider!
FOLLOW US  ON TWITTER: @DTTALK for all things AFL Fantasy (and more). Got something to say about the Deck or AFL Fantasy in general? Join the conversation and use the hashtag… #AFLFantasy.
Catch more from Kyle as part of the Point of Difference Podcast and through The Fantasy Community Discord Server.