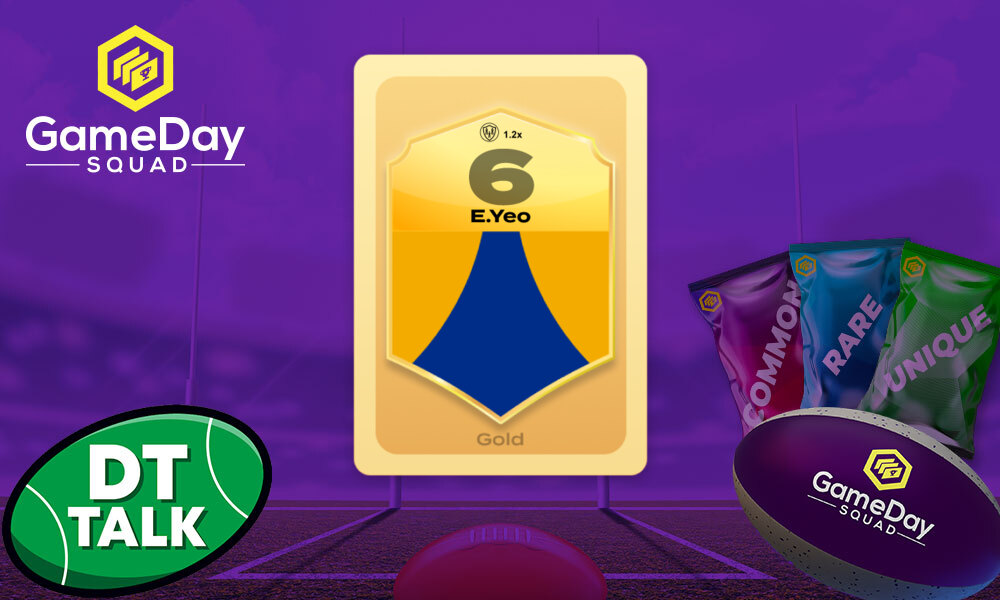 | | |
| --- | --- |
| Player | Elliot Yeo |
| Club | West Coast Eagles |
| Position | Defender |
| Price | $625,000 |
| Bye | Round 14 |
| 2022 avg | 57.4 |
| 2022 gms | 5 |
| Proj. avg | 85 |
| Draft range | Slider (4th defender) |
Click here for 2023 Fantasy Classic prices.
Why should I pick him?
Do you like to live dangerously?
Are you the kind of person who sees 50:1 odds and thinks 'it'd be rude not to'.
Then the Yeo-Yeo might be for you!
After only managing 5 games last year (3 injury affected) on top of only 12 the year before, Yeo is coming into this season at the low low price of $625,000 , based off a 57 point average.
Add to the fact that he is available as a defender and Yeo's stock continues to rise.
His last 2 years have been hampered by OP and if we're serious about selecting him this year we'd want to see positive signs that he's finally gotten back on track. So far based on the limited track watching, we can see that Yeo is participating in full running sessions and full training drills.
Prior to his Osteitis Pubis battle, Yeo spent 3 seasons as a 100 point averaging midfielder. While that kind of bounce back would be incredible, I don't believe that's the Yeo we'll realistically see next year.
Adam Simpson and Yeo have both flagged in interviews that we'll him playing across half back (much to his chagrin) and in that position, fully fit, an 80 average would be reasonable to expect. He played 2 full games across half back last year for scores of 84 and 80 while providing West Coast with a point of difference they'd lacked to change their ball movement exiting out of defence. Yeo works hard offensively, demands the ball and had over 20 disposals in both games at a fantasy relevant kick to handball ratio of 3:1.
Why shouldn't I pick him?
Because your name is Calvin and Yeo is on the top of your never again list.
Other than that, even at his peak 100 avg years, Yeo proved frustrating as a player with a high standard deviation. While his average to finish the year may have been 100, the method he'd take to get there was 70, 130, 80, 120, 75 and 125.
While it's still a 100 point average, each week you'll either be cursing him or cheering him in your head to heads!
The disclaimer on this is that Yeo was a full time midfielder in his most 'Yeo-Yeo' years, as a half back (with admittedly low sample size) his average seems a lot more consistent.
The biggest reason not to select Yeo however falls in the 'durability' category.
Injuries have massively impacted his last few seasons with an underlining OP issue keeping his training loads low.
The affect this has had on him has been pretty noticeable, with a few commentators zeroing in on how he didn't look match fit and other injuries occurring due to lack of match fitness.
While he is currently passing the eye test on looking 'match fit' we won't have a strong indication of how his body is tracking until we've seen how he comes out of the preseason.
Any sign of an 'interrupted preseason' should be the biggest red flag.
Deck of DT Rating.
JACK
At this price, with the risks, Yeo can't be seen as any more than a Jack.
Definitely keep him on your watchlist though because if he rolls into round 1 fully fit he will be one of the biggest bargains of the year.
Catch Anthony every Sunday morning during the season on "Behind the Goals" for 91.3 SportFM.
FOLLOW US  ON TWITTER: @DTTALK for all things AFL Fantasy (and more). Got something to say about the Deck or AFL Fantasy in general? Join the conversation and use the hashtag… #AFLFantasy.