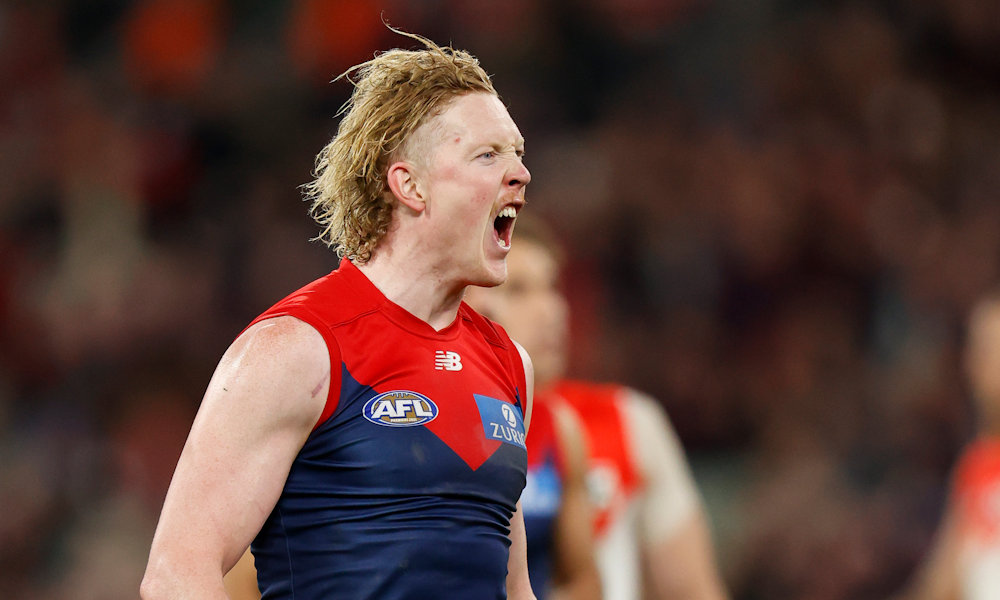 | | |
| --- | --- |
| Player | Clayton Oliver |
| Club | Melbourne |
| Position | MID |
| Price | $994,000 |
| Bye | 14 (3rd) |
| 2022 avg | 112.3 |
| 2022 gms | 21 |
| Proj. avg | 114 |
| Draft range | 1st round (3rd-7th) |
Click here for 2023 Fantasy Classic prices.
Why should I pick him?
The rolling 22 
He's M3 in Roy's pre-Christmas rolling 22, what more do you need?
O Captain my Captain
Clarry is everything you could want in an M1. A player who averaged over 110 last year, after averaging 109, 114 (92 BCV), 106 and 109 in the four years before that. He's fully grown into the role that Simon Goodwin has and has shown he can go monstrous with 4 scores above 135 in his last 12 games. With the consistency of role that Clarry has, there's no doubt in my mind he'll go 110+ this year, and will be in every top 100 team come fantasy finals time. Its the sort of player that is a great balance to a team that has a lot of risky premiums, as you don't want to be falling behind 20-30 points each week on captain choices
Melbourne also has a great combination of early games (Thursday/ Friday) and late games (Sunday afternoon/ Monday), with 8 of his first 14 games played during these times, indicating the perfect opportunity to use Clarry either as a VC loop, or as a reliable Captain option to close the round.
Getting 120% of the centre bounces
Melbourne have probably the two best ruckmen in the competition (with great apologies to Tristan Xerri), so Oliver and Petracca will be feasting at every stoppage. With first use of the ball, and the link-up play that Grundy and Gawn bring down the line, I believe Melbourne's dominance gives very little justification to any argument that Oliver will score less in 2023.
His start
In the first nine weeks of the season, Clarry plays at the MCG five times, and three of those other games are against West Coast, Essendon and Gold Coast. You obviously don't pick an M1 for just the start of the season, but with such a nice run early, he should go up in price and panic other coaches into bringing him in earlier than expected (the best example i have is when Selby decided to fade Tom Mitchell early on, but when he went bananas decided to bring him in at a more expensive price).
If you don't select Clarry, you need to hold strong until you try complete the rest of your team.
Why shouldn't I pick him?
$$$
With big scores come big prices, and unfortunately despite my repeated suggestions to just give everyone $100 Million and see who can score the best, Warnie has decided to keep the competition fun and fair by only giving us $15m. Oliver is the 3rd most expensive player in the competition, falling behind only Laird and Andrew Brayshaw
History shows that the most expensive players are not any particular value to the coaches that pick them, and the vast majority tend to take a small step backwards. Is Clarry good enough to break that trend? Or is the likelihood of a 2-5 point upside not enough to justify picking him in one of our coveted midfield positions, given how susceptible he can be to the tag.
Injury?
Clarry recently underwent surgery on his hand, but it is not very serious and should not see him miss much training time (if any).
https://www.sen.com.au/news/2022/12/21/report-melbourne-star-undergoes-pre-christmas-surgery/
If anything I see this as a plus, as he played through that pain in 2022, and hand injuries tend not to reoccur… to be fair i have broken my thumb three times, but those were three separate sports injuries (AFL, Basketball, a night out on the town)
Team structure
With the majority of fantasy coaches looking to spend big in the forward line, and there are many coaches likely to follow our set and forget ruck lord and saviour Holmesy and select both Marshall and English. Given this expenditure, is it worth having an M1 this expensive?
Deck of DT Rating.
KING
Clayton Oliver is a lock for the top 8 mids this year and is a fantastic captaincy option to anchor your team as a KING. If team structure allows, as does your fantasy bank account, he should be in high consideration. The only thing stopping Clarry from being an ACE is:
A) Recent history in fantasy shows that the best teams don't start with these uber-premium mids, and instead invest in value.
B) When he starts to dominate, he tends to get tagged, which stops any chance of a 118+ season
FOLLOW US  ON TWITTER: @DTTALK for all things AFL Fantasy (and more). Got something to say about the Deck or AFL Fantasy in general? Join the conversation and use the hashtag… #AFLFantasy.
Catch more from Nathan and the Hat Chat lads via their Facebook, Instagram and Twitter.