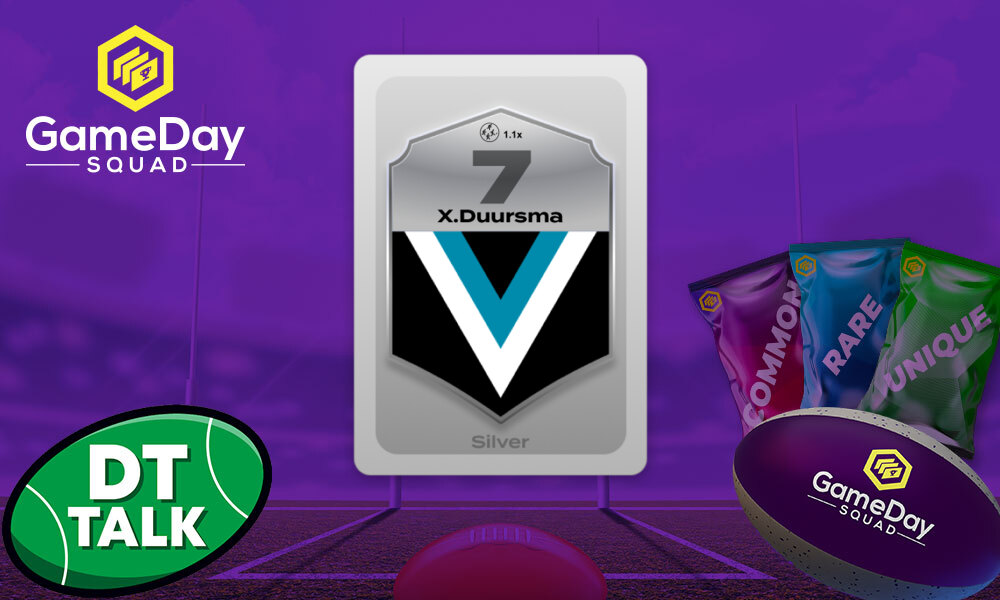 | | |
| --- | --- |
| Player | Xavier Duursma |
| Club | Port Adelaide |
| Position | MID |
| Price | $489,000 |
| Bye | 15 |
| 2022 avg | 55.1 |
| 2022 gms | 11 |
| Proj. avg | 85 |
| Draft range | Possibly a bench option. Final selections. |
Click here for 2023 Fantasy Classic prices.
I know a lot of people will stop reading this before they start, but I wanted a challenge in researching a player who is undoubtably underpriced, and will undoubtably be overlooked by most. 
Why should I pick him?
Long Way From His Potential
Do you remember round 4 against Richmond in 2021 when Duursma got absolutely pile-drived into the turf by Shane Edwards? Maybe not, you can jog the memory and watch it here. This was a pivotal turning point in Duursma's confidence and form, and he's failed to get back to the trajectory he set for himself after his 20 game debut season.
Going back to Duursma's debut season where he went on to average 78 (23 points more than his current value), he actually posted a heap of respectable scores. 102, 90, 84, 99, 97, 86, 88, 84, 98 and 103. Taking a total of 50% of his 20 game haul around or above a 30 point increase on his current price. Add to that, that as the year went on, Duursma continued to improve his Fantasy game. From round 6 onwards he averaged 82, and from round 16 onwards averaged 86.
Let's skim over the 2020, Carona-Ball year as there are a lot of career anomolies across the league, but Duursma went on to average a BCV 70, and had a ceiling score of 115.
2021 now and Duursma started the year in decent form with an average of 82 over that time (the injury affected score in round 4 mentioned above is in that average), including a 101 and 93 score (in a 4 game sample size). He returned in round 19 after rehabilitating his knee but it's hard to come back after sustaining an injury like that and missing a huge chunk of the season. The scores after that are taken with a grain of salt. Still finished with a season average of 72.
And finally we have the 2022 season, which is the reason Duursma comes in so cheap. It was a season ravaged by vests, injuries and poor form. Duursma had the green and red on 3 times, plus was a late in once (the score would suggest his preparation wasn't there). These occasions produced scores of 24, 14, 38 and 72. The 72 score was actually super impressive as he only played 54% TOG, showing that he does have some firepower. This was a year where he was dropped 3 times, missed 5 weeks due to injury, a late in once, and subbed in and out of games 3 times. Imagine trying to get any continuity in your game with a year like that.
SANFL Numbers
If we look into Xavier's SANFL numbers we can see some of the scoring potential he clearly has.
In 2021 Duursma only played the 2 games, for an average of 98.
In 2022 Duursma played the 8 games and if we take out his reduced minutes round 1 game he averaged, 92.
Karl Amon Departure
This is a MASSIVE tick for mine, and the main reason I'm excited by Duursma this year. Amon has had one of the wing spots sewn up now for the last 2 years, and was in incredible form doing it. He played all of a possible 46 games out of 46 and went on to average 99 and 97. Paired with Duursma's horror run in the last 2 years and there's a fairly direct correlation with Xavier's stifled growth. Amon is now gone, and the main wing position is now vacant and Duursma has to be one of the front runners to fill the void.
There's been early pre-season chat that Sinn is in the frame for a wing spot too, but he's still 5-7 weeks away from returning to full training.
Houston? He said on the 16th of Dec that he believes he'll play "majority" in defence in 2023.
The Fantasy Power
Port Adelaide has a very Fantasy Friendly game.
In 2019 they ranked 4th in total Fantasy points, in 2020 – 2nd, in 2021 – 1st, and in 2022 – 3rd. They should feature in the top 3 again in 2023.
Why shouldn't I pick him?
Wing Scoring Consistency
The issue with the wing role is that very few players in the league are able to score at a consistent level. Gaff and Hunter are the notable wingers who have been able to produce 110+ seasons but it takes a lot to go right for these seasons to come off. Your team is going to need to get the ball in their hands, you're also going to want dry-ish conditions for a friendly mark-kick game (usually around 8 marks a game equals big Fantasy scores), and you're also relying on your team to pass you the ball as wingers aren't usually the first touch players. They also have some of the lowest tackle numbers of any other role, which is one of the more consistent Fantasy score avenues.
Can He Actually Bounce Back?
I mean the other glaring issue is we haven't really seen anything close to the bar he set in his 2019 debut season.
What if 2019 was just a bimp on the radar? It was a rather exciting year for Port as Rozee, and Butters also debuted and there was a lot of hype on the 3 first year players.
What if Duursma is just a 75 guy? This is also extremely possible.
MID Only
Speaks for itself. I'm sure there'd be a lot more interest in Xavier Duursma if he had FWD or DEF status, but having him MID only makes it incredibly tough.
Not to mention it'll cost you $26k more than the already popular, Worpel.
Or you could save roughly $200k and get a rookie who in turn, could potentially, score in-line with Duursma.
Deck of DT Rating.
JACK
We can't just fill the entire deck with ACE's and KING's, so I'm drawing the strings with a potentially very viable, and wild card, JACK selection.
Duursma has a point to prove after a horror 2022, and his 2019 debut average of 20 disposals, 6 marks, 2 tackle, and 0.6 goals a game is his absolute baseline for Xavier to bounce back.
I'm tipping a bounce back year from Duursma for a few key reasons:
The Karl Amon factor. There is a very fruitful wing vacancy with his name on it.
He's a highly touted pick #18, and hasn't reached his potential or ceiling yet.
He's got a point to prove. He'll want to put 2022 behind him and prove his worth. 3 omissions in a year would have been infuriating.
Port HAS to bounce back in 2023. They went from a Prelim in 2021 to not making finals in 2022. The wing role is one of the most influenced by the performance/success of your team.
He showed enough in 2019 and 2021 to suggest what his scoring is capable of. Remember he scored above 84 (30 points above his starting price) on 10 occasions in 2019, from round 6 onwards he went at 82, in the final 7 games of the year he averaged 86 and in the first 4 games of 2021, before injury, went at 82.
In my eyes, for this pick to be a great one, you'd be hoping for a 85 average minimum, and with Amon out of the side, it's not out of the question.
For my final point, let's remember Jai Newcombe. Last year Newcombe came into 2022 priced at $430k (with a reduced salary cap, roughly the same as Duursma this year) and went on to average 87. Upon hindsight, the inclusion of a player like Jai from round 1 would have proved to be a winning one.
FOLLOW US  ON TWITTER: @DTTALK for all things AFL Fantasy (and more). Got something to say about the Deck or AFL Fantasy in general? Join the conversation and use the hashtag… #AFLFantasy.