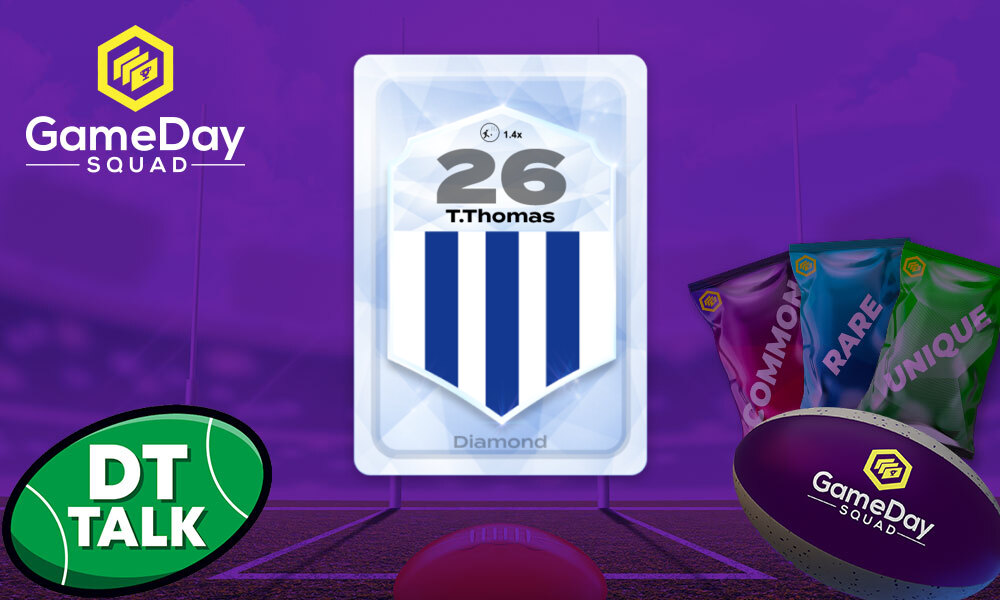 | | |
| --- | --- |
| Player | Tarryn Thomas |
| Club | North Melbourne |
| Position | MID/FWD |
| Price | $475,000 |
| Bye | R15 (4th) |
| 2022 avg | 53.6 |
| 2022 gms | 10 |
| Proj. avg | 80 |
| Draft range | Late rounds |
Click here for 2023 Fantasy Classic prices.
Why should I pick him?
One of the first things I do with my spreadsheet when I start playing with prices, positions and past data, is see who is under-priced.
While discounts is the obvious place to look, sometimes it comes from someone who just had a down season.
I'm going to call Tarryn Thomas' 2022 season an anomaly (I can pronounce it, unlike Calvin). He averaged just 53.6 from his 10 games. We're 'lucky' he played the 10 games as he is straight up priced at his 2022 average rather than discounted.
The differential from Thomas' 2022 average from his 2021 return of 81.2 was 27.5 Fantasy points. It was a huge drop and we don't see that very often. The Roo ranks fourth overall for biggest year-on-year drop with Jack Ziebell (39.4), Brayden Fiorini (33.4) and Chad Wingeard (32.2) ahead of him.
It wasn't a great time for Tarryn off-field. The death of his Grandmother, a police investigation, injuries and some social media issues made for a tricky season that limited him to the 10 games after 47 games of a possible 61 in his first three seasons.
We were bullish on TT at the start of 2022 purely based on how he finished the 2021 season. He averaged 101 for the last eight rounds as he built some consistency in his performances.
Looking forward, Tarryn will have a point to prove. He will probably need a role similar to what he finished 2021 with to see the Fantasy points jump to making him a great pick. He averaged 34% of NMs centre-bounce attendances in 2022, down from 40% in 2021 (although that figure did grow to around 50% half-way through the season).
The Herald Sun suggested he could be the bullocking, huprib midfielder/forward or that the Roos may opt to give him a new lease on life in a quarterback role in defence. We'll believe the latter when we see it, but it would be great for his Fantasy game.
Thomas across half back is a bit of a 👀 catcher. Wonder how much of it is permanent v it being a nice way to ease a non contact player into things. https://t.co/hYAEnk0TRN pic.twitter.com/0QGXaskr6I

— Ricky Mangidis (@rickm18) January 11, 2023
Why shouldn't I pick him?
Some of those scores were awful last year.
Six of them were 50 or less, including a 17 which came from 78% TOG. The only score to write home about was 90 against Freo in round eight where he had 18 disposals and 7 tackles.
Thomas was dropped "partly due to form but also for failing to meet team standards" and finished the season in the VFL. He posted some nice numbers in the last month with scores of 102, 86, 115 and 109.
If he's playing predominently as a FWD, the upside may not be enough to warrant selection. He'd need to be pushing up the ground to not only lift is disposal numbers, but also marks – he almost halved his average marks last season – and tackle numbers which were at a career low average.
New coach Alistair Clarkson discussed Thomas' distractions last year. "In Tarryn's situation, he had some things going on in his life. It is a good reminder that sometimes what goes on in life is much more impotant than what happens in a footy club".
Hopefully this is a positive thing and the relationship that they build will take Tarryn back to being the best version of himself.
It has been mentioned that Thomas had some off-season surgery, but I haven't found anything defintive and he's been pictured in what appears to be full training prior to Christmas.
View this post on Instagram
Deck of DT Rating.
JACK
Picking Tarryn could make or break your Fantasy team in 2023.
If he can push back up to that 80 average of 2021, then he's a great selection under $500k. Being priced at 54 would need to see him do 75 at least in my opinion. The issue is the other forwards we are picking. Will be possibly go in with some more 'set-and-forget' premiums? Toby McLean, for a bit cheaper, is a bigger lock. Having the duo might be overkill if you're wanting to fit in some of those big guns up forward.
There's definite upside and Thomas has to be a pre-season watch. If Clarko can bring out the best in him, then we would want to be on the Tarryn-train this year!
FOLLOW US  ON TWITTER: @DTTALK for all things AFL Fantasy (and more). Got something to say about the Deck or AFL Fantasy in general? Join the conversation and use the hashtag… #AFLFantasy.